Check out these new Queens businesses that offer classes and programs for kids and families.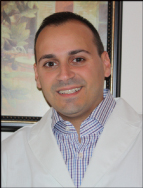 A Family-Run Pharmacy
AJ's Village Chemist, an independent pharmacy, opened its doors June 7 in Middle Village.
Owner Joseph LaSala, Pharm.D., a Queens native, opened the store after working at a large chain pharmacy for many years and growing dissatisfied with restrictive procedures that limited the patient-pharmacist relationship. When he opened AJ's Village Chemist, which he describes as a neighborhood "mom and pop store," LaSala resolved to put patients first.
AJ's offers the same products as a chain drug store, LaSala says-from medications, to household chemicals, to mom and baby care products-and it will match any competitor's coupon. In addition, the store offers curbside assistance, free pick-up and delivery, shipping anywhere in the state, and a comfortable lounge with TVs where customers can wait for their prescriptions. But what differentiates AJ's most from other pharmacies, LaSala says, is its superior customer service.
"We're like one big family here," LaSala says, referring to the store's "warm and friendly" staff. "We're here for the community. The service you'll get here you won't find anywhere else."
AJ's Village Chemist is located at 74-05 Metropolitan Avenue in Middle Village. For more information, call 718-894-9000.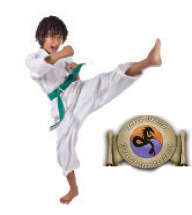 A New Home for Fierce Dragon Martial Arts
Fierce Dragon Martial Arts Family Training Center moved to a new, larger location in Whitestone, where it reopened August 1.
With the move, the center upgraded from 900 square feet to 3,800 square feet of space, says Master Michael Kimmel, who co-owns the center with his wife Jessica. And with this increase in space, the center has expanded its programs. It now offers an after school program for kids that includes transportation; participants have access to a room specially designed for after school educational activities and participate in a one-hour martial arts lessons that includes confidence and leadership building exercises.
Fierce Dragon's birthday party packages include martial arts instruction, access to a party room, pizza and beverages, and optional access to the center's new bounce houses.
The center offers general instruction for ages 3 and up in taekwondo, combat hapkido, mixed martial arts, and Pilates, plus specialized classes for senior citizens.
"We offer a lot of programs because the main emphasis of our school is family," says Master Kimmel, who has also been a middle school teacher for the past 12 years. "One of our sayings is 'A family that trains together, stays together.'"
150-42 11th Avenue, Whitestone. 718-767-5425. www.fiercedragonma.com.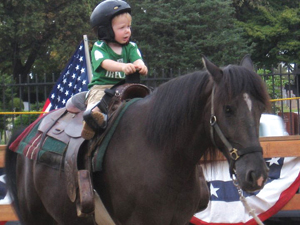 Love Horses? Join the Club!
Western Riding Club opened its doors August 21 in Flushing. A family-owned business, the horse stable offers riding lessons, horse boarding, birthday parties, and membership options.
Lesson options include hour-long lessons ($40) as well as $5 short lesson rides, which introduce children to the basics of horseback riding. "It gives them a taste of what it's about, and it's more economical for parents," explains Joy Tirado-Muravez, who co-owns the club with her husband.
The club also offers birthday party packages for up to 15 children, which include a short lesson ride for each guest and a variety of other games and activities. Guests also have access to the Club Room, which features a fooseball table, dart board, board games, popcorn and snow cone machines, and a chocolate fountain. Parties can be catered by local pizzerias or restaurants, or guests can use the club's outdoor BBQ. (The club is an alcohol-free environment.)
Membership includes a weekly lesson, unlimited access to the Club Room, and expanded horse and riding privileges, including trail rides.
"It's really a nice little community place," Tirado-Muravez says. "People enjoy being here."
The club is open 8am-7pm daily, year-round. Located at 169-38 Pidgeon Meadow Road, Flushing. 347-732-0933. [email protected]. www.wrcllc.biz.