These two Queens businesses - East West Music Studio in Flushing and Nina's Tutoring Center in Elmhurst - have expanded their children's programs.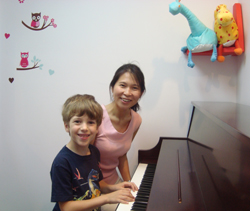 Moving Up the Scale
East-West Music Studio moved to a new location in Flushing this spring. The school opened in November as an in-house studio, then moved to a larger location on Northern Boulevard in March.
East-West offers private, classical music lessons to adults and children as young as 4. A popular instrument is piano, says Jian Liu, director of the school's music program, but the studio also offers lessons in viola, cello, flute, guitar, and other orchestra instruments.
What sets the school apart from others, Liu says, is its professional faculty, who hail from conservatories like Julliard. Students are also regularly treated to guest lectures by professionals in the New York City Opera and New York City Ballet Orchestra.
The school has a policy of including parents in their children's musical education, says Liu. Teachers consult with parents on their child's progress and offer tips on how they can help their child practice at home.
The studio hosts open houses every Saturday and Sunday; prospective students can drop by between 9am-4pm.
The school's fall recital is scheduled for October 30. For tickets or more information, call the school at 718-888-9772.
East-West Music Studio is located at 161-10 Northern Boulevard, 2nd Floor, Flushing. To learn more, search East-West Music Studio on Facebook.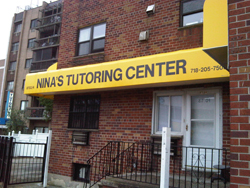 More Space to Learn
Nina's Tutoring Center in Elmhurst expanded earlier this year to include about double the space it previously occupied.
Originally opened in 2008, the center provides academic tutoring to students in grades K-12 through after-school and weekend classes during the school year and an even greater roster of programs in the summer. Though the center remains at the same location on Grand Avenue, the expansion has increased the amount of classroom space available, says Owner Nina Kaur, which in turn has increased its ability to serve students.
Nina's team of 10 tutors offers homework help and tutoring in a wide variety of school subjects, as well as test preparation for any test from a midterm to the SATs. The center is open seven days a week, Kaur says, and this flexibility, along with a personalized teaching strategy, is what sets Nina's apart from other tutoring centers. "We offer more hours and a more individualized approach to tutoring," Kaur explains. "Our curriculum is not preset; we teach each student according to whatever he or she needs."
Nina's Tutoring Center is located at 87-02 Grand Avenue in Elmhurst. For more information, call 718-205-7508 or email [email protected].