Teeth Transformers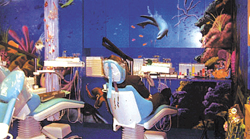 When Karen Lewkowitz, D.D.S, was a child, she never wanted to smile. But that all changed once braces transformed her teeth. "My whole face changed," Dr. Lewkowitz recalls. "It made me feel so self-confident." Now, when people ask her why she wanted to become an orthodontist, Lewkowitz says it's because she wants to give back. "I want to do for others what braces did for me," she says. "After my braces, I became known as 'Smiley,' and now I'm known as 'Dr. Grin.'"
Lewkowitz practices with husband and fellow orthodontist, Robert Shpuntoff, D.M.D, in Little Neck. The two offer a full line of orthodontic treatment for child and adult patients, with Dr. Shpuntoff also providing TMJ treatment.
"We're a very conservative practice," Dr. Lewkowitz says. "We believe in nonextraction therapy, meaning we try to save all the teeth, and we practice holistically as much as we can, in that we don't add extra chemicals."
Visiting patients experience an "underwater" theme when they enter the waiting room, which features a 600-gallon saltwater tank as well as video games and a homework station.
During February, National Children's Dental Health Month, the office will offer a special for new patients.
Located at 55-15 Little Neck Parkway, Little Neck (in The Savoy, lower level). 718-229-5924 or 516-504-4746. www.lewkowitzandshpuntoff.com.