Check out these new additions to Queens catering to kids and families.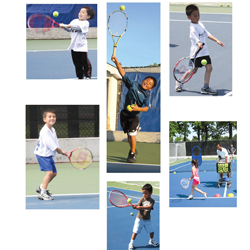 Best of Both Worlds
Cunningham Sports Center in Fresh Meadows will offer a new summer day camp this year. In addition to its well-established tennis camp for kids ages 5-18, the center will offer a Tennis and Tutoring Camp for children in grades one through six. The new camp combines academics and sports for the best of both worlds, says Steven Newby, the center's junior development coordinator and a NYC Board of Education teacher.
Campers will receive tutoring in the mornings from 9am-12pm, with time generally split between ELA and math, Newby says. Children will be tutored according to their grade level by New York City educators while test prep and preparation for the next grade level will also be incorporated. After a lunch break, campers will spend the rest of the afternoon learning and practicing with a staff of tennis professionals and enjoying other sports activities.
The camp's academic/sports combination and staff of experts set it apart from others, Newby says, along with its intimate setting and small student-to-teacher ratio. "We're a small facility," he notes, "not a large school where kids are going to get lost."
Located at 196-00 Union Turnpike in Fresh Meadows. For more information: 718-740-6800 or www.cunninghamsportscenter.com.
First-Rate Smiles in a Flash
In March, Hanson Place Orthodontics began offering a new treatment called SureSmile®, which cuts orthodontic treatment time by almost 40 percent compared to traditional braces. This state-of-the-art treatment uses robotic technology and 3-D imaging to create custom-made archwires for each individual patient, giving the doctor more control over the treatment plan. The Shape Memory alloy wires used in the SureSmile® design are more effective than the archwires used in conventional braces, allowing for shorter treatment, less visits to the office, and enhanced patient comfort.
For the past 10 years, Dr. Yakov Eisenberger and associates at Hanson Place Orthodontics have offered advanced orthodontic treatment for all ages. In addition to SureSmile®, the practice offers several other treatment options, including Invisalign®. While providing optimal oral health, the practice also strives to promote happiness, self-esteem, and comfort in its patients.
Dr. Eisenberger, who has been in practice since 1995, received his Doctorate of Dental Surgery from New York University College of Dentistry and completed an orthodontic residency at Temple University, where he also received his Orthodontic Certificate and Master's in Dentistry.
Hanson Place Orthodontics is located at One Hanson Place, Suite 707. For more information: 718-622-2695 or www.hansonplaceortho.com.