Move to This...
Beginning this fall, Bamboomoves in Forest Hills is offering a new division of yoga classes for parents and kids. The Parent and Child Yoga class, for children just starting to walk up to age 3, uses songs, routines, and partner poses to build coordination while strengthening bonds between parent and child. Mom, Dad and Baby Yoga classes, for children who can't walk yet, present simple poses to help mothers tone and strengthen muscles after labor, and also strengthen family bonds. Both classes will be offered on Monday afternoons. Also new this fall are Kids Yoga classes, which introduce yoga to kids in two age categories: 3-6 and 7-12. These classes will be offered on Friday afternoons, along with a new Prenatal Yoga class.
Bamboomoves offers a host of other classes for adults, including yoga classes for all levels, belly dancing, ballet, and Tai chi. Bamboomoves' mission is to provide an atmosphere for people of all backgrounds to train their body, mind, and spirit in nurturing yet challenging programs. Located at 107-50 Queens Boulevard, 2nd Floor; 718-263-0788; www.bamboomovesnyc.com.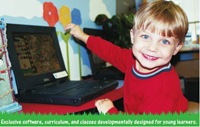 Techie Toddlers
Tech Savvy Tots recently opened to help prepare young children with vital skills necessary for school and successful futures. Small group classes for children ages 2-1/2 through 7, introduce concepts such as e-mail, microchips, and networks by sending children on adventurous "missions" which encourage learning and excitement for technology, as well as problem solving and critical thinking skills. Tech Savvy Tots is powered by Imagine Tomorrow's custom curriculum and is nationally recognition by the National Association for the Education of Young Children. Tech Savvy Tots also bring classes into area schools. Tech Savvy Tots, 103 South Tyson Avenue, Floral Park. 516-302-8819. www.imaginetomorrow.com.