This month, the Queens County Farm Museum invites families to attend Wildlife Weekends, where kids can meet and learn about a variety of wildlife species, view educational animal shows, and spend some time frolicking on the farm. This pay-one-price event includes the farm's Bird of Prey shows, chances to learn about frogs and bugs, along with hayrides, pony rides, and animal feeding.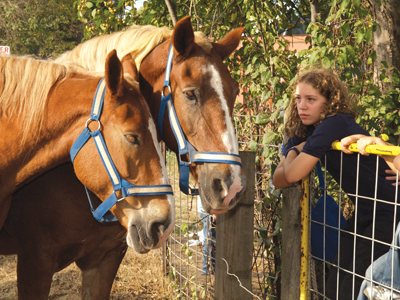 While attending the Bird of Prey show, watch as master falconers send hawks and falcons flying into the air, while teaching the crowd a thing or two about these fascinating birds.
Meanwhile, in the Main Barn complex, the Queens Farm features Frogs, Bugs, and Animals, a show where attendees can meet Prickles the hedgehog, Stickers the tree frog, Toothpaste the tortoise, and Twinkles the pig. Audiences will also get to meet a variety of other frogs and bugs of all shapes and colors, and learn about what they eat, where they sleep, and where they're originally from.
In addition to these activities, families can take a seasonal hayride around the farm, or a pony ride (limit is 80 lbs), and feed their favorite animal on the farm.
The Queens County Farm Museum is known for its festive seasonal activities, quality educational programs, friendly farm animals, greenhouse complex, herb garden, orchard, farmers markets, and valuable lessons in sustainable agriculture. As the only working historical farm space in New York City, the museum regularly hosts visitors who are interested in checking out its wide variety of home-grown produce and wine. The Queens County Farm Museum is open year-round, seven days a week.
Details
Where: Queens County Farm Museum, 73-50 Little Neck Parkway, Floral Park
When: Saturday-Sunday November 6-7, 13-14, 11am-4pm
How much: $9
For more information: Call 718-347-FARM, ext. 304, or visit www.queensfarm.org/index.html
For even more family events and activities in Queens and the New York metro area, visit our Online Calendar