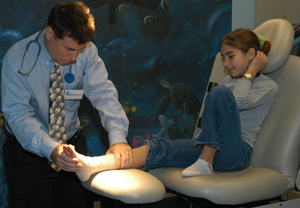 PM Pediatrics, a pediatric urgent care practice, is redefining how emergency healthcare is delivered to children. Dr. Jeffrey Schor, PM Pediatrics' founder and former Director of Pediatric Emergency Medicine at New York Hospital-Queens, wanted to create a place where kids could feel at home while receiving urgent care, a feeling which some emergency rooms may not be able to provide.
With locations currently on Long Island and in Westchester, PM Pediatrics is now expanding to Bayside. "Queens [with all its diversity] will be a very exciting place to practice," says Dr. Schor, who grew up there. "We hope to establish PM Pediatrics as an integral part of the community." Scheduled to open in late February, the Bayside office's jungle-themed reception area and eight-foot giraffe won't disappoint their young patients.

PM Pediatrics is open 365 days a year, weekdays from 5pm to midnight, and weekends and holidays from noon to midnight. Most insurances are accepted. The Bayside office will be located 210-31 26th Avenue (Bay Terrace Shopping Center). For information call 516-677-KIDS (5437) or visit www.pmpediatrics.com.
Also see: Our Health Resource Guide for families in the New York metro area