If a science playground makes you think slide rules, not slides, you need a trip to the
New York Hall of Science
.  Their outdoor science playground, a feature since 1997, has recently doubled in size and is now the largest in the U.S.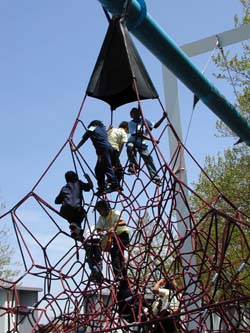 Much of the $2.7 million expansion focused on incorporating preschooler play; in its previous incarnation, the playground was designed for kids ages 6 and up.  The new site, with 60,000 square feet, now has over 50 exhibits, with mirrors, sand and music to encourage interaction.  While the areas are not restricted by age, the elements of each are more appealing to the recommended ages; when we tried to visit the 'old' playground with younger kids, they weren't very interested.
   The new landscape is covered with hills and valleys, shrubs and trees, all inviting kids to explore. The Bridge Path has footbridges, a winding snake path, and a Timber Obstacle Climb — all encouraging children to investigate different vantage points. The Sand Path expands on the traditional sand pit with a conveyor, so kids can not only transport sand, but engage in cooperative play.  Kids can use a mushroom pump to add water to the sand in one of the sand boxes, to help them build.
   Children will be able to see themselves in a new light, with colored glass and mirrors on the Mirror Path.  There is also a glass tunnel, so preschoolers can contemplate being inside, while seeing out.  Along the same lines, the Shelter Path has an In/Out House and a Peek-A-Boo Playhouse.  This area also introduces dark and light with a Sunshade House and a huge rabbit hole. And kids can hear the African, Asian and Caribbean drums on the Music Path, that also sprays them with a continuous water mist.

Info

Where:
47-01 11th Street (in Flushing Meadows Corona Park)

When:
Monday–Thursday, 9:30am–2pm; Friday, 9:30am–5pm (free, 2–5pm); Saturday & Sunday, 10am–6pm (free, Sunday, 10–11am)
July & August:  Monday–Friday, 9:30am–5pm; Saturday & Sunday, 10am–6pm (no free hours)

How much:
Admission: adults, $11; seniors & children (2-17, college w/ID), $8.  Science playground:  additional $3 per person.

For more info:
(718) 699-0005;
www.nyscience.org