Check out these local activities and events for children and families scheduled during the month of July in Queens. Whether you're looking to celebrate Independence Day, catch a kid-friendly show, or just enjoy the great outdoors, we've got all the information a Queens family needs.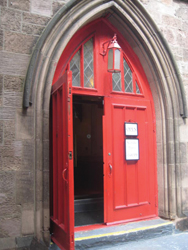 Peek into the Past
Get a view of Queens through a different lens during a two-hour Historical Walking Tour of Jamaica. The tour is led by renowned guide Jack Eichenbaum, who will weave the story of Jamaica's evolution from farmlands and pioneers to its current incarnation as a transportation, government, and retail hub. Stops along the route include access to the meticulously restored former Loew's Valencia Theater, a 4,000-seat "Wonder Palace" built in the 1920s, and a visit to Prospect Cemetery, a 350-year old burial ground located in the heart of Jamaica Center. The walk concludes with refreshments and a private tour of the newly-restored Chapel of the Sisters.
Tour meets Saturday, July 10, at 1pm, on the front porch of King Manor Museum in Rufus King Park, Jamaica Avenue between 150th and 153rd Streets. FREE. Space is limited. To RSVP, call 718-526-2422 or email [email protected]. For more information, visit www.jamaicacenter.org.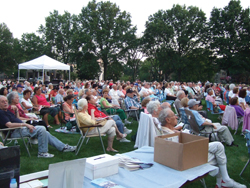 Spicy Sounds of Summer
July is full of free, outdoor concerts featuring sizzling melodies and danceable beats the whole family can enjoy.
Check out the Caribbean Music Festival, which will feature performances by the Rudie Crew-Ska Band and other bands. Recommended for ages 5 and up. July 1, 4-7pm. Jamaica Performing Arts Center, 153-10 Jamaica Avenue. 718-618-6170 or www.jcal.org.
During Jazz-A-Ma-Tazz, saxophone player Hayes Greenfield and his trio take audience members on an interactive journey through jazz that includes scat singing, call and response, rhythmic exploration, and improvisation. July 13, 10:30am. Rufus King Park, Jamaica Avenue between 150th and 153rd Streets. 212- 360-8205 or www.cityparksfoundation.org.
Queens Symphony Orchestra presents its 12th Annual Great Lawn Summer Concert, Summer Latin Heat, at 7pm on July 28. This family-friendly concert will feature Willie Martinez and his Latin jazz band, La Familia Sextet, along with the orchestra and its 2009 Young Soloist Competition winner, violinist Matthew Kimura. Bring a blanket or chairs and picnic on the Great Lawn at St. John's University, 8000 Utopia Parkway. 718-326-4455 or www.queenssymphony.org.
Salsa Night Featuring Cholo Rivera y Su Salsa Clasica is an evening of classic salsa music for the whole family in Highland Park. July 29, 7-9pm. Jamaica Avenue and Elton Street. 718-235-4100 or www.nycgovparks.org.
Moona Luna, the new musical project born of the Latin alternative group Pistolera, features family-friendly songs in Spanish and English that continue the band's tradition of positive messages and toe-tapping beats. Part of the Chase 2010 Latino Cultural Festival on July 31. Presented by Queens Theatre in the Park, Flushing Meadows-Corona Park. 718-760-0064 or www.queenstheatre.org.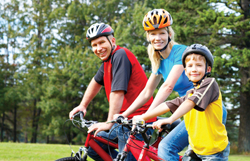 The Family That Bikes Together...
The Third Annual Tour de Queens Bike Tour is a leisurely paced, 20-mile bike ride open to cyclists of all ages and skill levels. The course, which is mostly flat, traverses several parks and neighborhoods in eastern and northern Queens.
The tour is sponsored by Transportation Alternatives, an organization that advocates for bicycling, walking, and public transit rights in the boroughs of New York City. Helmets are mandatory for ages 14 and under and are encouraged for all riders. $10 registration fee for all riders; register at www.tourdequeens.org (there will be limited registration available on the day of the event).
The tour takes place July 11, and begins at 9:30am in Flushing Meadows Corona Park, outside the Queens Museum of Art, 11101 Corona Avenue in Flushing. For more information, call 718-760-6565 or visit www.nycgovparks.org or www.tourdequeens.org.
A Weekend-Long Cultural Celebration
The Queens County Farm Museum hosts its 31st Annual Thunderbird American Indian Mid-Summer Powwow, New York City's oldest and largest powwow, with three days of inter-tribal Native American dance competitions open to the general public. More than 40 Indian nations will be represented at this event, held in the apple orchard on the farm grounds. A large selection of quality Native American art, crafts, jewelry, and foods will also be available throughout the weekend.
Friday, July 23: gates open 6pm; performances 7-10pm. Saturday, July 24: gates open 10am; performances run 12-5pm and 7-10pm. Sunday, July 25: gates open 10am; performances run 12-5pm. $9 per day for adults (all-weekend pass $15); $4 per day ages 12 and under (all-weekend pass $5). Queens County Farm Museum, 73-50 Little Neck Parkway, Floral Park. For more information: 718-347-3276 or www.queensfarm.org.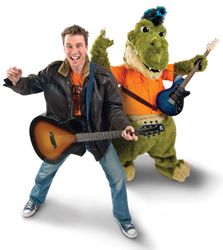 T-Rex Rocks
Thaddeus Rex and his best friend, a seven-foot-tall dinosaur named Rock, will perform a free concert on July 26 at 10:30am in Rochdale Park. Blending the energy of rock with the sensibility of folk, Thaddeus Rex's kids concerts have been called a mix between Monty Python and Dr. Seuss. Ages: preschool and young elementary. Rochdale Park, Guy R. Brewer Boulevard and 134th Avenue, Rochdale Village. For more information, call 212-360-8290 or visit www.nycgovparks.org.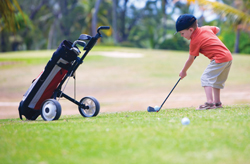 Free Sports Lessons
The City Parks Foundation is offering several free sports programs for kids in July and August.
CityParks Golf provides golfing lessons to ages 6-17 in public parks and on citywide courses. Participants can then try out for the CityParks Intermediate Program and Junior Golf Academy, a specialized program for dedicated young golfers.
CityParks Track & Field gives New York City kids ages 5-16 the chance to learn the basics of the sport, from hurdles and relay races to long jump, shot put, and javelin throw. All participants compete at a track meet held at Icahn Stadium on Randall's Island at the end of the summer.
CityParks Tennis provides tennis lessons to ages 5-16 in more than 36 parks throughout the five boroughs. Lessons for kids are offered at all skill levels, and the program is designed to make the sport freely available to those who want to learn the game in a fun, relaxed environment.
For the full schedule, call 212-360-8271 or visit www.cityparksfoundation.org.
MANHATTAN BOUND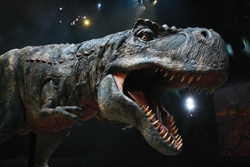 Prehistoric Pageantry
Walking With Dinosaurs - The Arena Spectacular, based on the award-winning BBC television series, is now at Madison Square Garden. The show depicts the dinosaurs' evolution culminating in the severe climatic and tectonic changes that took place and led to the demise of many species. See interactions between dinosaurs, learn how carnivorous dinosaurs evolved to walk on two legs, and discover how the herbivores fended off their more agile predators - all in near-cinematic realism. July 21-25. Times vary, see schedule online. $35 and up. 866-858-0008. Madison Square Garden, 4 Pennsylvania Plaza (32nd St and 7th Avenue). www.madisonsquaregarden.com.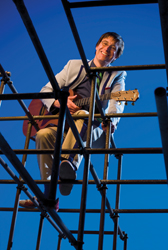 Pop Tunes!
Justin Roberts and the Not Ready for Naptime Players bring their high energy pop sound to a special concert celebrating the release of their new CD, Jungle Gym. A former teacher, Roberts has performed on the Today Show and Nick Jr. Concert is Saturday, July 24, at noon. $10 advance; $12 door. Highline Ballroom, 431 West 16th St. 212-414-5994. www.justinrobertsmusic.com.
For even more family activities and events in Queens, visit our Online Calendar.