Check out these great activities and events for children and families scheduled during the month of June in Queens. Whether you're looking to celebrate Father's Day, catch a kid-friendly show, or just enjoy the great outdoors, we've got all the information a Queens family needs.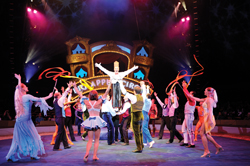 Bello Under the Big Top
Catch Bello the clown and the rest of the Big Apple Circus June 2-6 in Cunningham Park, and June 11-July 4 in Eisenhower Park.
The circus' "Bello is Back!" tour features Bello Nock, the loveable clown who performs breathtaking feats of humor. He'll be joined by stellar circus stars from around the world. Catch the show under the Big Top, where no seat is more than 50 feet away. The show is appropriate for all ages. Tickets: $15-$45.
Cunningham Park, Union Turnpike and 197th Street
718-846-2731; www.nycgovparks.org/parks/cunninghampark; www.bigapplecircus.org
June 2, 3, and 4 at 11am and 6:30pm
June 5 at 12:30pm
June 6 at 12:30pm and 4:30pm
Eisenhower Park, 1899 Hempstead Turnpike, East Meadow
516-572-0348; www.nassaucountyny.gov
June 11 through July 4; see show times online at www.bigapplecircus.org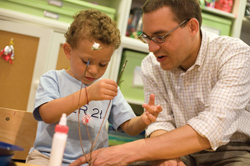 Celebrate Father's Day
These local events are all about making Dad feel special.
JUNE 10
Father's Day Craft with Robin Cook: Kids ages 6-12 can make a Father's Day craft. Preregistration recommended. 4:30pm. FREE. Queens Library: Langston Hughes Branch, 100-01 Northern Boulevard, Corona. 718-651-1100. www.queenslibrary.org.
JUNE 19
Father's Day Special - Paper Crafts for Kids: Kids can create a paper craft for Dad or the important man in their life. Children 10 and under must be accompanied by an adult. Registration required; call 718-886-3800, ext. 230, or email [email protected]. 2-4pm. All ages. $5. Queens Botanical Garden, 43-50 Main Street, Flushing. 718-539-5296. www.queensbotanical.org.
Father's Day Fishing: All ages and levels welcome. Equipment provided; first come, first served. 10am. FREE. Kissena Park, Rose and Oak Avenues, Flushing. 718-217-4685. www.nyc.gov/parks.
Pre-Father's Day Crafts for Kids: Put your artistic skills to use and make something for your loved one this Father's Day. Children must be accompanied by an adult. 1pm. FREE. Fort Totten Park, Visitor's Center, 212th Street and the Cross Island Parkway, Bayside. 718-352-1769. www.nycgovparks.org.
JUNE 20
Father's Day Brunch and Family Art Project: Enjoy a special brunch with dad for Father's Day, presented by Wave Hill's exclusive caterer, Great Performances. Afterwards, make a special craft with Dad. Reservations required. 11:30am. All ages. $22 per person for brunch. $13; $6.50 children for art project. Wave Hill, 675 West 252nd Street, Bronx. 718-549-3200. www.wavehill.org.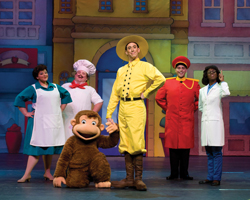 Monkeying Around
See Curious George Live! when the show's World Premier Tour stops at the Nassau Coliseum, June 4-6. Families can watch Curious George and the man in the yellow hat live on stage in this musical journey. When Curious George and Chef Pisghetti's famous meatballs go across the world for the International Golden Meatball Competition, George learns more about friendship, travel, and meatballs than he'd ever imagined.
Appropriate for all ages. Tickets are $15-$100. June 4 at 7pm; June 5 at 11am and 3pm; June 6 at 1pm and 5pm. Nassau Coliseum, 1255 Hempstead Turnpike, Uniondale. For more information or to purchase tickets, call 800-745-3000 or visit www.nassaucoliseum.com.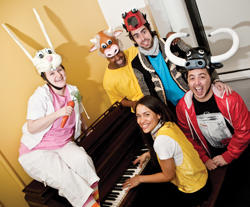 A Tale of Eco-Friendly Heroism
The Brave Calf, a play written by Walter Ventosilla and presented by Teatro IATI, will be performed at three Queens Public Library locations this month. Follow the story of a little calf that decides to leave his stable to explore the world. This adventure takes him to the mountains where he befriends both a rabbit and a buzzard. Along the way, the calf also meets an evil, selfish bull that has taken over the only lake around. The calf, with the help of his new friends, attempts to defeat the bull before he takes possession of all the area's natural resources. The hero succeeds in his quest without using violence, making the bull reflect on the importance of friendship, teamwork, and the collective care of the environment.
Performances of The Brave Calf take place June 4 at Astoria Library, 14-01 Astoria Boulevard, 718-278-2220; June 11 at Corona Library, 38-23 104 Street, 718-426-2844; and June 18 at Sunnyside Library, 43-06 Greenpoint Avenue, 718-784-3033. Each show begins at 4pm. Free and appropriate for all ages, especially young elementary-aged children. For more information, visit www.queenslibrary.org.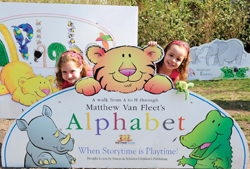 Wild Stories and Songs
Animal Tales Extravaganza is back with another month of live music from the top names in children's entertainment and readings from award-winning children's authors. Meet some of your favorite authors, like Holly Hobbie and Alex Beard, as they read their stories about animals. See top-rated children's entertainment like The Fuzzy Lemons and The Shushybyes perform their original music. Larger-than-life, interactive displays based on children's classics like The Very Hungry Caterpillar by Eric Carle allow children to walk through their favorite animal stories and experience them in a completely new way. Every weekend in June. $11-$15. The Bronx Zoo, 2300 Southern Boulevard, Bronx. 718-220-5100. www.bronxzoo.com.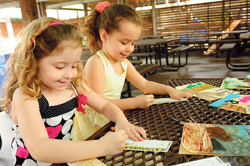 Scales and Stories
Go on an aquatic adventure as you explore the fascinating world of life under the sea and popular children's stories at Fish Tales Extravaganza. Throughout the month, children get to meet their favorite authors and listen as they read their new and classic works. In addition, an entire schedule of live family entertainment, including popular children's talent like Gigi and the Lend Me a Hand Band and John Tartaglia's ImaginOcean will be available. Plus, children can make their very own "fish tale" books. Every weekend in June. Times vary. $17; $13 children. Wildlife Conservation Society's New York Aquarium. Surf Avenue and West 8th Street, Brooklyn. 718-265-FISH. www.nyaquarium.com.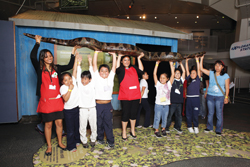 Adventures on the Amazon
Children can explore the Amazon at Amazon Voyage: Vicious Fishes & Other Riches, at the New York Hall of Science. Their journey will begin when they meet a real-life riverboat captain who will share his stories about the exotic creatures he encountered while excavating the Amazon River. Children will also take part in hands-on activities examining piranhas, stingrays, and tetra fish, and reaching inside the open bell of a replica piraiba. Visitors will learn of the perils facing these animals and the Amazon.
Amazon Voyage runs through August 22 and is suitable for all ages. Museum admission: $11; $8 ages 2-17, college students, and seniors 62 and up. The New York Hall of Science is located at 47-01 111th Street, Flushing Meadows Corona Park, in Flushing. For more information, call 718-699-0005 or visit www.nysci.org or www.amazonvoyager.org.