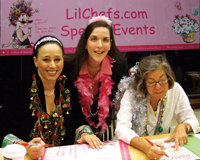 Feel the Love on Valentine's Day
It may be cold outside, but there are all kinds of Valentine's Day activities that are sure to warm your heart. Here are some nearby suggestions.
Tugging On My Heart Strings
Kids participate in a Valentine's Day craft. They'll cut out, decorate and assemble a heart-shaped spinning mobile to share with someone they love. Must be accompanied by an adult. February 2-26 (except the week of February 15-19), Tuesday-Friday, 2:30pm. All ages.
On February 13 at the museum, kids ages 7 and up get inspired by the Tin Man from The Wizard of Oz, and make their own moving sculptures using tin, fishing line, and a variety of materials. They'll also meet Meryl Taradash, the kinetic sculpture artist who created the new art installation in front of the museum. 3pm.
And to celebrate "From the Heart Month," kids visit the museum's Healthy Heart Station and learn about the heart. They'll assemble a puzzle of the heart, discover how the heart pumps blood through the body, listen to their heartbeat with stethoscopes, examine an actual preserved heart, and learn what foods keep the heart healthy. February 27, 2pm. All ages.
All activities FREE with $10 admission. Long Island Children's Museum, 11 Davis Avenue, Garden City. 516-224-5800. www.licm.org.
From Italy With Love: A Concert With Dino Rossi
Families can attend a concert by international recording artist Dino Rossi, who performs Neapolitan love songs, arias from Italian opera, and Broadway show tunes. February 3, 1pm. FREE. Queens Library: North Hills branch, 57-04 Marathon Parkway, Little Neck. 718-225-3550. www.queenslibrary.org.
Valentine's Day Craft For Teens
Teens create special crafts in celebration of Valentine's Day. February 11, 4:30pm. FREE. Queens Library: Queens Village branch, 94-11 217th Street, Queens Village. 718-776-6800. www.queenslibrary.org.
Valentine's Day Arts And Crafts
Kids learn how to create Valentine's Day cards in this arts and crafts session. February 12, 7pm. All ages. FREE. Flushing YMCA, 138-46 Northern Boulevard, Flushing. 718-961-6880. www.ymcanyc.org/flushing.
Valentine Treats
Kids ages 7-10 prepare and grill up delicious heart-shaped grilled cheese sandwiches and wash them down with healthy fruit energy smoothies in this cooking class for kids. All materials included. Call to register. February 13, 1:30pm. $19. Alley Pond Environmental Center, 228-06 Northern Boulevard, Douglaston. 718-229-4000. www.alleypond.com.
Taste and Smell Valentine's Day
Enjoy organic produce from Katchkie Farm at a Valentine's Brunch, a project of Wave Hill's exclusive caterer, Great Performances. Reservations required. 11:30am. All ages. $22. Then take part in "Family Art Project - Hearts And Flowers." Breathe in the fragrance of greenhouse blossoms and develop affection for colorful winter blooms by putting your experiences into lacy, flower-filled Valentine cards. 1pm. All ages. $8; $2 children 6-18, FREE children under 6. February 13 and 14. Wave Hill, 675 West 252nd Street, Bronx. 718-549-3200. www.wavehill.org.
Fancy Nancy Soiree
Fancy Nancy book fans are invited to a LilChefs.com workshop featuring a book reading, tea party, Valentine's craft session, and oodles of surprises. Come dressed to impress and learn how to be fancy just like Nancy. The fanciest mother/daughter or grandmother/granddaughter will win a prize! Dolphin Bookshop will be selling Fancy Nancy books, games, puzzles, and more. For girls ages 3-8. Space is limited. For more information and to reserve your session, call Chef Paula. February 14, 10am-12pm and 1-3pm. $40 including accompanying adult. Landmark on Main Street, Parent Resource Center, 232 Main Street, Lower Level, Port Washington. 516-338-0552. www.LilChefs.com.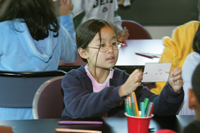 A Week Of Moving Pictures and Animation
During Presidents' Week Family Fun, the museum will offer extended hours (including weekend openings), screenings of a feature-length animated movie, "A Town Called Panic," offered four times daily, and workshops for children. Kids can create their own thaurmatropes, a 19th-century optical toy, during a "Moving Pictures" workshop for ages 6-12, and take a "Stop-Motion Animation" workshop, for ages 10 and up, during which they'll make their own animated movies. Register at the admissions desk upon arrival. February 13-21. See schedule online. Age: YE, TW, TE. $10 film and Museum admission, plus materials fee; free kids under 8. Museum of the Moving Image, 36-01 35 Avenue (at 36th Street), Astoria. 718-784-0077. www.movingimage.us.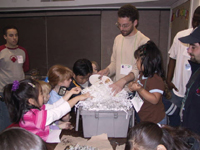 All About Worms
In anticipation of spring, kids can visit the Queens Botanical Garden during Presidents' Week February break and learn about the life of compost worms, in an I Heart Worms for Kids workshop. They'll learn about the worms' five hearts and make heart-shaped compost cookies to use for plants. Kids should be prepared to get their hands dirty. For ages 5 and up accompanied by an adult. February 16 at 2pm. $5. Registration encouraged. Call 718-539-5296 or e-mail [email protected]. Queens Botanical Garden, 43-50 Main Street, Flushing. For more information, call 718-886-3800 or visit www.queensbotanical.org.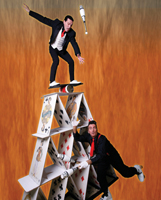 Eccentric Fun
Enjoy daredevil stunts, acrobatic tricks, magic, and side-splitting comedy when Circo Comedia, a duo from Montreal, performs at the Kupferberg Center at Queens College, February 28 at 2pm. All ages. $14. 65-30 Kissena Boulevard, Flushing. 718-793-8080 (box office). www.KupferbergCenter.org.
Celebrate the Year of the Tiger
Celebrate the Chinese Lunar New Year and the Year of the Tiger at Flushing Town Hall with the new "Tigers in the House" exhibition, containing tiger-inspired masks, crafts, and prints by Chinese artists from China, New York, and California. February 12 through March 28, 12-5pm. All ages. $5. 137-35 Northern Boulevard, Flushing. 718-463-7700. www.flushingtownhall.org.
Making Math Fun
The new Math Midway range of exhibits at the New York Hall of Science makes learning mathematical concepts fun - and challenging for those who love to be stumped. From riding on square-wheeled tricycles that follow a circular track of catenary arcs, to passing plastic polyhedra through a plane of laser light to discover their cross sections, kids get plenty of hands-on learning. They also use a mechanical harmonograph to create pen and ink drawings and play with an "organ function grinder" using a hand crank to generate both a numerical output and a unique calliope tune. Ages 3 and up. $11, $8 students, seniors, and ages 2-17. February 6 through April 4. 9:30am-4:30 pm. New York Hall of Science, 47-01 111th Street, Flushing. 718- 699-0005. www.nysci.org.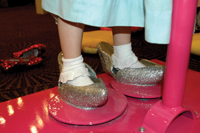 Visit the Land of Oz
A new traveling exhibit, The Wonderful Wizard Of Oz, based on the original book by L. Frank Baum, has just opened at the Long Island Children's Museum. Kids can step into a larger-than-life, three-dimensional pop-up book display, broken up into different sections of the story. They'll learn about science, history, and art as they crank up their own storm and learn about the power of tornadoes; role-play in Dorothy's house and step into the ruby slippers (which were originally silver in the book); solve brain teasers with the Scarecrow; learn facts about the heart with the Tin Man; and crawl through a cave to test their courage with the Cowardly Lion. They'll also run into munchkins, flying monkeys, the wicked witch, and the, of course, the wizard! All ages. $10; $9 seniors. Through May 2. 10am-5pm. The Long Island Children's Museum, 11 Davis Avenue, Garden City. 516-224-5800. www.licm.org.