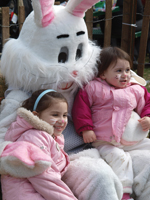 Celebrate Easter/Passover
March 20:
Pysansky Ukrainian Easter Egg Workshop: Learn the time-honored art of creating Ukrainian Easter eggs decorated with a wax-resist technique. Class involves handling hot wax and permanent dyes; dress appropriately. Bring lunch; light refreshments will be provided. Space is limited; registration required. 11am. $15. Bartow-Pell Mansion, 895 Shore Road, Bronx. 718-885-1461. www.bpmm.org.
March 23:
Easter/Passover Party: Kids can join in on an Easter/Passover celebration. They'll make and enjoy Bunny Salad, Matzah Pizza, Easter egg decorating, chocolate chip macaroons, and a chocolate Easter egg nest. 5-7pm. $49. What's Cooking?, 30 East Main Street, Oyster Bay. 516-922-COOK(2665). www.whatscookingny.com.
March 27:
Spring Egg Hunt: Hunt for eggs in the mansion's formal garden, tap your talents at the arts and crafts table, or have your photo taken with the Easter bunny. Light refreshments offered. Bring your own basket. Registration requested. 10:30am. $15 ages 5-12, $7 ages 2-4. Bartow-Pell Mansion, 895 Shore Road, Bronx. 718-885-1461. www.bpmm.org.
April 3:
Easter at the Farm Museum: Kids take pictures with Whiskers the Bunny, dance the "Bunny Hop," and play egg toss and egg rolling games at the Queens County Farm Museum, 11am-4pm. 73-50 Little Neck Parkway, Floral Park. 718-347-3276. www.queensfarm.org.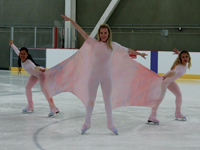 Dancing on Ice

Don't miss a free dance performance by Ice Theatre of New York at World Ice Arena, March 11 at 10:30am.
The Ice Theatre of New York (ITNY), the nation's premier ice dancing ensemble, launches its 2010 season of citywide performances with its New Works and Young Artists Series. Free performances are open to the general public. Specified schools from the Queens area will receive free skating lessons from ITNY company members, along with $5 skate rentals. Ages 4 and up. Clinics for specified visiting schools; Elementary-Grade 8. Flushing Meadows Corona Park. 212-929-5811. www.icetheatre.org.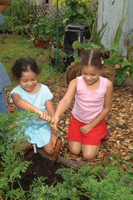 Art and Gardens
On March 6 at 11am, families can preview the Queens Botanical Garden's HSBC Children's Garden Program for young horticulturists, ages 5-12.
EAF09: Celebrate the EAFO9: Emerging Artist Fellowship Exhibition, which features new works by Socrates Sculpture Park's resident artists. Through March 8. 10am. All ages. FREE. Socrates Sculpture Park, 32-01 Vernon Boulevard, Long Island City. 917-776-1039. www.theatersmarts.com.

Emily Dickinson's Garden: The Poetry of Flowers: This multi-venue exhibition highlights the writer's life and work and her love of flowers and gardens. Tuesday-Sunday, 10am-6pm. All ages. $6; $1 children 2-12. New York Botanical Garden, Bronx River Parkway (Exit 7W at Fordham Road), Bronx. (Metro-North Railroad to Botanical Garden Station, Bronx). 718-817-8700. www.nybg.org.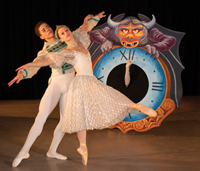 Storybook Ballet
See the timeless tale, Cinderella, brought to life on stage by the New York Theatre Ballet. Choreographed specifically for children, the one-hour performance is a great way to introduce kids to dance. Plus, artistic director Diana Byer will talk about what happens behind the scenes by describing how important lighting is to a performance, how it can change the mood of the ballet, and more. Saturday and Sunday, March 13 and 14, at 11am, 1pm, and 3:30pm. $36; $31 children. Florence Gould Hall, 55 East 59th Street (between Madison and Park Avenues). 212-355-6160 or 212-307-4100. www.nytb.org.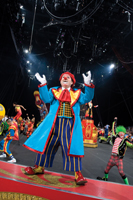 The Greatest Show on Earth Returns
See more than 130 performers from six continents, almost 100,000 pounds of performing elephants, plus cowboys, pirates and mermaids at Ringling Bros. and Barnum & Bailey® Presents Barnum's FUNundrum! Ringmaster Jonathan Lee Iverson invites the audience aboard the Ringling Bros. Express on an adventure to meet exotic characters and witness exciting performances. See the Flying Caceres, the Puyang troupe from China, the Mighty Meetal and more perform daring feats. Get an exclusive chance to meet the performers, get autographs, and see the amazing elephant who paints, at the all-access pre-show, which is free with every ticket. March 17-21 at Nassau Coliseum, 1255 Hempstead Turnpike, Uniondale; March 25-April 4 at Madison Square Garden, 4 Pennsylvania Plaza (Seventh Avenue and 32nd Street), Manhattan. $15 and up. Call or visit website for times. 800-745-3000. www.ringling.com.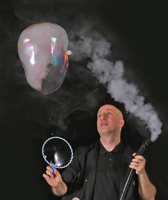 Bubble Bonanza
Kids explore the amazing world of bubbles with fog-filled sculptures, exciting experiments, and demonstrations at Casey Carle's one-man show, BubbleMania, at the New York Hall of Science, March 27-April 4. Show times are 1pm, 2pm, and 3pm. All ages. $4. 47-01 111th Street, Flushing. 718-699-0005. www.nysci.org.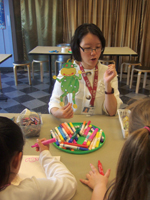 Exhibits, Constellation Shows, and More
Kids learn about the ancient art of puppetry in various cultures, then create their own puppet show during "The Wonderful World Of Puppets" at the Long island Children's Museum, March 28 at 3pm and March 31 at 1pm. 11 Davis Avenue, Garden City. 516-224-5800. www.licm.org.
Scholars, Explorers, Priests: How the Renaissance Gave Us the Modern World: Families view over 50 paintings, sculptures, prints, and decorative objects from the Godwin-Ternbach collection. Explore the achievements of Renaissance Europe and its influence on Western art and culture, including the continuation of traditional Christian and Jewish art, the revival of classical mythology and history, and an empirical spirit and curiosity that led to greater realism and the rise of portraiture, landscape, genre scenes, and scientific illustration. Through March 27. Opens 11am. FREE. Godwin-Ternbach Museum at Queens College, 405 Klapper Hall - Kissena Blvd. at the Long Island Expressway, Flushing. 718-997-4747. www.kupferbergcenterarts.org.
Tigers in the House: Explore Lunar New Year and Year of the Tiger traditions with this exhibit of tiger-inspired crafts, masks, and prints handcrafted by Chinese artists from China, New York, and California. Through March 28. Gallery open 12-5pm. All ages. $5. Flushing Town Hall, 137-35 Northern Boulevard, Flushing. 718-463-7700. www.flushingtownhall.org.
Evening Constellation Show: Kids experiment with colorful lights, shadow puppets, colored gels, and tubes in this unique exhibition. Weekends through April 18. 1 and 4 pm. $11, $8 children, seniors, and students. New York Hall of Science, 47-01 111th Street, Flushing. 718-699-0005. www.nysci.org.

Kaleidozone - Light, Wind and Meryl Taradash: Families explore this exhibit, which features the work of sculptor Meryl Taradash. Learn how she created "Wind Dancing," the sculpture located at the museum, and see other works she has produced. Through May 2. Opens 10am. All ages. $10. Long Island Children's Museum, 11 Davis Avenue, Garden City. 516-224-5800. www.licm.org.
Under the Big Top: This exhibit at the Nassau County Museum of Art - Ridder MiniArtMuseum for Children features reproductions of circus art by Seurat, Léger, Prendergast, Toulouse-Lautrec, Picasso, Chagall, and others, showcasing them alongside displays that will guide the museum's young visitors through explorations of circus skills, endangered animals, and memory games using circus characters and activities. Through May 24. Opens 12pm. All ages. 10, $8, $4 includes admission to both museums; $5, $4 MiniArtMuseum only. Nassau County Museum of Art - Ridder MiniArtMuseum for Children, One Museum Drive, Roslyn Harbor. 516-484-9337. www.nassaumuseum.com.