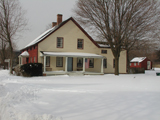 Christmas on the Farm
Step back in time and celebrate the holiday season at the beautifully decorated historic farmhouse at the Queens County Farm Museum. Families can tour the house, enjoy hot cider, and participate in holiday craft activities during a Holiday Open House. Early in the month, the museum also offers special wreath-decorating workshops, and a Christmas tree and poinsettia sale until Christmas Eve. All proceeds will benefit the Farm Museum, whose goal is to preserve and maintain the site while educating the public about the importance of agriculture and horticulture in the county. Wreath-making workshops: December 5 and 6 at 10am, 12pm, and 2pm; registration required; $20. Holiday Open House: December 26-28 at noon; FREE. Queens County Farm Museum, 73-50 Little Neck Parkway, Floral Park. 718-347-3276. www.queensfarm.org.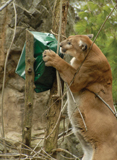 Gifts for the Wild
People aren't the only ones receiving holiday presents this year. There's a festive celebration going on at the Queens Zoo, where felines, Andean bears, and pumas receive their own special holiday treats, during Wild Holiday Party: Presents to the Animals. Families can watch as zookeepers give the animals delicious goodies all wrapped up in the holiday spirit. Weekends: December 5-6, 12-13, 19-20. 10am-4:30pm. All ages. $7; $4 seniors; $3 ages 3-12; 3 and under FREE. Queens Zoo, 53-51 111th Street, Flushing Meadows Corona Park, Corona. 718-271-1500. www.queenszoo.com.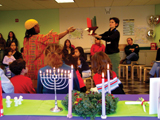 Holiday Enlightenment
This season, create your very own candle to use in holiday celebrations. The Long Island Children's Museum will be exploring the traditional uses of candlelight in holiday celebrations from cultures all over the world. Museum staff will describe the candle-making processes used, while kids discover the meaning of multicultural symbols of light and life. They can take home the candles they make and use them in their own family's holiday traditions. December 6 and 19. 3pm. Ages 5 and up. $3 with $10 museum admission. Long Island Children's Museum, 11 Davis Avenue, Garden City. 516-224-5800. www.licm.com.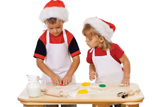 Holiday Treats
Kids learn how to bake holiday "Snowman Butter Cookies" during a Little Chefs class on December 6 at Alley Pond Environmental Center. 22806 Northern Boulevard, Little Neck. 718-229-4000. www.alleypond.com.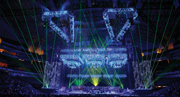 Christmas Classics Rock
"Carol of The Bells," "Ode to Joy", and "Christmas Canon" will ring true and strong this holiday season. The Trans-Siberian Orchestra brings incredible energy to these classic Christmas tunes with a spectacular holiday concert, complete with a lightshow and awe-worthy pyrotechnics. Since their debut in 1996, the orchestra's tunes have ranked high on the charts with the fusion of hard rock mixed with classical and opera-based chorale opulence. Each show's crescendo builds to an epic finale, sure to leave an impression. December 11. 8pm. For ages 7 and up. $23.50, $43.50, $56.00, $66.00. Nassau Veterans Memorial Coliseum, 1255 Hempstead Turnpike, Hempstead. 516-794-9300 or call Ticketmaster at 1-800-745-3000. www.nassaucoliseum.com.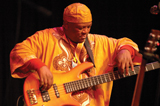 Rhythms of Kwanzaa
Enjoy live tunes from Grammy Award-winner Bakithi Kumalo during a celebration of South Africa and Kwanzaa. World-renowned composer and vocalist, and deemed by critics the most talented living bassist, Kumalo has created rhythms and melodies with musical celebrities including Paul Simon, Cyndi Lauper, and Chaka Khan. With Kumalo's unique style incorporating traditional South African folk, salsa, and contemporary jazz, this Kwanzaa celebration will sway. December 20. 2pm. All ages. $15, children $12. Flushing Town Hall, 137-35 Northern Boulevard, Flushing. 718-463-7700, ext. 222. www.flushingtownhall.org.
Crystal Winter
Kids watch a demonstration of how ice crystals form, just one of many activities that are part of the winter wonderland scene at the Crystal Winter Village, through December at the New York Hall of Science. 47-01 111th Street, Queens. 718-699-0005. www.nyscience.org.
Also see our list of "The Nutcracker" performances in Queens scheduled for this holiday season.