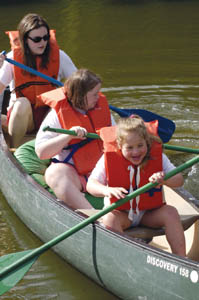 UPDATED FEBRUARY 2014: Looking for the best day camps, sleepaway camps, specialty camps, and camper outings in Queens, NY? Whether your child is interested in sports, theater, gymnastics, art, martial arts, or other specialty camps, or if you're looking for academic summer programs, you'll find what you're looking for in our comprehensive guide to summer camps and programs in Astoria, Bayside, Flushing, Forest Hills, Jamaica and all other parts of Queens.

OUTINGS


BOUNCE! TRAMPOLINE SPORTS
310 Michael Drive, Syosset
516-762-1300
612 Corporate Way, Valley Cottage
845-268-4000

Your campers will beg for more field trips once they experience Bounce! -- the hottest new sports facilities on the East Coast offering trampoline dodgeball, slam dunk basketball, foam-pit jumping, indoor trampoline bungee jumps, regulation volleyball court (which can be transformed into a junior soccer field or Newcomb court), and open trampoline bounce time. Your campers will leave exhausted and happy. We can accommodate several hundred kids in our Valley Cottage or Syosset locations. Register early as we fill up quickly! We also offer separate trampoline/inflatable zone for ages 2-6 years.

FLUSHING TOWN HALL
137-35 Northern Blvd., Flushing
718-463-7700

Some of the most unique children's programming in New York City can be found right here in Queens, at Flushing Town Hall. This summer 2014, Flushing Town Hall will offer a free Summer Garden Concert Series featuring music from around the globe with pre-concert free dance lessons, Garden Yoga class for all ages and a Korean Culture Camp. Many offerings are free and families with children of all ages can take in the arts on a budget at Flushing Town Hall all year round! Check out Flushing Town Hall's extensive family programs at flushingtownhall.org

SERVICES FOR CAMPERS
A LITTLE PERSONALIZED
72-24 Austin St., Forest Hills
516-712-7002
505 Central Ave., Cedarhurst

We offer gifts and items for all ages with a personalized twist. All our products include a free personalization. We offer everything from towels, robes, and iPhone cases to backpacks, bar and bat mitzvah favors, baby blankets, and bridal gifts. Now is the time to start thinking about what your child will bring to camp with them. We offer all kinds of personalized camp items. Our in-house embroidery machines, artists, and seamstresses allow us to offer fast turn-around. Call to find out more and ask about our kids sewing classes.

LICEXCHANGE - THE NO-LIP-SERVICE LICE SERVICE
917-657-0249
Email [email protected]

LiceXchange takes head lice management and treatment to a whole new level. Rapid response and customized service means you'll never pay for more than you need. School nurses depend on Debra's caring, experienced staff to deliver preventative screenings that get results! Parents everywhere are spreading the word that LiceXchange costs less, but gives you more. Every treatment includes an array of organic and homeopathic products designed to maintain a clear scalp and repel head lice...plus, a special gift for every child!
SPECIALTY
CHRISTY'S GYMNASTICS
150-50 14th Road, Whitestone
718-767-0123

Join our summer Mini Camp for children of all ages. Our creative program and highly qualified staff lead your child through a summer of fun, friends, and fitness. Our state-of-the-art facility is also available for birthday parties. Call for more information.

FASTRACKIDS SUMMER CAMP
98-00 62nd Drive, Rego Park - Park City
718-441-3762


This summer, enroll your child in a fun and exciting adventure that he or she will use for life. FasTracKids is offering an eight-week fun, interactive learning program for children ages 3-10. This fast-paced, fun, and fully interactive learning adventure will captivate and entertain as it delivers truly meaningful lessons. FasTracKids' program will include arts and crafts, swimming, math and English, science experiments, yoga, Virtual World Journey Tour, and other exciting activities. Enrollment is limited so call FasTracKids now to reserve a spot for your child. We are now open in Rego Park: 98-00 62nd Drive.

FOREST HILLS KIDS CORNER (TM)
Belle Arti Center for the Arts, L.L.C.
108-10 72nd Ave., Forest Hills
718-261-2237
All Star Studios
108-21 72nd Ave., 4th Floor, Forest Hills
718-268-2280

The best in the field: Belle Arti Center for the Arts, LLC (108-10 72nd Ave., Forest Hills; 718-261-2237; belleartiny.com) and All Star Studios (108-21 72nd Ave., Forest Hills; 718-268-2280; allstarstudiosnyc.com). Belle Arti offers lessons in piano, violin, cello, guitar, voice, woodwinds, music theory, and Musical Aurora®, a unique music program for children ages 2-5. All Star Studios offer classes on theater, tap, jazz, ballet, hip-hop, and acrobatics for ages 3 and older.

JEI LEARNING CENTER - AUBURNDALE-WHITESTONE
200-13 32nd Ave., Bayside
347-408-4098
Email [email protected]

Since 1977, our programs have helped children achieve academic success around the world. JEI has a scientific diagnostic system for children in pre-K through ninth grade, pinpointing the missing links in learning and prescribing individual study programs based on specific needs. Our curriculum is aligned with the Common Core Standards. We offer multi-day preschool alternative and summer camp programs. Our Lil' Genius classes focus on creativity, collaboration, and communication in an interactive environment using touch-screen technology found in leading public and private schools. Call about our flexible weekly summer program and early registration discounts.

JUST WEE TWO
Bayside, Manhasset, Plainview, plus Brooklyn and Connecticut,
516-433-0003
800-404-2204

This specially developed program, for children 8 months through 3 1/2 years and their parents, provides an environment that enables grownups to share the joy of a child's early learning. Classes limited to 10 children. Toddlers enjoy arts and crafts, creative movement, stories, and play time. Children develop a sense of confidence and increase their communication and social skills. We offer an enrichment class with an emphasis on reading readiness; six-week mini-program; partial separation and separation classes for 2 1/2 to 3-year-olds.

KENT PREP
194-11A Northern Blvd., Bayside
718-423-5757
Email [email protected]

Summer does not mean learning should be put on hold! Kent Prep offers summer enrichment classes from July 7-Aug. 28 to help students from pre-K and up set forth confidently in the upcoming semester. With a developmentally appropriate curriculum led by age specific instructors, Kent students receive the instruction and attention needed to excel. Please visit kentprep.com to schedule an appointment with a counselor for more information.

KUEI LUCK ENRICHMENT CENTER
195-05 69th Ave., Fresh Meadows
718-679-9908

For more than 20 years, Kuei Luck Enrichment Center has been providing a wide variety of programs for grades K-12. Register now for our Spring Break Intensive NYS Math Test Prep. Our intensive courses are designed to hone the skills and strategies of students to prepare them for the test. Our Common Core-aligned materials give your children exposure to the newly designed exams. We also provide after-school service, which includes pickup, Chinese school, enrichment classes, summer camp, and other exam test preps.

MATHNASIUM LEARNING CENTERS
43-17 Bell Blvd., Bayside
718-747-MATH (6284)
108-14 72nd Ave., Forest Hills
718-544-MATH (6284)
Opening Soon - Astoria
43-32 Ditmars Blvd.
347-871-2890

Mathnasium Learning Centers, with more than 400 locations in the U.S., offer math-only educational programs during the school year, as well as in the summer! In a relaxed, stress-free environment, Mathnasium is where kids catch up, keep up, or get ahead in math. With personalized curriculums, instant feedback, and proven, time-tested lesson plans designed by experienced instructors, Mathnasium guides students to develop and maintain the mathematics knowledge needed to succeed. Call us today to hear all about our programs for students of all ages!

MOMMY, MUSIC, & ME, INC.®
Offering Music Together® classes in Astoria, Bayside, Forest Hills, Glendale, Little Neck, and Whitestone, Queens
718-229-0033

Since 2003, we have provided the gold standard Music Together® music and movement program for grown-ups and the children they love. Thousands of families with babies, toddlers, and preschoolers have experienced our classes with highly trained and registered Music Together® teachers. Families value the positive effects on speech articulation, small and large gross motor skills, pre-linguistic skills, rhythm, tone, and socialization. Schedule your free trial class before summer. Visit mommymusicandme.com for information on our free summer concert series at Crocheron Park, Flushing Meadows Park, and Alley Pond Park.

MUD GENIUS
The Bay Terrace Shopping Center, 221-91 26th Ave., Bayside
718-428-8288
Email [email protected]

At Mud Genius you walk in as a customer and out as an artist. We are a walk-in, paint-your-own-pottery studio. We offer in-store parties for all occasions, including birthdays, showers, or you can have a "Party to Go" where we will deliver our materials and a host to assist you to set up your dream party. All the pottery is fired, wrapped, and labeled for pick up. Every Thursday is Ladies' Night—a great mom's night out. Call us to find out about Genius Club and our summer program for kids.

MUSIC TOGETHER
Various Locations

While the big kids are at camp this summer, have some music-making fun with your little ones. Once a week for six weeks, you'll sing, dance, and play with your baby, toddler, or preschooler during your summer Music Together class. Each session includes a CD set and songbook so you can continue the fun at home with the rest of the family. Find a location near you in Queens or Long Island at musictogetherli-queens.com

NEW YORK HALL OF SCIENCE
47-01 111th St. (7 Train to 111th St.), Flushing Meadows-Corona Park
718-699-0005

The New York Hall of Science is New York City's only hands-on science and technology center with over 450 interactive exhibits, Rocket Park Mini Golf, New York's largest science playground, and ongoing summer events! NYSCI also offers after-school science clubs with activities designed around enhancing topics and skills students are learning in school. For more information please visit nysci.org.

NINA'S TUTORING CENTER
8702 Grand Ave., Elmhurst
718-205-7508

We tutor kids in grades K-12. For the past six years, we have provided quality education, which helps kids excel in school. Our excellent, highly dedicated, and experienced tutors are very competent. We provide students with a foundation of education they can use throughout their life. We specialize in homework help and offer critical thinking and writing classes. We help improve skills in math, ELA, science, and social studies. We also have an intensive preparation program for ELA, math, and science citywide and statewide exams. We are highly recommended by various educators.

NYU SUMMER PROGRAM FOR KIDS
At The College of New Rochelle, New Rochelle
516-358-1811

A seven-week, evidence-based, therapeutic day program exclusively for children ages 7-11 with ADHD and behavior disorders. The focus of the program is to build self-esteem and help children develop attentional, organizational, and friendship skills. Clinical psychologists and qualified teachers supervise undergraduate and graduate-level counselors. There is a 1:1 or 1:2 staff-to-child ratio. The program is directed by Dr. Karen Fleiss, a nationally renowned clinical psychologist and expert in the treatment of children with ADHD. Enrollment is limited.

PARK CITY SWIM CLUB/ROSLYN SWIM CLUB
98-00 62nd Drive, Rego Park
917-848-2013

Heated 40-by-80-foot large pool and 25-foot round kiddy pool. Locker room and showers. Public basketball courts and children's playground area across the street. Concessions. Large deck area with lounge chairs. Located five minutes from Queens Blvd. and the LIE. Up to eight-week rental season available. Bus parking available. Located in prestigious Rego Park residential community. Family memberships available. Call 917-848-2013.

PERFORMING ARTS CONSERVATORY OF NEW YORK
35-57 89th St., Jackson Heights
718-639-1425
80-21 Roosevelt Ave., Suite 203, Jackson Heights
917-774-3411
Email [email protected]

Performing Arts Conservatory of New York invites you to participate in our 2014 summer program. Children will be exposed to all of the school's programs including music, art, dance, drama, and Spanish. Students also have free time to enjoy snacks and movies. Our outstanding artist-teachers and active concert performers will help your children to develop their artistic and musical talent. For more information, please call 718-639-1425 or 917-774-3411, or visit paconyarts.com.

POWER BRAIN TRAINING CENTER
43-01 Bell Blvd., 2nd Floor, Bayside
718-224-1500
567 Jericho Turnpike, Syosset
516-364-3413
Email [email protected]

At our "Fun and Focus Summer Camp" children ages 4-14 spend eight weeks tapping into the infinite potential of their brain. Our interactive and engaging camp empowers students to improve social relationships, confidence, physical health, creativity, concentration, and academic success. Campers participate in a variety of physical, emotional, and cognitive activities including yoga, visualization, team problem-solving, tai chi, left and right hemisphere integration, brain wave vibration, HSP dance, brain screen study sessions, and more. Call to ask about our one-week sleepaway camp in upstate New York and our Power Brain Family Retreat.

PROGRESSIVE MARTIAL ARTS
175-25 Horace Harding Expressway, Fresh Meadows
718-461-0700
Email [email protected]

Progressive Martial Arts offers classes for youth ages 3 and older, in age-specific programs appropriate for kids' developmental and emotional stages. While we teach important self-defense and martial arts skills, fitness and health are key components to our curriculum. Youth enjoy fitness drills, obstacle courses, and circuit training, as well as running in our fun but disciplined classes. Our youth program is like no other, offering character development, discipline, and self-defense techniques that give each child a strong start in life. Call about our summer programs.

QUEENS BOTANICAL GARDEN
43-50 Main St., Flushing
718-886-3800
Email [email protected]

HSBC Children's Garden is a hands-on program for children ages 5-12 that teaches about plants, gardens, and nature while kids have fun playing in a beautiful environment. It's the first "green" children's program in Queens, and offers the opportunity to practice different sustainable gardening techniques like composting, mulching, and learning about recycling. Queens Botanical Garden is an urban oasis where people, plants, and cultures are celebrated through inspiring gardens, innovative educational programs, and environmental stewardship.

ROBOMINDTECH STEM LEARNING CENTER
185-10A Union Turnpike, Fresh Meadows
718-264-ROBO (7626)
Email [email protected]

Robomindtech is a science and technology education center that integrates the motivational effects of robotics and LEGO® play into a unique, hands-on curriculum designed to inspire young minds. Channel your child's creative energy into science and robotics activities that teach important concepts in an active immersion learning environment. We offer weekly LEGO® summer camps; come build your own amusement park or take the robotic challenge. Look for our after-school programs for ages 4-14, home school workshops, school tour, vacation camps, and birthday parties. RoboMindTech's Robotics team, Home of 2012 First LEGO League Champion.

SOCCER FRIENDS USA, INC.
108-14 72nd Ave., Forest Hills
347-756-2988; 347-756-2568 (para Español)
Email [email protected]

SFUSA offers two types of soccer summer camps. The first option is a drop-off summer camp that can be booked on a weekly or daily basis. The second option is our Flexible Class Pass. You will have the entire six-week season to use up the amount of classes you purchase. Go to the beach, hang out with family and friends—you will still have time to attend your classes and not worry about make-ups.

SUMMER MEDIA CAMP AT MUSEUM OF THE MOVING IMAGE
36-01 35th Ave., Astoria
718-777-6800
Email [email protected]

Summer Media Camp is the perfect way for children ages 9-13 to explore technology, express their creativity, and make new friends in an exciting and educational environment. Campers make their own movies, animations, and video games under the guidance of specially trained artists and educators. Camp runs Monday-Friday, 10am-4pm, from July 28 through Aug. 29. You can enroll in one or more week-long sessions.

THEATREARTSCENTER/NEW-YORK.COM
718-595-2905
Email [email protected]

Take center stage in a theater arts camp for talented young performers. Learn from working Broadway artists. Three Programs: Musical Theater & Dance (ages 8-19); Actors Conservatory (ages 14-19); and Audition Preparation & Singers Workshop (prepare for college and high school auditions). Students perform fully staged shows for the public. Musical Theater Jul. 7-Aug. 3; Actors Conservatory June 30-July 27; Audition Workshop Aug. 4-10. One of the best values in NYC! Professional quality close to home. By audition. Call or email for open house and audition dates.

TITLE BOXING CLUB
6940 Austin St., Forest Hills
917-261-3808
Email [email protected]

TITLE Boxing Club Forest Hills is a fitness club that offers a combination of boxing and kickboxing classes for individuals, families, and kids. Each trainer's individual style makes every class unique. You'll be excited to come back for the strong community we've developed. TITLE Boxing Club Forest Hills offers classes for all fitness levels to help you reach your goals. Located on Austin Street in Forest Hills this club offers a unique way to have your family bond while getting fit and healthy!

TUTORS ON WHEELS
68-60 Austin St., Forest Hills
718-268-0135 or 718-268-0133
369 Lexington Ave., Suite 333, Manhattan
646-237-7811

Tutors on Wheels, customizes summer study programs that address academic weaknesses based on final report cards. Sign up with us for summer packages.

VIENNA MUSIC
41-08 Bell Blvd., 2nd Floor, Bayside
718-423-1688
Email [email protected]

With a top-notch facility and our talented, experienced instructors, Vienna Music provides the most suitable and professional environment for music development. We provide programs that accommodate students of all ages and levels: One-on-one music lessons in piano, violin, viola, flute, saxophone, guitar, and more; and Fundamental Music Group Class for students younger than 5. Vienna Music prepares students for the NYSSMA exam and Royal Music Exam. Enroll now and embrace the amazing experience with Vienna Music. Early registration for summer group programs is available. Call to ask for more details.

VINCENT SMITH SCHOOL
322 Port Washington Blvd., Port Washington
516-365-4900
Email [email protected]

S.O.A.R. ahead this summer at Vincent Smith School's Social Opportunities and Remediation Program. S.O.A.R. is a student directed program that provides children in fourth through eighth grades the opportunity to remediate, maintain, or enrich their skill sets in the areas of reading, writing, math, and social cognition. Each area is explored for approximately 45 minutes daily from 9am-12pm. Students polish their reading, writing, and math skills and at the same time social cognition skills are learned using hands-on activities and creative role-playing. For information, call 516-365-4900.

WILDLIFE CONSERVATION SOCIETY ZOO CAMP

Queens Zoo
718-271-7361
wcs.org/camp
[email protected]

Explore the world of animals and learn about the actions the Wildlife Conservation Society is taking to protect our planet! All campers will engage in hands-on science activities, crafts, animal encounters, theater performances, exhibit activities, and more! The Queens Zoo offers full-day, week-long day camps for kids ages 4-12, and has a new mini-camp for ages 2-3 and their caretakers. The three-week Teen Internship for teens ages 13-17 looks great on college applications. Teens will work with keepers, design exhibits, conduct behavior studies, meet zoo professionals, and more. Sessions run mid-June through the end of August.

TRADITIONAL
ABC FANTASY LAND PRESCHOOL
66-20 Laurel Hill Blvd., Woodside
718-672-2424

ABC is the start of the alphabet and of education. Our newly renovated facility with 10 large rooms, indoor gym, and a spacious outdoor fenced-in playground provides a friendly preschool for children ages 2-6. The curriculum includes literacy, reading, arithmetic, computers, science, social studies, and gymnastics. Our student-to-teacher ratio allows our qualified staff to focus on each child. Hot meals daily: breakfast, lunch, and snack. Transportation available. We accept child care assistance programs like ACS and HRA. The summer camp offers creative, recreational activities, sprinklers, and on-site trips, including pony rides and animal shows.

ALL MY CHILDREN DAYCARE
718-658-1563
108-22 69th Ave., Forest Hills
169-07 Jewel Ave., Fresh Meadows
175-44 Mayfield Road, Jamaica Estates
Subsidized Early Learn programs now available at our new locations:
36-49 11 St., Astoria
66-108 St., Forest Hills
110-15 164 Place, Jamaica
117-16 Sutphin Blvd., Jamaica
83-10 188 St. Jamaica Estates
718-658-1563 x206


At All My Children Day Care's day camp, we provide a place for your child to grow both emotionally and intellectually. Our staff is certified with an extensive background in early childhood development and education. Our programs include theater, nature, music, dance, technology, and field trips. Monday-Friday, 7:30am-6pm, for children ages 6 months through 9 years. Pre-K for children born in 2010. Register now for summer camp!

BETH SHOLOM DAY CAMP
401 Roslyn Road, Roslyn Heights
516-621-9257

Beth Sholom Day Camp, serving the Nassau, Queens, Brooklyn, and Manhattan areas for 50 summers, provides children ages 3-15 the opportunity to reach their goals in a warm and friendly environment with a caring and experienced staff. We are located on 30 acres with three heated swimming pools and many fields. Some of our activities include swimming, music, dance, arts and crafts, young Israelites, martial arts, and all outdoor sports. We serve Glatt Kosher lunches and snacks, and we are nut free. Beth Sholom Day Camp offers door-to-door transportation in air-conditioned vehicles. Please check out our website at bethsholomdaycamp.com

CHRIST THE KING SUMMER CAMPS

68-02 Metropolitan Ave., Middle Village,
718-366-7454
ctkny.org
Directors: Joseph Arbitello and Cara Fragias
Ages: 3-16 years old
Email [email protected]

Don't miss the summer fun at Christ the King! Christ the King has three exciting summer camps to offer children of all ages. Camps appeal to all interests, including soccer, basketball, dance, drama, cooking, arts, water slides, and karate. Flexible scheduling, convenient location. For more information please call or visit our website at ctkny.org.

THE CRAYON BOX PRESCHOOL
44-10 192nd St., Flushing
718-888-9341

Where learning and fun are rolled into one! We give children a foundation of education they can take with them throughout their student years. Our summer program is no exception. The children will have access to outdoor activities daily, with water activities three days a week. We offer flexibility and a wide range of options to assist our families with their busy schedules. Emphasis is placed on both socialization and academic excellence, all in a calming and loving setting. Our beautiful facility offers an outdoor playground and a full-sized gym.

FOREST PARK PRESCHOOL
102-35 63rd Road, Forest Hills
718-896-4444
Email [email protected]

Forest Park Day Camp is for children ages 2-6 years. The camp offers a wide variety of age-appropriate activities, ranging from swimming in our in-ground pool, supervised playing in our playground, creative arts and crafts, and trips. The camp setting is in an air-conditioned facility with breakfast, lunch, and snacks daily. Parents find our camp just right for their youngsters.

HAPPY DAYS DAY CAMP
P.O. Box 640236, Oakland Gardens
718-888-0264
Email happydaysdaycamp.com

At Happy Days Day Camp, our mission is to create a fun, exploratory, and safe environment for your children. Our No. 1 priority is your children's safety. We employ well-trained personnel and staff who work with the children to develop interests and talents to their optimal potential. We follow a socially responsive practice. Children build relationships, laugh and smile, and have fun-filled days. Here, we stay true to our name, committed to providing everlasting, memorable 'Happy Days' all summer.

HILLCREST JC DAY CAMP
183-02 Union Turnpike, Flushing
718-380-4145
Email [email protected]

The camp "where everybody knows your name" offers preschool, nursery, and kindergarten for ages 4-5; junior for ages 6-7; senior for ages 8-10; tween for ages 11-13; and a CIT program. The age-appropriate programs include Red Cross swim instruction, arts and crafts, video games, outdoor play and exercise, sports, tennis, field trips, Jewish culture program, organized games and activities, and weekly cookout. Teen lounge and late night trips offered for upper campers. Fee includes transportation, hot kosher lunch and afternoon snack, trip admission fees, T-shirt, and a group picture. Partial season program available.

IVY DAY SCHOOL
Main Campus: 65-01 Kissena Blvd., Flushing
718-460-6366
Flushing Branch
70-44 Kissena Blvd., Flushing
718-880-1888
Email [email protected]

At Ivy Day School, we provide our decade-long standard of academic excellence to children ages 2-5. We envision students developing essential skills for a lifetime of achievements via fun, stimulating activities. We teach English, math, science, foreign language, social studies, and music and dance year round, along with access to computers, art, and indoor playrooms. In the summer, children will have an opportunity to attend various planned educational and recreational field trips. Your children are our priority and we strive to enrich their minds and bodies in a safe and nurturing environment.

MAGIC CARPET SUMMER DAY CAMP
718-634-8109

Summer magic is here! Children ages 4-14 are invited to experience our unique camp adventure with incredible trips such as Adventure Land, Luna Park, New York Hall of Science, and so much more. Our all-inclusive rates include daily transportation. Yes, we pickup, and drop off your child. Our day is excitingly filled with sun and fun! Daily swimming, hot and cold lunches, and a free T-shirt and tote bag are provided for all. Two- to eight-week sessions are available. Exceptional supervision for our campers is our first priority!

MILL BASIN DAY CAMP
5945 Strickland Ave., Brooklyn
718-251-6200

Mill Basin Day Camp is dedicated to providing an exciting and fulfilling camp experience for campers and parents. Founded in 1998, MBDC has become the largest and most popular summer day camp in Brooklyn. MBDC serves campers annually from Brooklyn, Long Island, and Queens. A modern, fully equipped, air-conditioned, and secure facility, MBDC offers a wide range of on-site activities for children entering pre-K through ninth grade. Come in for a tour of our facility.

NEW YORK TIBETAN SERVICE CENTER (NYTSC)
30-79 Steinway St., Astoria
718-278-1570 or 718-278-8700

NYTSC Learning Center offers a fun and rewarding summer experience in the heart of Steinway, Astoria. We offer a summer day camp for kids age 3-15. We are open from 8am-7pm. Full day filled with fun and learning experiences, including arts and crafts, music, dance, field trips, etc. Our certified teacher will make your summer experience one of the most memorable ones. The most affordable private summer day camp with limited space. Please contact 718-278-1570 or 718-278-8700.

OASIS DAY CAMP
at Queensborough Community College, Bayside
646-519-5055
Email [email protected]

Oasis in Bayside offers campers a traditional summer day camp with a focus on academic enrichment in STEM and ELA. Campers' days are filled with engaging activities developed and taught by teachers, coaches, and dedicated youth workers. Campers ages 3-11 participate in a variety of activities including athletics, yoga, cooking, fine arts, and instructional swimming. Oasis offers Early Start Imagination Camp for pre-K children ages 3-5. Our popular Teen Travel program for ages 12-15 gives teens the opportunity to take unique daily trips while forming lifelong friendships. Visit oasischildren.com.

PEE WEE FOLKS
12-45 Clintonville St., Whitestone
718-746-6107

Camp Pee Wee offers an exciting experience for campers ages 2-4 years. Camp Pee Wee allows you to customize a schedule to meet your summer needs. Kidz Camp is our camp for older children ages 5-10. We have been established in our community for over 32 years. Our programs are supervised by experienced and qualified staff members. We offer a variety of activities to make their summer days memorable. We will be running trips two days a week to many of our favorite summer places, such as Fun Zone, Medieval Times, Adventureland, and many summer hot spots! Visit our website peeweefolkspreschool.com.

SUMMER AT KEW-FOREST
119-17 Union Turnpike, Forest Hills
718-268-4667 x108
Email [email protected]

From June 30-Aug. 15, kids entering pre-K to seventh grade enjoy a full-day program (9am- 4:30pm) featuring morning academics and afternoon recreation, or a half-day of either. Daily swimming and lunch are also offered. For eighth graders, we offer a Counselor-in-Training program. Call 718-268-4667 x108 or email [email protected] for information.

WORLD OF DISCOVERY DAY CAMP
718-229-3037
Email [email protected]

World of Discovery Day Camp creates an environment where kids can just be kids. Since 1977, children ages 4-15 have enjoyed baseball, volleyball, basketball, gymnastics, dance and drama, carnivals, scavenger hunts, swimming, Olympic week, trips, and much more. Counselors must meet stringent standards and all directors and assistant directors are New York state-certified and trained in CPR, first aid, and responding to emergency. All swim instructors are certified lifeguards. Door-to-door transportation is provided.

YOUNG PEOPLE'S DAY CAMP OF QUEENS
800-856-1043
800-DAY-CAMP

Since 1972, our family-run camp has provided safe, fun summers for thousands of youngsters ages 4-15. YPDC is accredited by the ACA, the New York Camp Directors Association, and is supervised by licensed teachers and administrators. Our philosophy is to "grow" children intellectually, physically, and spiritually in a fun environment. Activities include swimming, sports, arts and crafts, music, dance, natural science, academics, educational and recreational field trips, and special events. Door-to-door transportation is available at no additional charge. Two- to eight-week sessions are available. Ask about special discounts.
Find more camps in the New York metro area