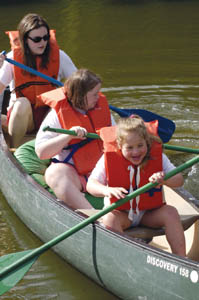 Looking for the best day camps, sleepaway camps, specialty camps, and camper outings in Queens, NY? Whether your child is interested in sports, theater, gymnastics, art, martial arts, or other specialty camps, or if you're looking for academic summer programs, you'll find what you're looking for in our comprehensive guide to summer camps and programs in Astoria, Bayside, Flushing, Forest Hills, Jamaica and all other parts of Queens.



DAY CAMPS
ABC FANTASY LAND PRESCHOOL
66-20 Laurel Hill Blvd., Woodside
718-672-2424

ABC is the start of the alphabet, and of education. Our newly renovated facility with 10 large rooms, indoor gym, and a spacious outdoor fenced-in playground provides a friendly preschool for children ages 2-6. The curriculum includes literacy, reading, arithmetic, computers, science, social studies, and gymnastics. Our student/teacher ratio allows our qualified staff to focus on each child. Hot meals daily: breakfast, lunch, and snack. Transportation available. We accept childcare assistance programs like ACS and HRA. The summer camp offers creative, recreational activities, sprinklers, and on-site trips including pony rides and animal shows.

ALL MY CHILDREN DAYCARE
718-658-1563 x206
175-44 Mayfield Road, Jamaica Estates
169-07 Jewel Ave., Fresh Meadows
108-22 69th Ave., Forest Hills
Subsidized Early Learn programs now available at our new locations:
110-15 164 Place, Jamaica
36-49 11 St., Astoria
117-16 Sutphin Blvd., Jamaica
66-108 St., Forest Hills
83-10 188 St. Jamaica Estates

At All My Children Day Camp, we provide a place for your child to grow both emotionally and intellectually. Our staff is certified with an extensive background in early childhood development and education. Our programs include theater, nature, music, dance, technology, and field trips. Mon.-Fri., 7:30am–6pm for children ages 6 months-9 years.
BETH SHOLOM DAY CAMP
401 Roslyn Road, Roslyn Heights
516-621-9257

Beth Sholom Day Camp, serving the Nassau/Queens area for over 40 years, provides children 3-15 the opportunity to reach their goals in a warm and friendly environment with a caring and experienced staff. We are located on 30 acres with three heated swimming pools and many fields. Some of our activities include swimming, music, dance, arts and crafts, young israelites, martial arts, and all outdoor sports. We serve Glatt Kosher lunches and snacks, and we are nut free. Beth Sholom Day Camp offers door to door transportation in air-conditioned vehicles. Please check out our website at bethsholomdaycamp.com.
COSMOKIDZ PRESCHOOL AND DAYCARE CENTER
71-33 162nd St., Fresh Meadows
718-380-KIDZ (5439)
Email cosmokidzpreschool@gmail.com

A brand new state-of-the-art facility offers complete preschool and daycare with full- or half-day programs from infants to preschoolers. Extended hours available from 7:30am to 7pm Monday through Friday. We are equipped with spacious classrooms, video surveillance system and a large enclosed outdoor padded playground. Our licensed New York State teachers conduct a wide range of learning activities such as social and language skills, music, gym, arts and crafts, dramatic play, mathematics, science, and more. After-school programs, summer camp, and weekend enrichment programs including math and language (Chinese and Spanish) are also available.

THE CRAYON BOX PRESCHOOL
44-10 192nd St, Flushing
718-888-9341

Where learning and fun are rolled into one! We give children a foundation of education they can take with them throughout their student years. Our summer program is no exception. The children will have access to outdoor activities daily, with water activities three days a week. We offer flexibility and a wide range of options to assist our families with their busy schedules. Emphasis is placed on both socialization and academic excellence, all in a calming and loving setting. Our beautiful facility offers an outdoor playground and a full-sized gym.

FOREST PARK DAY CAMP AND PRESCHOOL
102-35 63rd Road, Forest Hills
718-896-4444

Forest Park Day Camp is for children ages 2-6 years. The camp offers a wide variety of age-appropriate activities, ranging from swimming in our in-ground pool, supervised playing in our playground, creative arts and crafts, and trips. The camp setting is in an air-conditioned facility with breakfast, lunch, and snacks daily. Parents find our camp just right for their youngsters.

HAPPY DAYS DAY CAMP
P.O. Box 640236, Oakland Gardens
718-888-0264

At Happy Days Camp our mission is to create a fun, exploratory, and safe environment for your children. Our number one priority is your children's safety. We employ well-trained personnel/staff working with the children to develop interests and talents to their optimal potential. We follow a socially responsive practice. Children will build relationships, laugh, and smile and have fun-filled days. Here we stay true to our name committed to providing everlasting, memorable 'Happy Days' all summer.

Hillcrest Jewish Center Day Camp
cdaycamp.org, daycamp@hillcrestjc.org
(718) 380-4145
183-02 Union Turnpike, Flushing
718-380-4145
Email daycamp@hillcrestjc.org

The camp "where everybody knows your name" offers: pre-school/nursery/kindergarten, ages 4-5; junior, ages 6-7; senior, ages 8-10; tween, ages 11-13, and CIT Program. The age-appropriate programs include Red Cross swim instruction, arts and crafts, video games, outdoor play and exercise, sports, tennis, field trips, Jewish culture program, organized games and activities, and weekly cookout, and teen lounge/late night trips for upper campers. Fee includes transportation, hot kosher lunch/afternoon snack , trip admission fees, T-shirt, and a group picture. Partial season program available.

ICCD
35-55 223rd St., Bayside
718-428-5370
98-02 62nd Drive, Rego Park
718-263-1587
965 Willis Ave., 2nd Floor, Albertson
516-281-3600

Founded in 1986, our mission is to assist preschoolers (with and without disabilities) and their families to learn, grow, and enrich their lives in a stimulating and nurturing environment. We are a leader in child care with new, innovative programs as well as a full-service agency with a developmentally appropriate curriculum that supports the NYS learning standards. Multiple sites are available throughout Queens and Nassau. Free UPK classes are now available at our Bayside and Rego Park locations. Call for information about our Summer Program.
MAGIC CARPET SUMMER DAY CAMP
718-634-8109

Ages 4-14 are invited aboard the Magic Carpet to experience exciting weekly trips, frequent swim days, sun, fun, and adventure. Trips include Luna Park, Adventureland, Long Island's Laser Bounce, the New York Hall of Science, Movieworld, and so much more! All inclusive rates include transportation, lunch, swimming daily, t-shirt, totebag, and admission to all of our fun filled trips. Call today for more information. 2-8 week sessions available.

MILL BASIN DAY CAMP
5945 Strickland Ave., Brooklyn
718-251-6200

Mill Basin Day Camp is dedicated to providing an exciting and fulfilling camp experience for campers and parents. Founded in 1998, MBDC has become the largest and most popular summer day camp in Brooklyn. MBDC serves campers annually from Brooklyn, Long Island and Queens. A modern, fully equipped, air-conditioned and secure facility, MBDC offers a wide range of on-site activities for children entering Pre-K through 9th grade. Come in for a tour of our facility.

OASIS DAY CAMP
at Queensborough Community College, Bayside
646-519-5055
Email bayside@oasischildren.com

This summer Oasis in Bayside offers a day camp experience tailored to your child's interests with our Camper Academies. For wide-ranging skill development, campers will participate in: Chinese language and culture, science exploration, engineering, and fine/performing arts. During academy time, your child will develop their skills in specific content areas! When campers are not in Academies they will participate in our traditional day camp programming, which includes sports, team building activities, visual and performing arts, nature exploration, and recreational swimming. Oasis Day Camp is for boys and girls ages 4-15.

PEE WEE FOLKS
12-45 Clintonville St., Whitestone
718-746-6107

Camp Pee Wee offers an exciting experience for campers ages 2-4. Camp Pee Wee allows you to customize a schedule to meet your summer needs. Kidz Camp is our camp for older children ages 5-10. We offer a variety of activities to make their summer days memorable. We will be running trips two days a week to many of our favorite summer places, such as Fun Zone, Medieval Times, Adventureland, and many summer hot spots!

PRESCHOOL OF AMERICA
345 42nd St., New York
212-767-0606
Locations include Brooklyn, Queens, Upper East & West Sides, Midtown, and Downtown

The largest preschool system in New York encourages each child to shine! We provide an outstanding curriculum focusing on subjects such as math, science, reading, and writing, as well as cognitive, emotional, and social skills. We offer programs (for infants to kindergarteners) including after-school and camp, as well as a gifted and talented program. Our specialty programs include music, art, dance, yoga, and foreign language. You are welcome to come and visit any of our facilities for a guided tour and to meet our friendly and knowledgeable staff members.

SAMUEL FIELD Y
58-20 Little Neck Parkway, Little Neck
718-225-6750
Bay Terrace Center
212-00 23rd Ave., Bayside
718-423-6111

For over 60 years, the Samuel Field Y, along with our caring and dedicated staff, has provided a profound and memorable camp experience to children and youngadults. Starting at our on-site Nursery Camp, our campers continue to make their way through our day camp and eventually into the Teen Travel Experience. We offer a completely customizable camp, where families can create their own personalized summer schedule. We offer transportation, and adjustable sessions to meet the needs of every family! Call the Camp Office for more information and our staff will assist you.

SUMMER AT KEW-FOREST
119-17 Union Turnpike, Forest Hills
718-268-4667 x108
Email summer@kewforest.org

From July 1 to August 16, kids entering grades Pre-K-6 enjoy a full-day program (9am- 4:30pm) featuring morning academics and afternoon recreation, or a half-day of either. Daily swimming and lunch are also offered. For 7th and 8th graders, we offer a Counselor-in-Training (CIT) program. Call 718-268-4667 x108 or e-mail summer@kewforest.org for information.

WORLD OF DISCOVERY DAY CAMP
718-229-3037
Email info@worldofdiscovery.org

World of Discovery Day Camp creates an environment where kids can just be kids. Since 1977, children ages 4-15 have enjoyed baseball, volleyball, basketball, gymnastics, dance and drama, carnivals, scavenger hunts, swimming, Olympic week, trips, and much more. Counselors must meet stringent standards and all directors and assistant directors are New York State certified and trained in CPR, First Aid and Responding to Emergency. All swim instructors are certified lifeguards. Door-to-door transportation is provided.

YOUNG PEOPLE'S DAY CAMP OF QUEENS
800-856-1043
1-800-DAY-CAMP

Since 1972, our family-run camp has provided safe, fun summers for thousands of youngsters ages 4-15. YPDC is accredited by the ACA, the New York Camp Directors Association, and is supervised by licensed teachers and administrators. Our philosophy is to "grow" children intellectually, physically, and spiritually in a fun environment. Activities include swimming, sports, arts and crafts, music, dance, natural science, academics, educational and recreational field trips, and special events. Door-to-door transportation is available at no additional charge. 2- to 8-week sessions are available. Ask about special discounts.
SPECIALTY
BAYVIEW SWIM CLUB
217-14 24th Ave., Bay Terrace
718-428-0100
Email btcc61@verizon.net

Vacation with us this summer. The Bayview Swim Club at Bay Terrace Country Club overlooking Little Neck Bay offers a handicapped accessible Olympic-sized pool, tiered children's swim program, arts and crafts, water aerobics, aqua Zumba classes, and an interactive kiddie pool. Use the playground, play paddle tennis, basketball, volley ball or paddleball. Lounge on the sun deck, take in the views from the upper deck or relax in the shade on the spacious lawn. Have a snack at Café on the Bay. Open daily May-September. Onsite parking.

CHRISTY'S GYMNASTICS
150-50 14th Road, Whitestone
718-767-0123

Join our summer Mini Camp for children of all ages. Our creative program and highly qualified staff lead your child through a summer of fun, friends, and fitness. Our state-of-the-art facility is also available for birthday parties. Call for more information.

THE DANCESOURCE
98-11 Queens Blvd., Rego Park/Forest Hills
718-997-1278
Email info@dancesource.net

Ballet Arts School - The Dancesource studio, (since 1994) offers ballet, pointe, tap, gymnastics, hip hop, classical Barata Nathyam, Bollywood Indian dance, jazz, pilates, modern, ballroom and martial arts classes. Administration Mon.-Wed. 4:30-7:30pm, Saturday 9:30am-2pm, and Sunday 9:30-12:30pm. Rental space is available. We emphasize fun in our dance technique! Check us out! Bring this advertisement to The Dancesource, and get your first class free!

EAST-WEST MUSIC STUDIO, LLC
16110 Northern Blvd., Flushing
718-888-9772
Email info@ew-ms.com

"An Extraordinary School for Your Children to Discover Music" - Hsin-Yuan Huang, Professor of Juilliard School. EWMS offers caring and creative teachers from NYC Opera Orchestra, NYC Ballet Orchestra, and graduates from Juilliard School, Mannes, and Rutgers Mason Gross School of Music. We offer individual lessons in piano, violin, cello, guitar, saxophone, flute, clarinet, French horn, trumpet, and voice. We help your child learn to love and develop musical talent. We offer a free trial session for all new students. Call about our new summer program. Come see what makes us unique.

FASTRACKIDS SUMMER CAMP
98-00 62nd Drive, Rego Park - Park City
718-441-3762
82-66 Austin St., Kew Gardens
718-441-3762
132-18 41st Ave., #2, Flushing
718-288-5152

This summer, enroll your child in a fun and exciting adventure that children will use for life. FasTracKids is offering an 8-week fun, interactive learning program for children ages 3-10. This fast-paced, fun, and fully interactive learning adventure will captivate and entertain as it delivers truly meaningful lessons. FasTracKids program will include arts and crafts, science experiments, yoga, Virtual World Journey Tour, and other exciting activities. Seats are limited so call FasTracKids now to reserve a seat for your child. We are now open in Rego Park: 98-00 62nd Drive.

FOREST HILLS KIDS CORNER (TM)
Belle Arti Center for the Arts, L.L.C.
108-10 72nd Ave., Forest Hills
718-261-2237
All Star Studios
108-21 72nd Ave., Forest Hills
718-268-2280

The best in the field: Belle Arti Center for the Arts, L.L.C. (108-10 72nd Ave., Forest Hills; 718-261-2237; belleartiny.com) and All Star Studios (108-21 72nd Ave., Forest Hills; 718-268-2280; allstarstudiosnyc.com). Belle Arti offers lessons in piano, violin, cello, guitar, voice, woodwinds, music theory, and Musical Aurora®, a unique music program for children (Ages 2-5). All Star Studios offer classes on theater, tap, jazz, ballet, hip hop, and acrobatics! Ages 3 and up.

ICCD
35-55 223rd St., Bayside
718-428-5370
98-02 62nd Drive, Rego Park
718-263-1587
965 Willis Ave., 2nd Floor, Albertson
516-281-3600

Founded in 1986, our mission is to assist preschoolers (with and without disabilities) and their families to learn, grow, and enrich their lives in a stimulating and nurturing environment. We are a leader in child care with new, innovative programs as well as a full-service agency with a developmentally appropriate curriculum that supports the NYS learning standards. Multiple sites are available throughout Queens and Nassau. Free UPK classes are now available at our Bayside and Rego Park locations.

JEI LEARNING CENTER
200-13 32nd Ave., Bayside
347-408-4098

Since 1977, JEI Learning Centers' enrichment programs have helped children achieve academic success around the world. JEI has a scientific diagnostic system for children in grades Pre-K to 9. It pinpoints the missing links in learning, and prescribes an individual study program based on specific needs. We also offer multi-day preschool alternative and summer camp programs. Our Lil' Genius classes focus on creativity, collaboration, and communication in an interactive learning environment using touch-screen technology found in leading public and private schools.

KENT PREP
194-11A Northern Blvd., Bayside
718-423-5757

Summer does not mean learning should be put on hold! Kent Prep offers summer enrichment classes from July 1st-August 29th to help students from pre-kinder and up, set forth confidently in the upcoming semester. With developmentally appropriate curriculum led by top instructors in their given fields, Kent students receive the instruction and attention needed to excel. Please call 718.423.5757 to speak to a counselor for information.

KUEI LUCK ENRICHMENT CENTER
195-05 69th Ave., Fresh Meadows
718-679-9908

Get ready for the New York State math, and English and language arts statewide exam by registering for our Spring Break Intensive Test Prep Course. Your child will take mock exams and review them with experienced licensed teachers! Kuei Luck Enrichment Center provides a wide variety of programs including after school, enrichment classes, and summer camp. To inquire more about our programs please call 718-679-9908 or visit us kueiluck.com

LANA'S GYMNASTICS CLUB
71-25 Main St, Flushing
718-263-2121
Email arabinovich@msn.com

Lana's Gymnastics is the ultimate in gymnastic schools, offering the finest instruction all year round. Skilled instructors have gymnastic safety certificates. The 8,000-square foot facility has new Olympic-quality equipment. Students can join as beginners up to advanced. And Lana's has just introduced the long-awaited Mommy and Me program for children ages 2-4, morning and evenings. Lana's also offers summer camp with swimming throughout the week, trips, meals provided twice a day, and transportation which is included.

THE LANYARD LADIES
21 Ryder Place, East Rockaway
516-578-2248
Email thelanyardladies@yahoo.com

Introducing The Lanyard Ladies 2013 Summer Mini-Camp. Help uncover your child's creative side. The Lanyard Ladies are offering three different camp programs ranging in length from 4-, 6-, or 8-week sessions. Providing tons of fun for ages 5-16. Camp days are Monday, Wednesday and Friday from 9-11am. A snack and drink is included each day. Camp begins July 1 and ends August 16, 2013. Call 516-578-2248 for more information.

MOMMY, MUSIC, & ME, INC.®
718-229-0033

We have provided the Gold Standard Music Together® music and movement program, for grown-ups with the children they love, since 2003. Now in our 10th year, thousands of families with babies, toddlers, and preschoolers have experienced our developmentally appropriate classes with highly trained registered Music Together(R) teachers. Families return for fun classes and nine song collections with their second and third children after experiencing the positive effects on speech articulation, small/ large gross motor skills, pre-linguistic skills, rhythm, tone, and socialization. Schedule your free trial class today.

MUSIC TOGETHER
Various Locations,

While the big kids are at camp this summer, have some music-making fun with your little ones. Once a week for six weeks, you'll sing, dance, and play with your baby, toddler, or preschooler during your summer Music Together class. Each session includes a CD set and songbook so you can continue the fun at home with the rest of the family. Find a location near you in Queens or Long Island: musictogetherli-queens.com

NUBREED MARTIAL ARTS ACADEMY
150-43 14th Ave., Whitestone
718-747-2550

Nubreed Martial Arts Academy founders Sifu Luigi Orlando Cuellar and Sifu Alex Chan have collaborated with a child behavior specialist Robyn J.A. Silverman, PhD, to create the most educational and exciting age-specific children's programs. Besides focusing on a child's academic achievement and physical and character building skills, the program also includes Bully Busting and Child Abduction training. Call us to find out about our special summer activities. Nubreed Martial Arts is an award-winning academy and has been delivering martial arts excellence in Queens for 15 years.

NYU SUMMER PROGRAM FOR KIDS
At The College of New Rochelle, New Rochelle
212-263-0760/516-358-1811

A seven-week, evidence-based, therapeutic day program exclusively for children ages 7-11 with ADHD and behavior disorders. The focus of program is to build self-esteem and help children develop attentional, organizational, and friendship skills. Clinical psychologists and qualified teachers supervise undergraduate and graduate-level counselors. There 1 staff member to every 1 to 2 children. The program is directed by Dr. Karen Fleiss, a nationally renowned clinical psychologist and expert in the treatment of children with ADHD. Enrollment is limited.

POWER BRAIN TRAINING CENTER
43-01 Bell Blvd., 2nd Floor, Bayside
718-224-1500
567 Jericho Turnpike, Syosset
516-364-3413

The new camp everyone's talking about! At our "Fun and Focus Summer Camp" children (4-14) spend 7 weeks tapping into the infinite potential of their brain. Our interactive and engaging camp empowers students to improve social relationships, confidence, physical health, creativity, concentration, and academic success. Campers participate in a variety of physical, emotional, and cognitive activities including: yoga, visualization, team problem solving, tai chi, left/right hemisphere integration, brain wave vibration, HSP dance, brain screen study sessions and more! Help your child create health, happiness, and peace using their Power Brain!

PROGRESSIVE MARTIAL ARTS
175-25 Horace Harding Expressway, Fresh Meadows
718-461-0700
Email ks@progressivemartialarts.com

Progressive Martial Arts offers a year-long age-specific program for kids ages 3 and up. Classes are offered throughout the year and special events such as workshops, camps and summer activities are offered through the summer months for PMA Youth Students. Call (718) 461-0700 today to be part of this award-winning youth program that offers benefits such as increased confidence, practical self defense, increased focus, self-discipline and respect. Give your child the strong start in life they deserve!

QUANTUM LEAP KIDS LEARNING CENTER, INC.
108-10 72nd Ave., 3rd Floor, Forest Hills
718-344-3716
Email contact@quantumleapkidslearning.com

Quantum Leap Kids' Learning Center is proud to introduce its Summer Broadcast Journalism Workshop for students entering grades 3- 8. This class will be taught by a former local television news anchor/reporter. Students will learn the fundamental principles of news reporting in a hands-on approach, including writing and interviewing for news. Students will also get the opportunity to meet and speak with various on-air professionals. Quantum Leap also offers English Language Arts (ELA) Workshops for grades K-7. Please call 718-344-3716 or visit our website, quantumleapkidslearning.com for details.

QUEENS BOTANICAL GARDEN
43-50 Main St., Flushing
718-886-3800
Email rwolf@queensbotanical.org

HSBC Children's Garden is a hands-on program for children (5-12) that teaches about plants, gardens, and nature while kids have fun playing in a beautiful environment. It's the first "green" children's program in Queens, and offers the opportunity to practice different sustainable gardening techniques-like composting and mulching-and learn about recycling. Queens Botanical Garden is an urban oasis where people, plants, and cultures are celebrated through inspiring gardens, innovative educational programs and environmental stewardship.

ROBOMINDTECH STEM LEARNING CENTER
185-10A Union Turnpike, Fresh Meadows
718-264-7626 (ROBO)
Email robomindtech@gmail.com

Robomindtech is a science and technology learning center that integrates the motivational effects of robotics and LEGO® play into a unique, hands-on curriculum (age 4-14) designed to inspire young minds. Channel your child's creative energy into creative science and robotics activities that teach important concepts in an active immersion environment. We offer weekly summer camps; come build your own amusement park or take the robotic Mars rover exploration challenge. Look for our after school, vacation workshops, school field trips & birthday parties. Join RoboMindTech's Robotics team, Home of 2012 First LEGO League Champion.

SOCCER FRIENDS USA, INC.
347-756-2568 (Para Espanol)
Email soccerfriendsusa@hotmail.com

Our objective is to create a basis for a lifelong enjoyment of sports. Our popular summer program is as flexible as it is fun, so that you can enjoy your summer plans and enjoy our classes! We offer class passes for as few as three classes, all the way up to our unlimited pass. Just check what time the appropriate class is (Monday- Saturday) and come play. We offer classes for ages 2 and up.

THE LONG ISLAND UNIVERSITY CENTER FOR GIFTED YOUTH
C.W. Post Campus, Brookville
516-299-2160

The Center for Gifted Youth is a four-week, campus-based, non-residential summer program emphasizing hands-on academic activities. Opportunities are provided for individual and group work and productive learning experiences with special emphasis on higher order thinking skills, creativity, problem-solving and leadership development. A supervised recreational program is offered at the end of each day. Students may participate in outdoor athletic activities, such as soccer and kickball, or take part in club-type activities, such as chess and group discussions.

THEATRE ARTS CENTER
Queensborough Community College, Bayside
718-595-2905

Take center stage in a 4-week performing arts camp for talented 8- to 19-year olds. Professional quality close to home. Learn from working Broadway artists like the Dance Captain from Billy Elliot. Three musical theatre companies by age and ability, or Actors Conservatory (ages 14-19). Includes acting, musical theatre, dance, voice, on-camera, improv, and more. Students perform fully staged shows for the public. Musical Theatre Jul. 8 –Aug. 4; Actors Conservatory July 1-28; Audition and Cabaret Workshop Aug. 5-11. One of the best values in NYC! By audition.
SERVICES FOR CAMPERS
We know stickers and labels. With over 500,000 customers and celebrating our 17th year, Family Labels has been making sure your children's belongings come home from camp and school. We manufacture every item in our more than 7,000-square-foot South Florida manufacturing facility. Come check out our site at familylabels.com and see why we "Guarantee To Deliver A Smile." A proud member of the American Camp Association.

PM PEDIATRICS
210-31 26th Ave., Bayside
718-747-KIDS 5437)
596 Jericho Turnpike, Syosset
516-677-KIDS (5437)
Selden Plaza Shopping Center
239 Middle Country Road, Selden
631-696-KIDS (5437)
620 East Boston Post Road, Mamaroneck
914-777-KIDS (5437)
Opening Early Spring 2013:
1130 Deer Park Ave., North Babylon

PM Pediatrics is an award-winning after-hours urgent care practice staffed by Pediatric Emergency Specialists trained in treating patients, newborn through college, in urgent situations while minimizing pain and unnecessary tests. They provide specialized care and treatment for a broad array of illnesses and injuries including asthma, fever, dehydration, sprains and fractures, wounds requiring stitches and more. Each walk-in PM Pediatrics location features on-site digital X-rays and a lab. Most insurance accepted. PM Pediatrics is open 365 days a year, from 5pm-12am on weekdays, and from 12pm-12am on weekends and holidays.

PREMIER CARE
Locations in Bellmore, Commack, Great Neck, Levittown, Lindenhurst, Lynbrook, Maspeth, and Park Slope,
Premier Care of Bellmore
2459 Merrick Road, Bellmore
516-826-2273
6500 Jericho Turnpike, Commack
631-858-2273
415 Northern Blvd., Great Neck
516-829-2273
3276 Hempstead Turnpike, Levittown
516-796-2273
656 North Wellwood Ave., Lindenhurst
631-225-4227
585 Merrick Road, Lynbrook
516-764-2273
74-25 Grand Ave., Maspeth
718-803-2273
418 - 420 5th Ave., Park Slope
718-965-2273

At Premier Care, our highly trained and experienced emergency medicine doctors deliver expert care to you and your loved ones in a state-of-the-art, clean, and friendly environment. We work with your primary physician or pediatrician to help you or your child quickly get through any urgent medical need you may have. All our facilities have X-ray and laboratory services on site enabling us to diagnose and treat all urgent care medical conditions.
Find more camps in the New York metro area