Related: activities, events, Queens, NY, kids, children, families, things to do, NYC, April, 2010, classes, programs, theater, museums, earth day,




Check out some great activities and events for kids and families scheduled during the month of April in Queens. Whether you're looking to celebrate Earth Day, catch a kid-friendly show, or enjoy the great outdoors, we've got the information your family needs.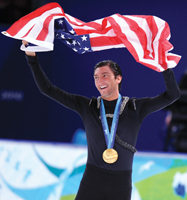 Figure Skating Family Entertainment
If you already miss watching the Winter Olympics, you can see many Olympic figure skaters live on the ice in Uniondale this month. Olympic athletes Evan Lysacek, Tanith Belbin, Benjamin Agosto, Sasha Cohen, Todd Eldredge, Michael Weiss, and several others join the 24th season of Smucker's® Stars on Ice® Tour at the Nassau Coliseum.
Proceeds benefit the Boys & Girls Clubs of America. All ages. Tickets start at $25. April 17. 7:30pm. Nassau Coliseum, 1255 Hempstead Turnpike, Uniondale. 1-800-745-3000 or www.starsonice.com.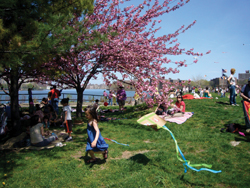 Welcome, Spring!
After being cooped up inside all winter, celebrate spring with these outdoor activities for families.
Kite Flight at Socrates Sculpture Park
Let's go fly a kite at the eighth annual Kite Flight at Socrates Sculpture Park. Using recycled materials provided by the park, kids of all ages can make, decorate (using inspiration from the Manhattan skyline), and fly a kite in the park. Most of the materials will be household items, such as plastic bags, so after learning how, kids can make more at home. There is no pre-registration, but space and supplies are limited, so be sure to come early. April 25, 11am-2pm. FREE. Broadway at Vernon Boulevard. 718-956 1819. www.socratessculpturepark.org.
Discovery Walk at Wave Hill
See the natural beauty of Wave Hill, including the insects, flowers, and birds that live there, as well as their habitats, on this naturalist-led Discovery Walk. Overlooking the Hudson and the Palisades, this public garden is the perfect place for a morning stroll. The Nature Walk is great for kids ages 5 and up and their families. Pre-registration is highly recommended. The walk begins at the Perkins Visitor's Center. April 11 and 25; 9:30-11:30am. $5. 675 West 252nd Street, Bronx. 718-549-3200, ext. 305. www.wavehill.org.
Early Spring Stroll at Old Westbury Gardens
Take a walk in the Old Westbury gardens and see what nature has to offer. These guided walks show a garden that is just waking up from its winter nap and are based on what is in bloom, such as daffodils and wildflowers. After the long winter, what could be better than seeing new blooms, hearing the birds chirp, and smelling pine trees on these 45-minute walks? April 11 and 18; tours start at 2pm. $8; $5 seniors; $3 children under 17. 71 Old Westbury Road, Old Westbury. 516-333-0048. www.oldwestburygardens.org.
Spring Carnival
The Queens County Farm Museum will host a Children's Carnival in its apple orchard on two consecutive weekends this month: April 10, 11, 17, and 18. The fun begins at 11am each day and ends at 6pm. The carnival will feature rides, midway games, food, hayrides, a petting zoo, and a magic show in the barn. All ages. $9 admission.
73-50 Little Neck Parkway, Floral Park. 718-347-3276. www.queensfarm.org.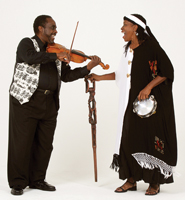 Jazzy Story Time
Kids can enjoy the magic of storytelling and the compelling sounds of jazz during Tellin' on the Downbeat: John Blake Quartet & Charlotte Blake Alston on April 17 at 2:15pm. Listen to children's songs and stories like "How the Racoon Got His Dinner," a humorous African-American folktale where each animal has a musical theme. Then meet the artists following the performance. For preschool through tween-aged children. Flushing Town Hall, 137-35 Northern Boulevard, Flushing. 718-463-7700. www.flushingtownhall.org.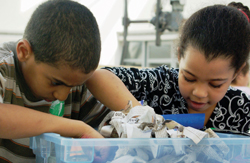 Celebrate Earth Day
These events will help make Earth Day every day in homes across the county. Join in!
Celebration at Voelker Orth Museum
Commemorate the first Earth Day celebration at the Voelker Orth Museum, a Bird Sanctuary and Victorian Garden containing and maintaining plants from the Victorian Era. The museum will host an afternoon of art activities and workshops, including instructions on how to care for backyard birds and gardening. April 22, 3-4pm. $2. 149-19 38th Avenue, Flushing. 718-359-6227. www.vomuseum.org.
Earth Day at NySci
Celebrate the 40th anniversary of Earth Day with the New York Hall of Science. The festivities will include hands-on activities, a nature walk, and a small film festival for kids. April 24 and 25, 10am-5pm. Free with general admission: $11; $8 children. 47-01 111th Street. 718-699-0005. www.nysci.org.
Green for Queens Community Earth Day Fair
Kids can check out the Wildlife Children's Theater, try a bicycle generator, and learn about community gardens. Parents can attend workshops and exhibits, learn how to compost in an apartment, find out about local food co-ops, and with a Con Ed bill, get free CFL light bulbs as well as reusable shopping bags and water bottles. April 25, 1-4pm. FREE. Central Queens YM & YWHA, 6709 108th Street Flushing. 718-268-5011. www.cqyjcc.org.
Family Art Project at Wave Hill
Make art that celebrates nature and the changing seasons. Fashion a flower-pot hat complete with exuberant flowers, bees, and butterflies to wear at the festive musical parade at day's end. April 25, 1-5pm; parade starts at 4pm. FREE admission to the grounds until noon. 675 West 252nd Street, Bronx. 718-549 -3200, ext. 305. www.wavehill.org.
Celebration at the Long Island Children's Museum
Celebrate Earth Day with activities that help remind us to keep the planet healthy. Visitors can learn the many ways to help keep the earth clean, and participate in craft-making out of recyclables. April 18, 12-4pm. Free with museum admission: $10; $9 seniors; FREE children under 1. 11 Davis Avenue, Garden City. 516-224-5800. www.licm.org.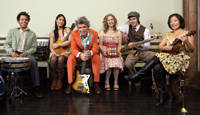 Scenes in Queens
Check out the variety of performances scheduled in theaters across the county this month.
Carnegie Hall Neighborhood Concert Series Presents: Kakande
Playing away on a balafon, a West African xylophone, Famoro Dioubate and his band, Kakande, will enliven the Langston Hughes community library and cultural center. Kakande is comprised of griots, musicians and storytellers, from Guinea. In addition to the balafon, lush vocals, sinewy guitars, flutes, and cellos will fill the room with tradition and music. April 24, 2pm. FREE. 100-01 Northern Boulevard, Corona. 718-651-1100. www.queenslibrary.org.
Dan Zanes and Friends

It's a dance party just for kids! The Grammy Award-winning Dan Zanes and Friends will perform some of their catchy hits. Singing songs in English and Spanish, this group's special sound is perfect for kids, and adults may find their toes tapping, too. April 18, 2pm. $20; $12 children under 12. 65-30 Kissena Boulevard, Flushing. 718-544-2996. www.kupferbergcenter.org.
Yesterday, A Tribute to The Beatles

With a focus on the 1964-1974 timeline, Yesterday, the number one Beatles tribute act, highlights the Beatles' best performances, including those featured on The Ed Sullivan Show and at the Hollywood Bowl and Shea Stadium. In addition to performances, the portrayals include playful banter, costume changes, and film footage. These modern-day mop tops play classics including "Something," "Penny Lane," and "Sgt. Pepper." April 10, 8pm. $35; $33 seniors; $25 children under 12. Queensborough Performing Arts Center, 222-05 56th Avenue, Bayside. 718-631-6311. www.qcc.cuny.edu/qpac.
For even more activities and events in Queens, check out our Online Calendar.
Also see our calendar of events for Manhattan.
---
Get Your FREE Indoor Activity eGuide!
---
More Calendar Stories Articles
Today's Family & Kids Activities in Long Island-Nov 26
Today's Family & Kids Activities in Fairfield-Nov 26
Today's Family & Kids Activities in Queens-Nov 26
Today's Family & Kids Activities in Rockland-Nov 26
Today's Family & Kids Activities in Brooklyn-Nov 26

Be a good fellow parent and share this with a friend who would be interested
Local Calendar Stories Sponsors
See Our Calendar Stories Directory