Related: Queens, ny, nyc, nysci, new york hall of science, science farmers market, produce, farm market, festival, fair, outdoor, family, outing, event, activity, sunday, summer, August,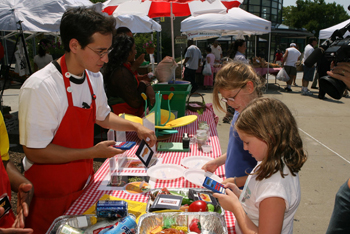 Every Sunday through mid-November, the New York Hall of Science (NYSCI) hosts an outdoor Science Farmers Market. Now in its fourth year, the market gives visitors the chance to enjoy locally grown produce while learning the science behind the food they eat. Through interactive live science demonstrations conducted by NYSCI Explainers, visitors can learn everything from how much energy is in a peanut to the role of earthworms in the soil produce grows in.
The Science Farmers Market's edible approach allows families to learn fun facts about fruits and vegetables, as well as the benefits of eating healthy. Through handouts and live demonstrations related to nutrition, biology, and ecology, visitors will discover things like how fruit trees are grafted, the origin of hot and sweet peppers, and the secrets of potatoes. Visitors can continue their science experience by exploring the Hall's more than 400 exhibits, including Amazon Voyage: Vicious Fishes and Other Riches, which is on display through August 22.
Event Info
What: Science Farmers Market
Where: New York Hall of Science, 47-01 111th Street, Flushing Meadows Corona Park, Flushing
When: Open Sundays through November 14, 10am-4pm
How much: Free with museum admission: $11; $8 children, college students, and seniors
For more information: 718-699-0005 or www.nysci.org
---
Get Your FREE Indoor Activity eGuide!
---
More Recreation/Outings Articles
2010 Nassau Coliseum Fair in Uniondale, NY
DanceAfrica 2011 at BAM: Viva Cuba!
Brooklyn May Calendar Highlights: Family Activities
Spring 2011 Bird Watching Events in Westchester County, NY
Westchester County, NY, May Calendar Highlights: Activities for Families

Be a good fellow parent and share this with a friend who would be interested
Local Recreation/Outings Sponsors
See Our Recreation/Outings Directory