2007                                YOUNG MUSIC MAKERS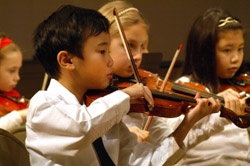 Founded in 1962, the Children's Orchestra Society is a not-for-profit organization dedicated to teaching children the language of music, and to presenting young musicians in orchestra and chamber music concerts with their peers as well as established artists. On Sunday, December 9, at 4pm, the Children's Orchestra presents its 39th Annual Winter Concert, featuring works by Bartok, Beethoven, and Brahms. Tickets are $15, or $50 for family of four; $18 at the door. The music can be heard at Queensborough Performing Arts Center, 222-05 56th Avenue, Bayside. Info: (718) 631-6311; www.childrensorch.org.
                                    CLASSICAL CHRISTMAS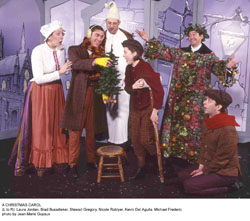 The classic story of Ebenezer Scrooge makes its way to Flushing Town Hall this month. At just $15 a ticket, and $12 for kids, the musical, A Christmas Carol, runs one hour and is suitable for young children. Showtimes are Friday, December 21 at 7:30pm and Saturday, December 22 at 2pm and 7:30pm. Flushing Town Hall also presents The Nutcracker, performed by Ballet for Young Audiences, on December 16 & 23 at 2pm. Again, tickets are $15; $12 for children. Flushing Town Hall is located at 137-35 Northern Blvd. Info: (718) 463-7700; www.flushingtownhall.org.
                                  HOLIDAY ON THE FARM
    The planning and preparation that go into creating family holiday traditions need not be another item to check off your to-do list! The Queens County Farm Museumoffers several holiday planning activities this month — and at a nominal cost, from FREE to $15. From December 1-24, there will be a Christmas tree and poinsettia sale, with popular varieties and sizes of trees, evergreen wreaths and plants. At wreath-making workshops on Saturday, December 8 at 10 am, noon, and 2 pm, participants can make their own personalized evergreen wreath to take home ($15). A holiday open house takes place on December 26-28, from noon-4 pm; families can take a break from the hustle and bustle of holiday shopping and relax by touring the decorated farmhouse while kids create a holiday craft. Plenty of farm-made mulled cider will be on hand to round out this free event. Queens County Farm Museum is located at 73-50 Little Neck Parkway in Floral Park. Info: (718) 347-3276; www.queensfarm.org.
                                HOLIDAYS AROUND THE WORLD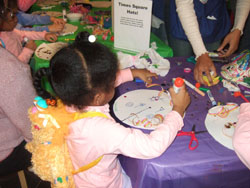 The Long Island Children's Museum covers the December holidays with a range of multi-cultural events this month. On Sunday, December 2 at 3 pm, The Festival of Lights teaches kids, ages 5 and up, about the history and traditions of Hanukkah: why Jews light menorah candles and what a dreidel does; kids then make their own hand-painted menorah and dreidel to take home. On Saturday, December 15 at 3pm, celebrate Christmas in Germany, and explore the customs and Kinara candles. And the month wouldn't be complete without LICM's annual holiday tradition, Countdown to 12!  On Monday, December 31, from noon to 4:45 pm, kids ring in an early New Year by exploring colorful traditions from Europe, Asia and the Americas, with arts and craft activities from around the world. Long Island Children's Museum is located at 11 Davis Avenue, Garden City. Info: (516) 224-5800; www.licm.org.