SEE OUR MOST RECENT BIRTHDAY PARTY GUIDE FOR QUEENS
---
Check out our Brooklyn Kids' Birthday Party Guide for fun and creative ideas for your kids! Find everything you need to plan and throw the perfect party, including party spaces, caterers and food, balloons, magicians and clowns, and more! And browse even more party places in Manhattan, Brooklyn, Westchester, Rockland, Fairfield County, Nassau & Suffolk!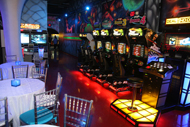 ALL STAR STUDIOS
108-12 72nd Ave, Forest Hills
(718) 268-2280
www.allstarstudiosnyc.com

All Star Studios-Dance, Theater and More offers birthday party packages. Choose from a theater, dance, gymnastics, or combination theme! Parties are 1 hour and 45 minutes and this is a drop-off program. Goodie Bags included. Call to book a party!
AMERICAN DANCE & DRAMA
188-22 Union Turnpike, Flushing
(718) 479-8522
www.americandanceanddramastudio.com

As one of Queens' largest, most exciting birthday party locations, we specialize in one party at a time. Girls enjoy dress-up, disco and gymnastic parties, Tunnel Maze, Moon Bounce, Ball Pit, Bubble, Fog Machines and cotton candy. Music video parties star your child in a video shoot on our state-of-the-art stage. Boys go crazy for gymnastics, basketball and wild obstacle course competitions. We also offer Crazy Craft, Princess Parties and first birthday parties. Magicians also available; your place or ours.
ASTORIA SPORTS COMPLEX
34-38 38th St (between 34th & 35th Ave), Astoria
(718) 729-7163
www.ascsports1.com

Everyone is raving! The Astoria Sports Complex is a family owned and operated facility. The service is stupendous, the facility is glamorous, parties are private and supervised, and the children have a fantastic time. Every detail is handled by the owner; he attends and coordinates every party. When you are here, you are family. Not only do the children have fun, but the adults also have a fantastic time. Our motto is: No one beats our services or our prices!
BAMBOOMOVES
107-50 Queens Blvd, 2nd Fl, Forest Hills
(718) 263-0788
www.bamboomovesnyc.com

Bamboomoves is a joyous and welcoming place for people of all backgrounds to train their body, mind, and spirit in nurturing, yet challenging programs. This Fall, we are excited to introduce several new parent/child yoga classes, including Parent/Child, Parent/Baby, Prenatal Yoga and Kids Yoga. Save $10 off any kids' class/class pack, when you bring in the coupon from our ad in Queens Parent. See our ad on page (blank).
BIRTHDAYLAND EXPRESS
202-22 45th Ave, Bayside
(718) 224-0033
www.birthdaylandexpress.com

Birthdayland Express has been providing high quality birthday parties in Queens for over 21 years. We have a wide variety of theme parties to choose from, along with numerous types of craft parties. We feature a private party room, or we can bring the party to you, with several options for parties, in your home. Please call us for more info, or check out our website.
CARMINI THE MAGICIAN
(718) 633-9137
The Carmini Magic Show is a fun-filled event consisting of amazing magic, comedy and audience participation, where the children help make the magic happen. Balloon animals, prizes and face painting round out the program. For the past 20 years, Carmini the Magician has performed his special brand of entertainment for children as well as adults, at block parties, birthday parties, communions, street fairs and holiday parties. Carmini will help make your party a memorable one!
CHILIBEANS PARTY PLACE
103 Meade St, Hempstead
(516) 680-3024
www.chilibeans.com

A private party wonderland for infants, toddlers, and young children! Fabulous playrooms. Affordable party packages. Exciting add-ons include crafts, the Story Lady, and music fun. Invitations, balloons, party leaders, juice boxes, water bottles and all paper goods included. No charge for the birthday child or adults. Bring in your own refreshments if you wish. Visit our website for more information and pictures.
CHRISTY'S GYMNASTICS
150-50 14th Rd, Whitestone
(718) 767-0123
Christy's Gymnastics birthday bash is a full hour and a half of fun. Kids will have a blast swinging on rings, sliding down slides, walking on balance beams, and rolling and jumping over our obstacle courses. Jumping on our tumble track and trampoline just tops the cake. Kids can challenge themselves on our fantastic rock climbing wall. Celebrate your child's birthday in your very own private party room. You are provided with everything necessary, so leave the planning to us and we'll leave the partying to you.
CITY ICE PAVILION
47-32 32nd Place, Long Island City
(718) 706-6667
www.CityIcePavilion.com

Discover how GREAT it is to SKATE at the CITY ICE PAVILION. New York's newest NHL-sized Ice Rink, ideally located on a rooftop in Long Island City, is just two miles from midtown over the 59th Street Bridge. Look no further for a school, holiday or corporate event, or a super special birthday party. We offer great birthday packages for all!Friday Evening: 5.30pm to 8:20pm; Saturday: Noon to 3:50pm; Saturday Night: 7 to 9:50pm; Sunday: Noon to 2:20pm.
GARY THOMAS COLLINS
34-31 81st St. #B32, Jackson Heights
(718) 877-6819
[email protected]
Gary Thomas Collins has been creating caricatures for over 20 years. He has added life to a number of birthday parties, Bar and Bat Mitzvahs, company parties and other special events. He's also worked in theme parks across the country, including Disney World in Florida and Universal Studios in Los Angeles. He even performed for the Queen of England (in a Renaissance Faire). Please call or email for more information and samples.
GIGGLES THE CLOWN
(718) 275-0269
Giggles the Clown performs a funny and silly magic show, which includes a pair of doves, a small present, balloon animals, face painting and games. Available for christenings, communions, block parties and birthday parties, all at reasonable rates.
HUMZA STUDIO
42-12 30th Ave, Astoria
(718) 267-9464
www.humzastudio.com
[email protected]
Special prices of the month- video & photos $900.
JOE THE MAGIC MAN
(917) 723-0460
www.joethemagicman.com
[email protected]
Joe the Magic Man is an experienced magician serving the New York tri-state area. He was featured in Parents magazine. His shows feature audience participation and comedy magic that will amaze and tickle your funny bone at the same time. Everybody loves when his live birds and rabbit appear. So call Joe Magic Man to make your next event an unforgettable one!
JOE'S MUSIC CENTER AND PERFORMING ARTS
114-15 Mexico St, St. Albans; (718) 454-3036
545 Brooklyn Ave, Brooklyn; (718)774-0700
www.joesmusicctr.com
[email protected]
Joe's Music Center and Performing Arts has an expert staff who provide instructions on all instruments, voice and dance at various levels. Students as young as three years old begin taking lessons on instruments including piano and violin. All ages are invited. Our Jazz Band and Instructor's Band are available to perform at birthday parties and other events. For more information, please visit our website.
JOE'S MUSIC CENTER AND PERFORMING ARTS
114-15 Mexico St, St. Albans; (718) 454-3036
545 Brooklyn Ave, Brooklyn; (718)774-0700
www.joesmusicctr.com
[email protected]
Joe's Music Center and Performing Arts has an expert staff who provide instructions on all instruments, voice and dance at various levels. Students as young as three years old begin taking lessons on instruments including piano and violin. All ages are invited. Our Jazz Band and Instructor's Band are available to perform at birthday parties and other events. For more information, please visit our website.
KIDS 'N SHAPE OF HOWARD BEACH, INC.
162-26 Crossbay Boulevard
(718) 848-2052
www.kidsnshape.com

Since 1989, Kids 'n Shape has had an outstanding reputation of providing kids with unforgettable birthday memories by offering a wide range of themed birthday parties. The parties can be planned seven days a week, and include kids' favorites such as the moonwalk, cable ride, parachute games, relay races, obstacle course and tug-of-war. Various themed sports parties - including basketball, whiffleball, soccer, floor hockey and kickball - are available. New 40' inflatable obstacle course. Food and paper goods will be provided to make your child's party unforgettable.
KIDS FUN HOUSE
62-73 Fresh Pond Rd, Ridgewood
(718) 418-5437
www.kidsfunhouse.com

Kids Fun House is a family fun center with a play area for children 6 months-12 years old featuring a triple slide, mazes, obstacle course, lookout bubble, a spiral slide, a toddler play area, redemption games, arts and crafts room and a café. We specialize in themed birthday parties. We offer Princess/Knight, Candy, Arts and Crafts party, Disco party and many more. Each party is three hours and includes pizza, soda, birthday cake, all decorations, invitations, private room, game tokens and more.
LANA'S GYMNASTICS
137-20 Main St, Flushing
(718) 263-2121
Lana's Gymnastics is the ultimate in gymnastic schools, offering the finest instruction. Skilled instructors have gymnastic safety certificates. The 8,000-square foot facility has new Olympic-quality equipment. Students can join as beginners up to advanced. And Lana's has just introduced the long-awaited Mommy and Me program for 2- to 4-year-olds, morning and evenings. Lana's also offers birthday parties and summer camp. Open all year.
MOMMY, MUSIC, & ME, INC.
PO Box 610321, Bayside
(718) 229-0033
offers Music Together(R) classes in 9 convenient locations throughout Queens: Astoria, Bayside, Forest Hills, Howard Beach, Little Neck & Whitestone
www.MommyMusicandMe.com

Mommy, Music, & Me, Inc. is proud to offer the research-based, developmentally appropriate, Music Together(R) music and movement program to families throughout Queens and Western Nassau. Each Fall, Winter, Spring and Summer, families receive one of nine Music Together(R) Songbooks, two CD's, and a New Family Parent Guide with interactive DVD. Be prepared to sing, dance, and play instruments. Call or visit the website to register for class, schedule a free trial class, and have your questions answered. Mommy, Music & Me will also go to your place for birthday parties.
PARTY PERFECTION PROFESSIONALS
(347) 255-0558
www.partyperfectionprofessionals.vpweb.com

Let us provide the entertainment for your PERFECT party! Friendly and reliable entertainers. Affordable rates. From a magical visit with your child's favorite fairytale princess or costumed character, we can make all of your child's dreams come true. We offer happy clowns, silly magic, face painting, song/dance games and SO much more. We have cotton candy, snow cones, and popcorn machines.
PROGRESSIVE MARTIAL ARTS
175-25 Horace Harding Expwy, Fresh Meadows
(718) 461-0700
www.pmajkd.com

Progressive Martial Arts hosts birthday parties for ages 4 and up! Our parties include games designed for all ages and introduce kids to cooperative games they no longer play in the school setting! Parents are also welcome to join in the fun! Our 4,500-square foot facility provides the space for up to 40 children and is padded for safety. We set up, provide pizza and juices, and clean up. Our staff will also send out invites and thank you cards upon your request. Call now to schedule your child's birthday party.
RICO THE CLOWN AND MAGICIAN
(718) 434-9697
Rico is a humorous, zany, unpredictable, fun-loving and rambunctious clown, magician, and wizard who entertains children and adults of all ages. Rico is an acronym for "Rico interests children only." However, inside every adult is a little child who wants to come out. A professor of speech and communication, Rico employs his specialized talents in comedy, magic, balloon sculpturing, roasting, puppets, mime, face painting and games to create a truly memorable experience. Rico has appeared on TV and radio.
RUB A DUB SPA PARTIES FOR KIDS
(718) 712-3064
Lisa Thompson
www.rubadubparties.com

Rub A Dub Spa Parties For Kids is owned by former schoolteacher and mother Lisa Middleton-Thompson. Inspired by her little girl, Jamila, it has grown into a successful business. Offerings include mini facials with cucumbers; manicures; pedicures; massages; glittery tattoos; make-up; private party room; finale runway diva show with props; and party hostesses. Parents have a choice of booking two rooms. There's also a seating area for parents. Only all natural products are used. We also offer weekly yoga, meditation and exercise classes for kids. We teach kids how to take care of themselves from the inside out.
SPORTIME - QUEENS
Lynbrook; (516) 887-1330
Manhattan; (212) 427-6150
www.SportimeNY.com

Does your child love sports? Treat your child to the greatest sports birthday party ever, at SPORTIME! The birthday child spends his or her birthday playing soccer, hockey, basketball, baseball, or a multi-sport combination of his or her favorites. SPORTIME also offers tennis, dance, rock climbing and pool parties at selected locations. All you need to do is bring the cake! Visit us online, at www.SportimeNY.com and click on "PARTIES" to find out more.
SUPERKICKERS
77-02 37th Ave, Jackson Heights
(718) 350-1535
www.superkickers.com

Soccer Birthday Party! When parents plan their child's birthday party, they want it to be memorable and super fun! That's when Super Kickers comes in with everything you need to make this BIG DAY the most exciting. Our basic $300 package includes a two-hour birthday party for 15 kids with soccer class, inflatables and two coaches to entertain. Call today to find out about other packages and save your date. Visit us online.
THE CAGE-BASEBALL, INC.
62-40 Metropolitan Ave, Middle Village
(718) 366-2122
www.thecagenyc.com
[email protected]
You bring the kids and the cake and we'll take care of the rest. A fun-filled, two-hour baseball party includes two batting cages, pizza and soda, roll of quarters for video games, party invitations, deluxe table setting and a $25 gift card for the birthday child. If you have any questions, please contact us.
THINKERTOTS
222-14 Union Turnpike, Oakland Gardens
(877) TOTS-444
www.thinkertots.com

Have your child's birthday party at Thinkertots! We specialize in birthdays for the very young. Our instructors will custom-design the fun activities to perfectly fit your guests. Activity choices include music, dancing, art, blocks, tunnel play, bubbles, story time and more. There is only one party at a time in the center, so your birthday child will be the center of attention. Our activities are designed to be age appropriate. Parties are 90 minutes or 2 hours, with 45 minutes of activities, pizza, cake and lots of fun!
113-18 207th St, Queens Village
(646) 623-9454
www.totallyglamgirlsclub.com
[email protected]
Be a glam princess or pop star diva for your birthday with the "Totally Glam" Girls Club. Our parties include manicures, pedicures, facials, hair and makeup pampering treatments, along with a pink carpet runway fashion show, dancing, games and prizes. Our Glam Squad will bring all the glitz and glam to you. The birthday girl will receive all sorts of club membership goodies, and all of her guests will take home a goody bag. Our parties are for girls ages 4-14. Call now to book your bash, and we'll see you on the pink carpet!
2162 Broadway, 4th Floor, New York
(212) 579-0528
www.vitaltheatre.org

Give the gift of theatre! Celebrate a birthday with Vital Theatre Company. Our cast will bring your child on stage after the show and sing them Happy Birthday! Groups of ten or more save 25% on any of our family shows, including The Bully, Matthew Takes Mannahatta, The Klezmer Nutcracker, Uncle Pirate or our contemporary classic Pinkalicious, The Musical, running at the Bleecker Street Theatre.
WORLD ICE ARENA
12540 Roosevelt Ave, Flushing
(718) 760-9001
www.worldice.com

Skate where the WORLD SKATES at the new World Ice Arena in beautiful Flushing Meadows Corona Park. Situated next to the new CitiField and The United States Tennis Center, this huge ice rink is the perfect place for groups, special events and birthday parties for all! With over 50 hours of general skating per week, World Ice is ready when you are. Monday to Friday: after school until 5:15pm; Friday evening: 7 to 10pm; Saturday and Sunday: noon to 5pm.