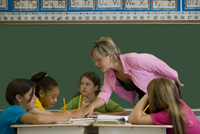 UPDATED SEPTEMBER 2014: It's back to school season in Queens, NY. Our back to school guide helps you find schools, after-school classes, religious schools, and activities in music and dance, art and theater, martial arts, fitness classes, and various sports, tutors, even lice checking services, and much more in Rego Park, Jamaica, Forest Hills, Fresh Meadows, and the rest of Queens, New York.

And be sure to check out the Brooklyn and NYC guides too!
ABC FANTASY LAND PRESCHOOL
66-20 Laurel Hill Blvd., Woodside
718-672-2424

ABC is the start of the alphabet and of education. Our renovated facility with 10 large rooms, indoor gym, and a spacious outdoor fenced-in playground provides a friendly preschool environment for children ages 2-6. Our full curriculum includes all subjects as well as gymnastics, Zumba, and music. The student-to-teacher ratio allows our qualified staff to focus on each child. Hot meals daily: breakfast, lunch, and snack. Transportation is available, as well as early drop off at 7:30am and extended day until 6pm. We accept child care assistance programs such as ACS and HRA. We also have a full-day UPK program, so sign up now!

ALL MY CHILDREN DAYCARE
718-902-2325
Lower East Side - 112 Ridge St.
Queens - Forest Hills, Jamaica Estates, Kew Garden Hills, and Rego Park
Brooklyn - Crown Heights

At All My Children Day Care we provide a place for your child to grow both emotionally and intellectually. Our staff is certified with an extensive background in early childhood development and education. Our program is eco-friendly and includes theater, nature, music, dance, technology, and field trips. We serve organic meals and are open Monday-Friday, 7:30am-6pm, for children ages 6 months through 5 years. Register now.

AMERICAN BOLERO DANCE COMPANY
30-16 Steinway St. , Astoria
718-392-8888

The versatile American Bolero Dance Company, directed by Gabriela Granados, is offering 12-week courses in Flamenco this fall for children, teens, and adults. Classes start Saturday Sept. 13, 2014 at Sol Dance Center. Since 2002, the company's Spanish Dance School offers seasonal courses in various dance styles, including Flamenco, classical, regional folk, and musical instruments such as castanets. Performing opportunities for serious students.

AMERICAN DANCE & DRAMA
188-22 Union Turnpike, Flushing
718-479-8522
72-24 61st St., Glendale

Welcome to The American Dance and Drama Studio, the original neighborhood school that was established more than 40 years ago at the same location. We offer quality teaching and an extremely professional staff, while maintaining a fun and exciting environment. Come visit our new, multi-level, hi-tech studios—the largest in Queens at 7,000 square feet! We're sure you'll be impressed. We offer classes for ages 2 through adults in all types of dance, as well as gymnastics, drama, Zumba, belly dance, and singing.

APPLE TREE NURSERY SCHOOL
82-25 164th St., Flushing
718-374-0002

Led by experienced, caring, dedicated, and certified staff, Apple Tree offers an enriched early childhood curriculum including art, computer, music, and literacy activities for 2-, 3- and 4-year-olds. We offer both half-day and full-day options. There are free UPK classes for children born in 2010, and half-day and full-day classes for those born in 2011 and 2012 at very reasonable rates. We offer extended hours until 4pm. Call to find out more about any of these dynamic programs. Visitors are always welcome.

BOUNCE! TRAMPOLINE SPORTS
310 Michael Drive, Syosset
516-762-1300
(ONLY QP)
612 Corporate Way, Valley Cottage
845-268-4000

The most exciting indoor entertainment complex in the Northeast! Play sports, have fun, and get fit on enormous courts of interconnected trampolines. Both locations offer open jump time, trampoline dodgeball, slam dunk basketball, foam-pit jumping, and toddler time, as well as Bounce! Jr. Zones! Syosset has an indoor trampoline Bungee jump, a volleyball court that doubles as a junior soccer field, and rope swings for little ones. Valley Cottage offers an arcade, and both locations have private party rooms, free Wi-Fi, and snack bars. Schools, camps, and corporate groups welcome.

BRAIN ABILITIES
444 Lakeville Road, Suite 103, Lake Success
516-208-9360

There are no simple solutions when it comes to ADD, ADHD, autism, Asperger's syndrome, learning disabilities, or processing disorders. Complex issues require comprehensive integrative solutions and that is exactly what we provide at Brain Abilities. A simple phone call is all it takes to find out exactly how we have helped hundreds of children and families. For more information and to see how we can help your family, visit brainabilities.com or call 516-208-9360.

CALIPER ORTHODONTICS
255-03 Northern Blvd., Little Neck
718-225-8828

Caliper Orthodontics is the practice of orthodontist Cynthia Leung, D.D.S., MSD. We offer Invisalign™, Damon™ Clear™ braces, and more for patients of all ages. We use state-of-the-art techniques and technologies to help you get your ideal smile. No need for discomfort and gagging associated with dental impressions; we use the iTero scanner for accurate digital dental images. Dr. Leung, a graduate of Stony Brook and Case Western Reserve, has committed her career to ensuring that the journey to your ideal smile is the right one for you. Most major insurance plans are accepted. Call to arrange a free consultation.

CHRIST THE KING CONTINUING EDUCATION
68-02 Metropolitan Ave., Middle Village
718-366-7454

CK offers families one location for all of their educational and leisure activities. Test prep and summer bridge classes are offered for all grades, as well as private tutoring. Dance, drama, and karate in our state-of-the-art facilities are just some of the fun classes we offer! Ample parking, reasonable prices, and flexible scheduling! CK has served the community for more than 50 years.

CHRISTY'S GYMNASTICS
150-50 14th Road, Whitestone
718-767-0123

Christy's Gymnastics was founded in 1984 as a full-service gymnastics facility. Our philosophy is to provide a safe, but exciting environment for children to improve their skills and build self-esteem. The greatest asset of our school is our staff, which includes certified physical education teachers, internationally renowned coaches, and former gymnasts. Our creative program is designed to provide your child with fun, friends, and fitness.

COOKIE'S KIDS - THE KIDS' DEPARTMENT STORE
Brooklyn Locations:
510 Fulton St.
718-797-3300
982 Flatbush Ave.
718-287-2300
265 Livingston St.
718-797-3300
Queens Locations:
166-21 Jamaica Ave.
718-291-7700
Bronx Locations:
1534 Westchester Ave.
718-991-9500
576 Melrose Ave.
718-585-0800

Cookie's Kids offers a one-stop-shop for school uniforms, children's clothing, toys, furniture, and accessories, all at the best prices. In our full-service school uniform department, we work with schools across the country to supply stylish and affordable school uniforms. Our fashion department has all the latest gear from your favorite brands. Visit one of our six NYC locations, or shop online at cookieskids.com and find out why we are known as the World's Largest Kids' Department Store!

COOLINARY KITCHEN
347-670-4618
Email [email protected]

Coolinary Kitchen provides home- and site-based cooking lessons for children. Cooking gives a boost of self-esteem, feelings of accomplishment, and an outlet for creativity. In addition to the mission to have fun cooking with children, it also serves parents who are in dire need of direction when it comes to preparing their children's meals. CK will help you in the kitchen with creating meal plans for your family, dealing with picky eaters, or figuring out ways to handle dietary restrictions. Let's have fun in the kitchen and cook something good!

COUNTRYSIDE MONTESSORI SCHOOL
354 Lakeville Road, Great Neck
516-466-8422

Countryside Montessori School was founded in 1998. We were founded with the aim of providing a high-quality early childhood education based on the philosophy, methods, and techniques developed 100 years ago by educational pioneer and Nobel Prize nominee Dr. Maria Montessori. Our children become responsible for their own learning and their own behavior. They learn to respect themselves and others. Everything in our school is designed to encourage and aid the child's natural curiosity.

THE CRAYON BOX PRESCHOOL
44-10 192nd St., Flushing
718-888-9341

Children at The Crayon Box are encouraged to learn by doing. The curriculum is planned by creative and dedicated professionals. Children experience the fun of learning by participating in activities designed to stimulate growth in a wide range of areas, including social and cognitive development and gross and fine motor skills. We invite you to come see us and decide if The Crayon Box Preschool is right for your child's first educational experience.

THE DANCESOURCE
98-11 Queens Blvd. (at 65th Ave.), Rego Park/Forest Hills
718-997-1278
Email [email protected]

The Dancesource offers ballet, pointe, tap, gymnastics, hip-hop, classical Barata Nathyam, Bollywood Indian dance, Egyptian belly dance, modern, ballroom, and martial arts Arte Jujitsu classes, since 1994. Administration available after school Monday-Wednesday 4:30-7:30pm, Saturday 9:30am-2pm, and Sunday 9:30am-12:30pm. Rental space is available. New classes coming this fall. We emphasize fun in our dance technique! See our new updated website coming in September!

ELANA DIETZ-WEINSTEIN MA, MT-BC, LCAT
917-597-2348

Music therapy aids in the development of expressive and receptive language, social skills, attention span and impulse control, fine and gross motor skills, creativity, and self-esteem. Your child's development is nurtured through a supportive and interactive musical relationship involving instrumental play, singing, and movement. Dietz-Weinstein is a board-certified, state-licensed music therapist with a master's degree from NYU and 10 years of experience working with children with special needs. She offers home-based therapy sessions, adaptive piano lessons, and traditional piano lessons. Please call 917-597-2348 for a consultation.

FASTRACKIDS & JEI LEARNING CENTER
98-00 62nd Drive , Rego Park - Park City
718-441-3762
Email [email protected]

FasTracKids and JEI is the "best rated spot for learning" for students ages 3-12. Our programs complement skill levels necessary for students to achieve success. We offer proven programs that deliver results for realizing each student's maximum potential. Whether it's critical thinking, Gifted & Talented, math, reading, speech, leadership, summer camp, swimming lessons, preschool alternative, or enrichment in our 10 exciting subjects, we have the best programs for your child. Most importantly, we make learning fun! More than a million students participate in our programs worldwide each week. Enroll now and see for yourself!

FIRST SHOT BASKETBALL SCHOOL
718-275-7974
Email [email protected]

First Shot provides a healthy, pressure-free environment for children ages 3-15 to learn and play basketball. Experienced basketball coaches work in small groups of one teacher for every five children. We teach, we build confidence, and we make it fun for everyone. Your child will learn the value of good sportsmanship, setting goals, and teamwork. In a short time, your child will know the basics, sharpen his or her skills, and come away feeling positive about playing with his or her friends in the schoolyard.

FOREST HILLS KIDS CORNER (TM)
Belle Arti Center for the Arts, L.L.C.
108-10 72nd Ave., Forest Hills
718-261-2237
All Star Studios
108-21 72nd Ave., 4th Floor, Forest Hills
718-268-2280

The best in the field, Belle Arti Center for the Arts, L.L.C. offers lessons in piano, violin, cello, guitar, voice, woodwinds, and music theory for ages 4 and older, and Musical Aurora, a unique music program for children age 2-5. Ask about our new programs Early Bird Rock, and create your own comic book in seven weeks with the New York Times bestselling DC and Marvel artist John Stanisci. All Star Studios offers classes in tap, jazz, ballet, hip-hop, and acrobatics for ages 3 and older. Currently offering great discounts on music and dance classes.

GARDEN SCHOOL
33-16 79th St., Jackson Heights
718-335-6363

Garden School is a co-ed, fully-accredited independent school in Queens offering an excellent and affordable education for nursery through 12th-grade students within a supportive, welcoming community. Small classes allow talented faculty to partner with families, developing each student's academic potential and promoting confidence, character, and success in college and beyond. Upper Division academics, athletics, and extra-curricular activities are enhanced with college counseling, and AP and honors courses. Secure facilities include a playground, library, gymnasium, art and music studios, computer and science labs, and a swimming pool. Lunch and private bus transportation available.

GERMAN-AMERICAN SCHOOL: WHERE KIDS LEARN GERMAN
212-787-7543

German-American School offers a unique after-school language and culture program. Parents from diverse ethnic backgrounds send their children to our New York state-accredited German language program in which children can learn German starting at age 4. Classes are small and taught by native German speakers. The didactic approach stresses interactive learning; singing, drawing, and German games are popular in the playgroup. In the upper grades we stress memorization, reading, writing, culture, and grammar. No prior German required. Adult beginners program is also available.

GYMBOREE PLAY AND MUSIC
108-21 72nd Ave., Forest Hills
208-32 Cross Island Parkway, Bayside (in Baybridge Shopping Center)
866-477-3700

Gymboree Play and Music has fostered early learning, socialization, and creativity in children from newborn to 5 years for more than 30 years. They renovated and redesigned their Queens centers, including new state-of-the-art play equipment for a sharp, clean, and updated look. Floors are reengineered for safety, eliminating the use of mats and the safety hazards they present. All learning themes are now accompanied by supporting music selections for a fun experience. Gymboree offers classes in play and learn, art, music, sports, and preschool. With all these new improvements, it's definitely worth a visit!

HIGHLAND ELEMENTARY SCHOOL
193-10 Peck Ave., Fresh Meadows
718-357-4747

At Highland, we offer small classes with warm and caring teachers and a family-oriented atmosphere that creates a supportive environment for students in pre-K through eighth grade. Strong programs in foreign language, physical education, art, music, and drama complement the core curriculum in all grades. The facility has air-conditioned classrooms, a computer laboratory, full gymnasium, and outdoor playing fields. Early morning drop-offs, after-school care and activities, and holiday and vacation programs available.

HUG MUSIC, CREATIVE MUSIC LESSONS FOR EVERYBODY
112-01 75th Ave., Lower Level, Forest Hills
Kana: 617-935-6159
Email [email protected]

Newly opened music studio, Hug Music, provides creative, flexible, and inspiring music programs for all ages and abilities, including individuals with special needs. Our mission is to nurture a love for music by targeting each student's growth both as a musician and person. We offer private instruction on piano, guitar, songwriting, and group programs for babies and toddlers. Our programs for children with special needs include adaptive piano lesson, and musicreative, the original music education method effective especially for children with autism (ASD). Register by 9/20 and receive great discounts.

HUNTINGTON LEARNING CENTER
25-30 Francis Lewis Blvd., Flushing
718-358-7900

Huntington is your tutoring solution for students in grades K-12. At Huntington, our certified teachers will help your child achieve his or her academic goals. We offer tutoring in basic skills such as reading, vocabulary, phonics, spelling, math and study skills, as well as subject tutoring in high school math and science. We also work with students to prepare them for high-stakes tests including high school entrance exams, state tests, Advance Placement exams, and the SAT or ACT.

ISRAEL CENTER FOR CONSERVATIVE JUDAISM
167-11 73rd Ave., Flushing
For further information, contact Gale Schott, office administrator: 718-591-5353 x11
Email [email protected]

At Israel Center of Conservative Judaism, children are a priority. We are proud to be a founding synagogue of Ohr Chadash Religious School, a United Synagogue School of Excellence that now has more than 100 enrolled students. Our H2I Youth Group is an award-winning chapter of United Synagogue Youth. ICCJ's Pool and Sports Club, with more than 300 participants, is a focal point of attracting Jewish children from all over eastern Queens. Our Young Families Committee sponsors many exciting events for children and their parents. For more information, contact Gale Schott, office administrator at 718-591-5353 x11, or email [email protected]

IVY DAY SCHOOL
70-44 Kissena Blvd., Flushing
718-880-1888
Email [email protected]

Books and blocks, music and dance, art and creativity—at Ivy Day School, we provide our decade-long standard of academic excellence to children ages 2-5. We envision students will develop essential skills for a lifetime of achievements via fun, stimulating activities. We teach English, math, science, foreign language, social studies, music and dance, and more in our state-of-the-art facility, along with access to computer, art, and indoor playrooms. Your children are our priority and we strive to enrich their minds and bodies in a safe and nurturing environment.

JACK & JILL NURSERY SCHOOLS
43-23 Colden St., Flushing
718-762-1218
Jack & Jill Nursery School II
68-05 Fresh Meadow Lane, Fresh Meadows
718-939-8687

With Flushing and Fresh Meadows locations, Jack & Jill is celebrating 41 years of excellence in early childhood education. We are a family-owned and -operated preschool offering a genuine, caring, and nurturing home-away-from-home environment for children ages 2-5. Full-day or part-time classes available for 2- and 3-year-olds with extended hours from 7:30am-6pm. We are proud to celebrate our new free full-day UPK with the NYC Department of Education for children born in 2010 from 9:00am-3:20pm. Our private 2- and 3-year-old classes are almost full for September. Call now to reserve your child's seat.

JEI LEARNING CENTERS
200 -13 32nd Ave, Bayside
(347) 408-4098
Floral Park-Little Neck ? Grand Opening in September!
200-13 32nd Ave., Bayside
347-408-4098
256-10 Union Turnpike, Glen Oaks
718-347-3138

Since 1977, our programs have helped children achieve academic success around the world. JEI has a scientific diagnostic system for children in pre-K through ninth grade, pinpointing the missing links in learning and prescribing individual study programs based on specific needs. Our curriculum is aligned with the Common Core Standards. We offer multi-day preschool alternative programs. Our Lil' Genius classes focus on creativity, collaboration, and communication in an interactive environment using touch-screen technology. Call for information on our fall registration and our new Brain Safari critical thinking program.

JUST WEE TWO
Bayside, Manhasset, Plainview, plus Brooklyn and Connecticut,
516-433-0003
800-404-2204

This specially developed program, for children 8 months to 3½ years and their parents, provides an environment that enables grown-ups to share the joy of a child's early learning. Classes limited to 10 children. Toddlers enjoy arts and crafts, creative movement, stories, and play time. Children develop a sense of confidence and increase their communication and social skills. We offer an enrichment class with an emphasis on reading readiness, six-week summer mini-camp, and partial separation and separation classes for 2½- to 3½-year-olds.

KENT PREP
194-11A Northern Blvd., Bayside
718-423-5757
Email [email protected]

Kent Prep offers programs designed to guarantee proficiency with basic curriculum, to buy time for enrichment and acceleration. While targeting grade level NYS Common Core standards, it also uses premeditated pre-tests to gauge proficiency levels to avoid risking loss of motivation in teaching material that the students have already mastered. Various programs and schedules are available to meet academic enrichment and testing needs. Email [email protected] or call 718-423-5757 for more information or to schedule an in-person consultation.

THE KEW-FOREST SCHOOL
119-17 Union Turnpike, Forest Hills
718-268-4667

One of Queens' oldest and finest independent schools, Kew-Forest's hallmarks include an academically challenging curriculum, small classes, caring teachers, a diverse student body, and a safe environment. Located in a residential neighborhood near public transportation, its Lower Division (grades N-6) provides a developmentally appropriate learning environment and comprehensive curriculum, including Spanish, art, music, physical education, library skills, technology, and science. Its Upper Division (grades 7-12) features a rigorous college preparatory program. Before-school care begins at 7:30am; after-school runs until 6:30pm.

KON GEN INTERNATIONAL PRESCHOOL
196-25 42nd Ave., Bayside
718-281-2338/ 718-353-4388

Kon Gen International Preschool is a new state-of-the-art 20,000-square-foot facility, servicing children 2-5 years. We have a professional dance studio, hands-on science discovery lab, outdoor play area, outdoor botanical garden, and individual piano rooms, as well as classrooms with a hospital-grade air-conditioning system. We are a unique learning environment providing a dual language Mandarin and English program, and an enriched curriculum that promotes children's natural sense of wonder and curiosity about the world around them. Our teaching staff is NYS-certified and our facility is licensed by the NYC Department of Health and Mental Hygiene.

KUMON (OF QUEENS)
Astoria - South
32-78 48th St., Astoria
718-545-6100
Bayside
220-46 Northern Blvd., Bayside
718-225-4743
Briarwood
83-46 Parsons Blvd., Briarwood
718-739-3040
Elmhurst
83-31 and 83-33 Broadway, Elmhurst
718-271-3626
Floral Park
267-06 A Hillside Ave., Floral Park
718-962-2574
Flushing - North
146-17 Northern Blvd., Flushing
718-321-7722
Flushing - West
42-52 Union St., Flushing
718-358-7139
Forest Hills
96-05 69th Ave., Forest Hills
718-268-7888
Fresh Meadows
179-16 Union Turnpike, Fresh Meadows
718-380-0082
Hollis
205-09A Hillside Ave., Hollis
718-805-0565
Kew Gardens
114-67 Queens Blvd., Forest Hills
718-793-6888
Long Island City
12-15 Jackson Ave., Long Island City
718-392-2075
Middle Village
79-43 Metropolitan Ave., Middle Village
917-400-8042
South Richmond Hill
127-06 Liberty Ave., Richmond Hill
718-848-2191
St. Albans
180-29 Linden Blvd., St. Albans
718-657-5864
Sunnyside
39-21 Greenpoint Ave., Sunnyside
718-392-0365
Whitestone
160-22 Willets Point Blvd., Whitestone
718-225-4743

Kumon is the world's largest after-school math and reading program. The Kumon Method has helped millions of children achieve more than they ever thought they could. At Kumon, our math and reading programs help children of all ages and levels become eager, independent self-learners. Unlike tutoring sessions, Kumon helps children learn how to learn on their own, and develops strong academic skills. Our students gain a sense of confidence that will help them in the classroom and beyond.

LANA'S GYMNASTICS CLUB
71-25 Main St., Flushing
718-263-2121
Email [email protected]

Lana's Gymnastics is the ultimate in gymnastic schools, offering the finest instruction all year-round. Skilled instructors have gymnastic safety certificates. The 8,000-square-foot facility has new Olympic-quality equipment. Students can join as a beginner or all the way up to advanced levels. Lana's has just introduced the long-awaited Mommy and Me program for children ages 2-4 during mornings and evenings. Lana's also offers summer camp with swimming throughout the week, trips, meals provided twice a day, and included transportation.

LEGOLAND® DISCOVERY CENTER WESTCHESTER
Westchester's Ridge Hill, 39 Fitzgerald St., Yonkers
866-243-0770
Email [email protected]

LEGOLAND® Discovery Center Westchester is the newest field trip destination in the tri-state area! This indoor center is ideal for school, scout, and homeschool groups ages 3-12 years. Their imagination is the only limitation! Youth groups can reach out and touch the stars in the 4D cinema, learn LEGO® building secrets from the Master Model Builder, see local iconic landmarks in MINILAND®, learn as they build the tallest tower and test the tower's strength on Earthquake tables…and more!

LITTLE APPLE PRESCHOOL
213-54 35th Ave., Bayside
718-838-9243

At Little Apple Preschool, we believe that the best way to stimulate both cognitive and physical development is through play! We immerse our children in a creative curriculum that allows for active learning and discovery through art, music, dance, yoga, and nature. Some of the things our little ones get to explore at LAP are tactile art, role play, and sign language. We provide a soothing and comforting environment that they can trust and grow in as newborns through preschool. This fall we will be expanding our facility to accommodate current and new families! We'll be introducing a sensory gym, therapy room, after-school program, and two new classrooms.

LIU POST CENTER FOR GIFTED YOUTH
LIU Post, Brookville
516-299-2160

The Long Island University program for gifted children was established in 1979 in response to the increasing recognition of society's special responsibilities for children with demonstrably superior intellectual ability. The Long Island University Center for Gifted Youth brings together two important elements of education for the gifted extraordinary teachers recruited from leading high schools, middle schools, and elementary schools in the metropolitan area and university-level facilities. These two factors, combined with an administrative and psychological team schooled in the needs of gifted children, give the program at LIU Post unique strengths in producing positive benefits for young people admitted to the program.

MASPETH FEDERAL SAVINGS
56-18 69th St., Maspeth
718-335-1300
Email [email protected]

September brings a new beginning, and with it, renewed promises for the coming school year. This presents an opportunity for families to teach their children the vital life lesson of how to save money. Setting a savings goal is a great way for children to manage their money without going into debt. Your child can open a Young Savers Club account at Maspeth Federal Savings with just $1, earn interest, and incur no fees. Receive a free gift, too!

MATHNASIUM LEARNING CENTERS
43-17 Bell Blvd., Bayside
718-747-MATH (6284)
108-14 72nd Ave., Forest Hills
718-544-MATH (6284)
Now Open at Laguardia Center
43-32 Ditmars Blvd., Astoria
718-726-MATH (6284)

Mathnasium Learning Centers, with more than 450 locations in the U.S., as well as in 16 countries, offer math-only educational programs. In a relaxed, homework-free environment, Mathnasium is where kids catch up, keep up, or get ahead in math. With personalized curricula, instant feedback, and proven, time-tested lesson plans designed by experienced instructors, Mathnasium guides students to develop and maintain the mathematics knowledge needed to succeed. Programs, including homework help and test prep, run year-round for kids of all ages!

MILCHMAN, DR. AARON, D.M.D., P.C. ORTHODONTIST
172-20 26th Ave., Flushing
718-747-0393
70-18 Main St., Kew Gardens Hills
718-575-9300

Dr. Milchman practices in his two offices in Queens. He received his doctor of dental medicine degree from the University of Pennsylvania, where he graduated with honors. He also completed a one-year general practice residency at Montefiore Medical Center and a dual degree orthodontic residency program at Temple University, earning his certificate and a Master of Science in dentistry. Dr. Milchman has passed the American Board of Orthodontics written and clinical case exam. He is an attending orthodontist at St. Barnabas Hospital and Wyckoff Heights Medical Center.

MK VISION CENTER
107-29 71st Ave., Forest Hills
718-575-8288
Email [email protected]

Alas! It's back-to-school time. Most states require children to have an eye exam prior to beginning or returning to school. Symptoms of possible vision problems in children include poor school performance, difficulty paying attention, trouble seeing the chalk board, headaches, and even taking longer than usual to complete homework. Come see us at MK Vision Center and get a comprehensive eye exam for your child today, and ensure that they start back at school happy, healthy, and with clarity! Back-to-school promotions in store.

MOMMY, MUSIC, & ME, INC.®
Offering Music Together® classes in Astoria, Bayside, Forest Hills, Glendale, Little Neck, and Whitestone, Queens
718-229-0033

Since 2003, we have provided the gold standard Music Together® music and movement program for grown-ups and the children they love. Thousands of families with babies, toddlers, and preschoolers have experienced our classes with highly trained and registered Music Together® teachers. Families value the positive effects on speech articulation, small and large gross motor skills, pre-linguistic skills, rhythm, tone, and socialization. Schedule your free trial class. Visit mommymusicandme.com for more information.

MUSIC TOGETHER
Find the location near you,

While the big kids head back to school this fall, have some family-style, music-makin' fun with your little ones. Once a week for 10 weeks, you'll sing, dance, and play with your baby, toddler, or preschooler in a play-based, developmentally appropriate musical environment. Some centers even offer classes for the big kids, too! Founded in 1987, Music Together is a research-based program. Each family receives a CD/download set and songbook so you can continue the fun at home with the rest of the family. Find a location near you in Queens or on Long Island:musictogetherli-queens.com.

MY GYM - FRESH MEADOWS
Utopia Center, 176-60 Union Turnpike, Fresh Meadows
718-380-4599

My Gym Fresh Meadows has developed an extraordinary program and facility devised to help children 6 weeks to 13 years develop physically, cognitively, and emotionally. We offer Mommy & Me fitness class for children ages 7 months to 3½ years and independent classes for ages 3½-12. We are proud to offer a non-competitive tumbling team available to all children who love gymnastics. Call today to schedule your free trial class.

NINA'S TUTORING CENTER
8702 Grand Ave., Elmhurst
718-205-7508

We tutor kids in grades K-12. For the past six years, we have provided quality education that helps kids excel in school. Our excellent, highly dedicated, and experienced tutors are very competent. We provide students with a foundation of education they can use throughout their life. We specialize in homework help and offer critical thinking and writing classes. We help improve skills in math, ELA, science, and social studies. We also have an intensive preparation program for ELA, math, and science citywide and statewide exams. We are highly recommended by various educators.

PAPPAS PEDIATRIC DENTRISTRY
215-41 23rd Road, Bayside
718-224-0443

Dr. Despina Pappas has been practicing pediatric dentistry for more than 30 years. She established her office in 1979. Her primary goal was and is to provide quality dental care in a warm, caring environment. In 2010, her daughter, Dr. Elayne Pappas, joined the practice. They both like to spend time with their patients and their patients' parents, explaining treatment options and goals. Their main objectives, aside from providing quality dental treatment, are to instill in their patients a good preventive regimen and to make them feel comfortable in the dental setting.

PERFORMING ARTS CONSERVATORY OF NEW YORK
PACONY I: 35-57 89th St., Jackson Heights
718-639-1425
PACONY II: 80-20 Roosevelt Ave., Suite 203 Elmhurst
917-774-3411
Email [email protected]

We offer music instruction in piano, violin, guitar, voice, and winds; dance instruction in ballet, folk dance, modern, and flamenco; and art instruction. We also offer Dalcroze, music, and movement for preschoolers. New drama program and Spanish for kids available. Adults are also welcome. We prepare music, art, and dance students for special high schools (LaGuardia, Frank Sinatra, etc.), and pre-college and college auditions. We are offering the Summer International Music, Art, and Dance Program.

POWER BRAIN TRAINING CENTER
43-01 Bell Blvd., 2nd Floor, Bayside
718-224-1500
567 Jericho Turnpike, Syosset
516-364-3413

Power Brain Training Center helps your child create health, happiness, and optimal achievement by tapping into their full brain potential. Focus, confidence, creativity, and memory are enhanced through physical, emotional, and cognitive exercises, breathing techniques, visualization, guided imagery, and games. As PBTC's motto says, "Healthy Body, Happy Heart, Power Brain, I Can Do It!" Call PBTC to schedule a free trial class or body and brain check-up. PBTC also offers classes and workshops for adults, parents, and the whole family.

PROGRESSIVE MARTIAL ARTS
175-25 Horace Harding Expressway, Fresh Meadows
718-461-0700
Email [email protected]

Progressive Martial Arts offers classes for youth ages 3 and older, in age-specific programs appropriate for kids' developmental and emotional stages. While we teach important self-defense and martial arts skills, fitness and health are key components to our curriculum. Youth enjoy fitness drills, obstacle courses, and circuit training, as well as running in our fun but disciplined classes. Our youth program is like no other, offering character development, discipline, and self-defense techniques that give each child a strong start in life.

QUEENS DANCE PROJECT
214-26 41st Ave., Bayside
718-229-1133

Queens Dance Project, a dance and fitness studio in Bayside, is excited to celebrate its ninth year! Our classes allow beginner students to learn at a comfortable pace, while advanced dancers can join our award-winning competitive dance program. Each staff member specializes in their own style to offer the best quality to our students. Our classes include break dance, pole fitness, hip-hop, yoga, pound fitness, Mommy and Me, acrobatics, Zumba, ballet, jazz, tap, lyrical, and wedding dances. We offer custom birthday parties. Your child can choose their very own decorations, music, and games!

ROBOMINDTECH STEM LEARNING CENTER
185-10A Union Turnpike, Fresh Meadows
718-264-ROBO (7626)
Email [email protected]

Robomindtech is a science and technology learning center that integrates the motivational effects of robotics and Lego® play into a unique, hands-on curriculum for ages 4-14, designed to inspire young minds. Channel your child's creative energy into creative science and robotics activities that teach important concepts in an active immersion environment. Look for our after-school programs, off-site school workshops, and school field trips. Join RoboMindTech Robotics team, US Tournament Partner of World Robotics Olympiad and home of the 2013 First Lego League Champion.

SOCCER FRIENDS USA, INC.
108-14 72nd Ave., Forest Hills
347-756-2988; 347-756-2568 (para Español)
Email [email protected]

Soccer Friends USA is a year-round soccer program for children ages 2-16. We emphasize fun and learning in a non-competitive environment. We have five fun-filled programs for our Queens community. We offer after-school programs, private groups, skill clinics, birthday parties, and our ever-popular general classes. All programs run year-round. We have our very own SFUSA Gym space in the heart of Forest Hills at 108-14 72nd Ave.

STACI NICOLE'S WORLD OF TALENT
228-09A Linden Blvd., Cambria Heights
718-978-2244

Staci Nicole's World of Talent is the No. 1 dance school in Cambria Heights that has it all! Tap, ballet, jazz, hip-hop, gymnastics, Caribbean, musical theater, belly dancing, and so much more! Ages 2 through adult! Beginner level through advanced competition classes! Check us out at worldoftalent.net for up-to-date information including class schedules, videos, and pricing. Located at 228-09A Linden Blvd. in Cambria Heights between 228th and 229th streets. Call 718-978-2244.

UNION MEDICAL URGENT CARE
186-06 Union Turnpike, Fresh Meadows
718-575-0974
Email [email protected]

UMUC is a brand-new, state-of-the-art medical facility staffed with board-certified physicians who offer care for non-life threatening issues 365 days a year. Featuring on-site lab and digital X-ray imaging suites, UMUC is available to treat unexpected illnesses, sutures, cuts, bruises, broken bones, colds, flu, upset stomach, throat cultures, vaccinations, physicals, DMV vision tests, and more. Appointments are never necessary. Weekdays, 8am-9pm; weekends, 9am-9pm. UMUC is conveniently located just blocks from the Grand Central Parkway and Long Island Expressway. We are available for all your back-to-school immunizations, physicals, and documentation.

USTA BILLIE JEAN KING NATIONAL TENNIS CENTER
Flushing Meadows-Corona Park, Flushing
718-760-6200

We offer year-round tennis programs for all ages and levels. Our programs teach the necessary techniques, tactics, sports conditioning, and strategy geared to maximize learning while having fun. As players develop, they are advanced to more challenging groups. We accept Junior Players ages 4-10 for the Ten-and-Under-Tennis Program. Children ages 10 and older can enroll in our Junior Development Programs. The more advanced player can be invited to participate in our Tennis Academy, an intensive training program for more serious players. Enrollment and more detailed information is available online at www.ntc.usta.com.

VIENNA MUSIC
41-08 Bell Blvd., 2nd Floor, Bayside
718-423-1688
Email [email protected]

With a top-notch facility, and our talented and experienced instructors, Vienna Music provides the most suitable, comfortable, and professional environment for music development. We provide programs that accommodate students of all ages and levels, including one-on-one music lessons in piano, violin, viola, flute, clarinet, saxophone, guitar, ukulele, and vocal; Kids-Do-Re-Me for children younger than 5; and music theory class prepares students for NYSSMA exam and Royal Music Exam. Call now and mention Queens Parent to receive up to a 10-percent discount for your package.

THE WHITESTONE SCHOOL FOR CHILD DEVELOPMENT
14-45 143rd St., Whitestone
718-746-6555

The Whitestone School for Child Development recently celebrated its 25th anniversary of providing excellent therapeutic and educational services for preschool children. Classes are full day and are staffed with professional, caring, dedicated teachers and therapists. The school provides a range of therapeutic services, including speech therapy, occupational therapy, physical therapy, counseling, and special instruction. If you have any questions or concerns with your child's development, please call us.