GO GREEN FOR A CAUSE…IN DOUGLASTON
   Many Queens residents already know that
Alley Pond Environmental Center
is a prime source for outdoor family fun, and a unique local resource for kids to learn about nature and the environment. A non-profit corporation, it is dedicated to environmental awareness and responsibility. Of the many classes and educational programs offered, two events stand out this fall. September 15 marks another installment of astronomer Mark Frielich's An Evening With the Stars, an indoor lecture on basic astronomy followed by an outdoor viewing tops off the night under the fall sky. 7:30-9:30pm. $12 adults; $7 children ages 7-12.  Alley Pond's 2007 Green Gala will take place October 11, from 6:30-10:30pm at the Douglaston Manor. The Center will celebrate over 30 years of environmental advocacy with cocktails, dinner, and dancing. The night honors Councilmember Tony Avella and community activist, Bernard Haber. $150 per person. Alley Pond Environmental Center, 228-06 Northern Blvd, in Douglaston.. (718) 229-4000;
www.alleypond.com
.
GLOBAL FRIENDSHIP IN GARDEN CITY


   Known for its educational activities and programs, the
Long Island Children's Museum
has been offering area kids countless cultural opportunities on nearby Long Island. One of their big signature events, the 5th Annual Friends Around the World Festival takes place on November 11 this year, from noon-5pm. The event celebrates the many diverse cultures around the world, and includes hands-on games, crafts, music, dance and ethnic food samplings. Last year's event attracted more than 1,500 visitors. Long Island Children's Museum, 11 Davis Avenue, Garden City. (516) 224-5800;
www.licm.org
.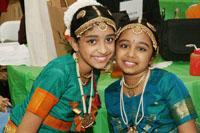 OLD-FASHIONED FUN IN FLORAL PARK

   If you're a native of
Floral Park
, you've probably heard about an amazing maze in your town — now's the time to see it for yourself! The Queens County Farm Museum presents The Amazing Maize Maze every Saturday and Sunday (11am-4:30pm) from September 15 through October 28. Set amid three acres of corn maze, participants must find clues and solve puzzles in order to find their way out. Adults $7; children 4-11 $4; children 3 and under are FREE. An old-fashioned county fair kicks off the event on September 15. Complete with pie-eating contests, pig racing, hayrides, carnival rides and a petting zoo, the 25th  Annual Queens County Fair has something for everyone, including Irish and German bands, and Blue Ribbon competitions in livestock, produce and home crafts. Queens County Farm Museum, 73-50 Little Neck Parkway, Floral Park,. (718) 347-3276;
www.queensfarm.org.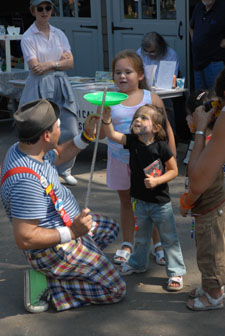 CULTURE AT THE LOCAL LIBRARY
   Throughout the years, the
Queens Library
has become a cultural institution providing resources for Queens families, and offering countless classes, workshops and performances throughout its many branches. Weekly, ongoing classes include Picture Book Time, Preschool Crafts Time, and Toddler Time; each is a short class designed to get very young children hooked on books, music, and theater. Best of all, they're FREE. Hispanic Heritage Month kicks off with a performance by Samba New York (pictured), the samba music and dance company, on October 6 at 2pm at the Flushing Branch. Queens libraries also host a traveling show, The Puppet Show with Kids Project. The show uses puppets to teach kids about disabled children, and makes its way to various Queens libraries throughout September. For a complete list of locations and times, visit
www.queenslibrary.org
.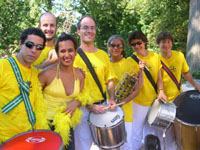 ON WITH THE CHASE
   Whether you are a Forest Hills, Astoria or Glendale resident, Flushing Meadows warrants a family trip, if not solely for the
NY Hall of Science
itself. Offering kids countless opportunities for learning, the Hall's newest exhibition is titled Cyberchase: The Chase Is On!, based on the popular PBS KIDS GO! series, Cyberchase. In this exhibition, kids can join the CyberSquad and defeat the villain through their knowledge of math and reason. The exhibition runs September 15 through January 21, 2008.     
   Having recently doubled in size, the
Science Playground,
designed for ages 6 and under, lets kids explore a glass tunnel, three sandboxes (one containing a sand conveyor), and a giant bird's nest. All of this is contained within 30,000 feet of exhibits. NY Hall of Science, 47-01 111th St., Flushing Meadows-Corona Park. (718) 699-0005;
www.nyscience.org
.
CRAFTING IN ROSLYN HARBOR
   The crafty will want to check out the
11th Annual Craft as Art Festival
at the Nassau County Museum of Art, which will showcase 18,000 original works. The crafts represent participants specially selected from a pool of 743 applicants by a jury of professional craft experts. The festival was designed to enable craft artists to continue their work with a dignified living, while offering their craftsmanship to the public. The day will be topped off by international cuisine and entertainment. Admission is $7, children under 12 FREE. Nassau County Museum of Art, One Museum Drive, Roslyn Harbor. (973) 746-0091 or (516) 484-9337;
www.craftsatlincoln.org
.