Kelli Herd, founder of World Play, Inc., teaches cultural understanding to children in New York City and around the world through toys and play.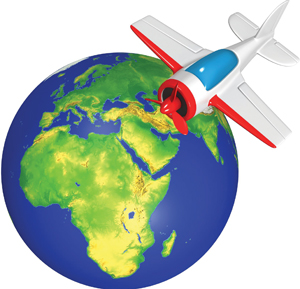 In a vast city like New York, there's no shortage of opportunities to learn something about world culture. Whether it's visiting the Asian American Arts Centre or The Museum for African Art, the city is a veritable sponge for cultural knowledge. But if you've spent your whole life in the city, it's also easy to take NYC's collection of cultural institutions for granted or ignore them entirely. Enter Kelli Herd, the founder and executive director of World Play, Inc., a nonprofit organization dedicated to providing the city's children with an array of multicultural programs, activities, and toys.
Under Herd's direction, World Play's number-one priority is to educate NYC children about culture and daily life in foreign countries. To do this, World Play regularly hosts after-school programs and cultural activities for children K-12 which focus on a chosen country's language, art, cuisine, music, politics, and much more.
Her inspiration? "I lived in Benin, West Africa for a couple of years and I was a teacher there," says Herd. "I taught English and computer skills to women and children. I loved the kids. And they were so fascinated by me, being from America. But what struck me as odd was, not only did they not know anything about America, but they didn't even know anything about Africa (beyond their town). Then when I came back to the U.S., I was a teaching fellow. And it was just amazing to me that the kids didn't know anything outside of their area either. There's really a cultural ignorance. So I started teaching them about Benin. I brought fabrics, food and games, all from Benin. And then we started learning about the United States. So it was like my thing in my classroom, to teach about other cultures."
In addition to Herd's earlier work, she has most recently held a toy drive for the children of Haiti following the massive earthquake that left the nation in a shambles just last January. Though Herd admitted it could be financially difficult to ship toys to Haiti, she related that the response to her drive was fantastic. Herd held the toy drive for about five weeks in April and May and was quickly overwhelmed by the number of donations from city residents. And just like her mission to educate kids here about other cultures, Herd says she felt eager to provide Haitian children with the opportunity to get back to just being kids. "I felt like in any traumatic situation, it's nice to get the kids back to playing," she says.
Herd plans to build upon her initial toy drive success. "I am actually choosing (to donate to) other countries the same way. I look at orphanages in Nicaragua, Ecuador, Central America, Benin in South America, and Ghana. I have looked at Spain as well." The idea behind her toy exchanges is twofold: Herd hopes that the toys are not only a source of joy for the international recipients, but that they also teach the children a thing or two about the country from which they came.
Herd also hopes that her family in Ethiopia will assist her in sending toys and games for her to share in the States. "While I may be able to ship the toys, it's really difficult for certain organizations overseas to ship. That's a problem we're having right now. My cousin is in Ethiopia, so I'm hoping she'll bring me back some toys from there."
Despite the logistical difficulties in actually sending and receiving toys from overseas, Herd is dedicated to her cause of warding off cultural ignorance. "Because World Play promotes learning about other cultures, my idea is to have children understand how other children play around the world. It's an exchange of play."