UDPATED SEPTEMBER 2014: Check out our guide to throwing a great kids' birthday party in Queens. You'll find fun ideas along with party places and venues, caterers, supply stores, entertainers like clowns, magicians, musicians, and more!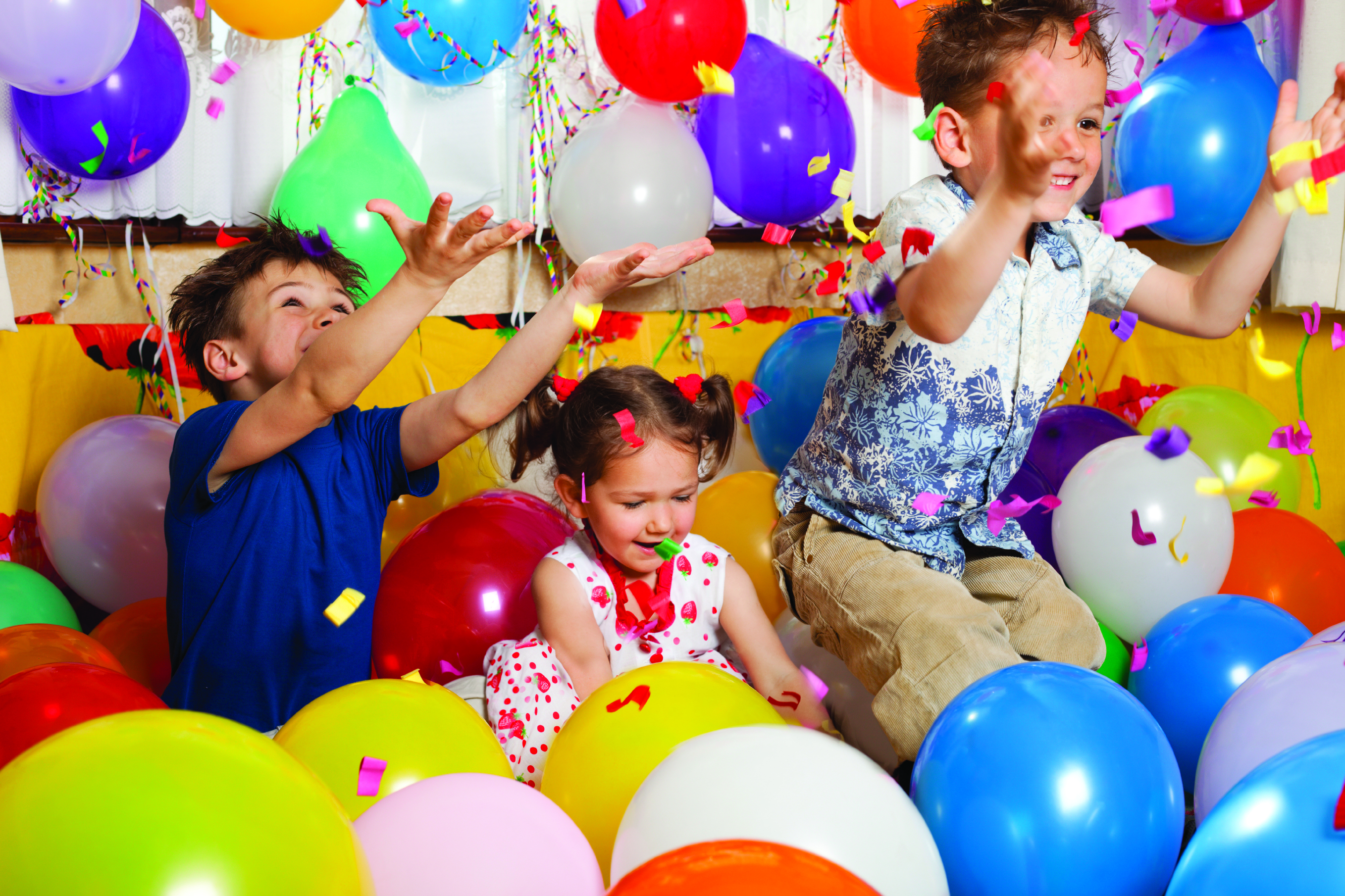 AMERICAN DANCE & DRAMA
188-22 Union Turnpike, Flushing
718-479-8522
72-24 61st St., Glendale

As one of Queens's largest and most exciting birthday party locations, we specialize in one party at a time. Girls enjoy dress-up, disco, and gymnastic parties. Boys go crazy for gymnastics, basketball, and wild obstacle course competitions. Music video parties star your child in a video shoot on our state-of-the-art stage. We also offer a tunnel maze, moon bounce, ball pit, bubbles, fog machines, and cotton candy; and crazy craft, princess parties, and first birthday parties. Magicians are also available—your place or ours!

BOUNCE! TRAMPOLINE SPORTS
310 Michael Drive, Syosset
516-762-1300

Parties are way more fun at Bounce! Trampoline Sports®! Bounce! contains multiple jumping courts for open jump time, slam dunk basketball, and dodge ball, as well as separate foam pits and the first trampoline bungee jump! They also have a volleyball court which can be transformed into a junior soccer field for parties. Consider hosting your child's bar or bat mitzvah at Bounce! There is a separate zone for kids ages 2-6 with their own foam pits, trampoline court, enormous inflatable obstacle courses, and large party rooms.

BRONX ZOO
2300 Southern Blvd., Bronx
718-220-5132
[email protected]
Email [email protected]

Give your child a once-in-a-lifetime birthday adventure. Children ages 1-12 will enjoy a festive celebration in a private room with zoo staff to run the party for you. Guests experience up-close visits from some of our favorite animal guests, participate in party activities and games, and explore the amazing Congo Gorilla Forest exhibit with our expert education staff as their guides. It's a junior safari not to be missed! Contact us at [email protected] or 718-220-5132.

CHRISTY'S GYMNASTICS
150-50 14th Road, Whitestone
718-767-0123

Christy's Gymnastics birthday bash is a full hour and a half of fun. Kids will have a blast swinging on rings, sliding down slides, walking on balance beams, and rolling and jumping through our obstacle courses. Jumping on our tumble track and trampoline just tops the cake. Kids can challenge themselves on our fantastic rock climbing wall. Celebrate your child's birthday in your very own private party room. You are provided with everything necessary, so leave the planning to us, and we'll leave the partying to you.

CLOWNS.COM
Proudly Serving Westchester, Long Island, Queens, Brooklyn, Manhattan, and the Bronx,
718-971-5862
Email [email protected]

At Clowns.com, our goal is to create an unforgettable and memorable party experience for you and your family. We provide the highest quality children's entertainment and rental services in the industry. If you're looking for a professional, dependable, and enthusiastic team, you've come to the right place! We are a family-owned and -operated entertainment company, offering a wide range of party and entertainment services including clowns, inflatable bounce houses, characters, magicians, princesses, magic shows, face painting, and party concession rentals.

COOLINARY KITCHEN
347-670-4618
Email [email protected]

Celebrate your special day with Coolinary Kitchen! Choose from an array of birthday party packages such as a Pizza Party, Campfire Stories, Mexican Fiesta, Tea Party, or Coolinary Drama. All party packages include cost of food, set up, and clean up. We can have the party in your home or your location of choice. Let's have a blast creating yummy birthday memories!

LONG ISLAND CITY SCHOOL OF BALLET
44-02 23rd St., Long Island City
718-781-1169
Email [email protected]

We enjoy creating special parties just for your child. Your princess, super hero, jedi, or ballerina will dance and play with their guests in a fun filled party class led by one of our experienced instructors. We customize music playlists and tailor games and activities to enhance your favorite theme. Bring us your ideas, or choose from a list of party favorites.

MOMMY, MUSIC, & ME, INC.®
Offering Music Together® classes in Astoria, Bayside, Forest Hills, Glendale, Little Neck, and Whitestone, Queens
718-229-0033

We provide unique birthday party musical experiences for 1st through 6th birthdays. Families and friends participate and celebrate a very special birthday child's day in a way in which everyone gets to share in the fun. Grown-ups marvel at the ways children express their musicality through movement, song, and instrument play. Call us to customize your child's musical birthday. We can come to your space. We offer Music Together® sessions for all seasons. Call or email to schedule your free trial class, or visit us online for easy registration.

MY GYM - FRESH MEADOWS
Utopia Center, 176-60 Union Turnpike, Fresh Meadows
718-380-4599

My Gym Fresh Meadows offers perfectly planned celebrations, created specifically for each birthday child with special requests made prior to the party. Our experienced and lively party specialists will design a unique and personal celebration for your child, jam-packed with exhilarating gymnastics, games, puppets, songs, special rides, and more! It will be an occasion long remembered, and we handle everything!

NEW YORK ISLANDERS
1255 Hempstead Turnpike, Uniondale
800-882-ISLES (4753) x3

Your child hasn't had a birthday until they've celebrated with the New York Islanders! We'll make the day extra special while you cheer on a team that's ready to make its move. It's the birthday party any kid would want to attend! To learn more about our birthday party packages, call 800-882-ISLES (4753) x3. Mention "Long Island Parent" and we'll take 10-percent off a birthday party package.

POWER BRAIN TRAINING CENTER
43-01 Bell Blvd., 2nd Floor, Bayside
718-224-1500
567 Jericho Turnpike, Syosset
516-364-3413


Power Brain Training Center helps your child create health, happiness, and optimal achievement by tapping into their full brain potential. Focus, confidence, creativity, and memory are enhanced through physical, emotional, and cognitive exercises, breathing techniques, visualization, guided imagery, and games. As PBTC's motto says, "Healthy Body, Happy Heart, Power Brain, I Can Do It!" Call PBTC to schedule a free trial class or body and brain check-up. PBTC also offers classes and workshops for adults, parents, and the whole family. Please contact us anytime for more information and to inquire about our birthday parties.

PROGRESSIVE MARTIAL ARTS
175-25 Horace Harding Expressway, Fresh Meadows
718-461-0700
Email [email protected]

Progressive Martial Arts hosts birthday parties for ages 4 and older. Our parties include games designed for all ages that introduce kids to cooperative games they no longer play in the school setting. Parents are also welcome to join in the fun. Our 4,500-square-foot facility provides the space for up to 40 children and is padded for safety. We set up, provide pizza and juices, and clean up. Our staff will also send out invites and thank you cards upon your request. Call now to schedule your child's birthday party.

QUEENS DANCE PROJECT
214-26 41st Ave., Bayside
718-229-1133

Queens Dance Project, a dance and fitness studio in Bayside, is excited to celebrate its ninth year! Our classes allow beginner students to learn at a comfortable pace, while advanced dancers can join our award-winning competitive dance program. Each staff member specializes in their own style to offer the best quality to our students. Our classes include break dance, pole fitness, hip-hop, yoga, pound fitness, Mommy and Me, acrobatics, Zumba, ballet, jazz, tap, lyrical, and wedding dances. We offer custom birthday parties. Your child can choose their very own decorations, music, and games!

SOCCER FRIENDS USA, INC.
108-14 72nd Ave., Forest Hills
347-756-2988; 347-756-2568 (para Español)
Email [email protected]

Soccer Friends USA Inc. offers soccer birthday parties for children ages 2 and older. Our parties are fun, dynamic, and energetic. Our aim is to keep all the children moving and engaged. We can offer both an excellent indoor and outdoor location in the Forest Hills/Rego Park area. Soccer Friends USA can manage large groups of children, and we provide all soccer equipment. For more information, please visit soccerfriendsusa.com, call 347-756-2988 or 347-756-2568, or email [email protected]

THINKERTOTS
222-14 Union Turnpike, Bayside
718-740-1616
1818 Jericho Turnpike, New Hyde Park
516-488-3414
Email [email protected]

Your birthday activities will be customized by our party specialist to find just the right fit your little guests. Packages include tunnel play, bubbles, open play time, arts and crafts, music, face painting, balloon sculptures, and more. You will receive an additional discount for your birthday package if your child is a Thinkertots student. We have Mommy and Me classes for children age 3 and younger, two-hour nursery classes for ages 2-3½ years, and getting ready for pre-K for ages 3-5.

TRIUMPH GYMNASTICS CENTER
79-41 Cooper Ave., Glendale
718-417-1216

Whether you're looking for recreational or competitive gymnastics, or just a spectacular birthday party, both you and your child will be thrilled with our program. We have great rates, a fully qualified staff, and 5,000-square-feet of fun! With various levels in our team program, including a mini-team, and a Junior Olympics program for levels 3 and up. Our recreational program offers mommy and me classes and independent classes beginning at age 3 for both boys and girls. Visit our website for more information.

USTA BILLIE JEAN KING NATIONAL TENNIS CENTER
Flushing Meadows-Corona Park, Flushing
718-760-6200

Give your child a birthday party they will always remember! Let the National Tennis Center host your next birthday party. Our birthday party packages include one hour of court time with tennis drills and games organized by our USTA Pro staff. You will also get a one-hour private room for your birthday celebration which includes pizza for all your party guests. For more detailed information on our party packages please call 718-760-6200 x0, or go to www.ntc.usta.com where you will also find detailed information on our year-round tennis programs for all ages and levels.

THE WRESTLING UNIVERSE
34-29 Francis Lewis Blvd., Flushing
718-460-2777

The Wrestling Universe is your one-stop shopping center for all your WWE wrestling needs. We carry the largest selection of WWE and wrestling action figures, DVDs, wrestling T-shirts, championship belts, WWE birthday party supplies, and more. We also carry sports cards, Yu-Gi-Oh cards, Pokemon cards, and Magic: The Gathering cards. We are open seven days a week. Visit ICWzone.com to find out about our monthly Pro Wrestling Shows. Call us for information on our merchandise and to organize your child's wrestling themed birthday party. Visit us online at TheWrestlingUniverse.com.