Check out our guide to throwing a great kids' birthday party in Queens. You'll find fun ideas along with party places and venues, caterers, supply stores, entertainers like clowns, magicians, musicians, and more!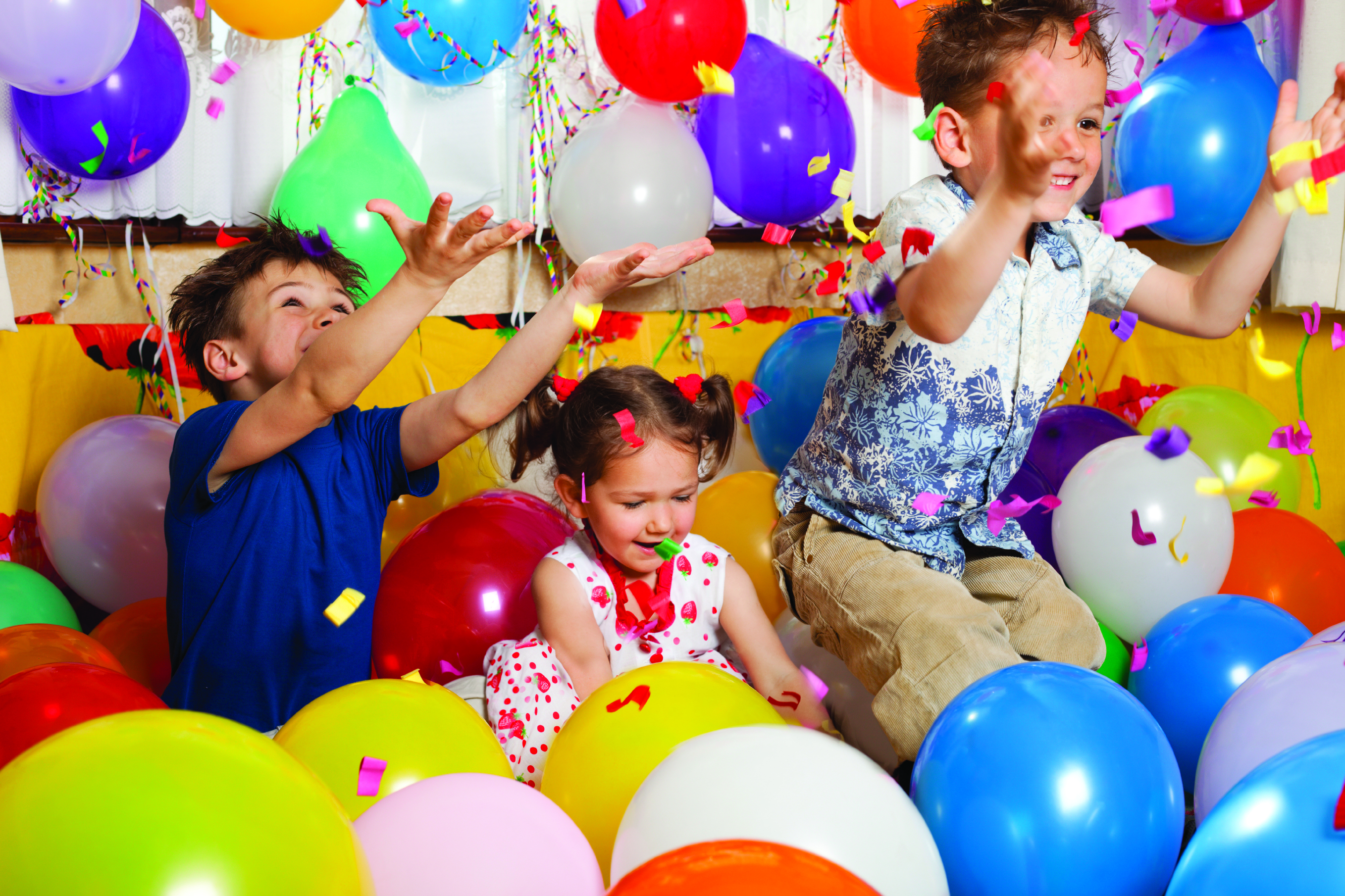 AMERICAN DANCE & DRAMA
188-22 Union Turnpike, Flushing
718-479-8522
72-24 61st St., Glendale

As one of Queens's largest and most exciting birthday party locations, we specialize in one party at a time. Girls enjoy dress-up, disco, and gymnastic parties. Boys go crazy for gymnastics, basketball, and wild obstacle course competitions. Music video parties star your child in a video shoot on our state-of-the-art stage. We also offer a tunnel maze, moon bounce, ball pit, bubbles, fog machines, and cotton candy, crazy craft, princess parties, and first birthday parties. Magicians are also available—your place or ours!

AMERICAN MUSEUM OF NATURAL HISTORY
Central Park West at 79th Street, New York
212-769-5200
Email sleepovers@amnh.org

Be among the lucky few to experience "A Night at the Museum", New York City's most enchanting sleepover program. Imagine roaming the halls of the American Museum of Natural History after everyone else has gone home! Grab your flashlight and head out on adventure. You'll stand beneath a fearsome T. rex, explore live animal exhibitions, and watch an IMAX film before falling asleep under the 94-foot-long blue whale. To check dates and availability, visit amnh.org/sleepovers, email sleepovers@amnh.org or call 212-769-5200.

AMETHYST SCHOOL OF MARTIAL ARTS
1827 Cornaga Ave., Far Rockaway
718-471-7505
Email rudo_ryu@hotmail.com

ASMA offers year round Martial Arts instruction for everyone ages 3 and older. With over 43 years of expertise, students receive the necessary skills for practical self-defense, confidence, great academics, and success in life. Principles of courtesy, discipline, respect, and safety drive our culture while class content is enjoyable and engaging. Our birthday parties offer non-stop fun including games, self-defense lessons, and a mini-competition where everyone wins a prize. Call to reserve your child's party today!

CHILIBEANS PARTY PLACE
103 Meade St., Hempstead
516-680-3024
Email chilibeans4fun@aol.com

Fun-filled, private, and affordable children's birthday parties are our specialty! Children, family, and friends celebrate first through 10th birthdays in a spacious and beautifully decorated party environment. Bouncers, soft play items, a tree house, hungry hippo, rock-climbing wall, jungle gym, and Wii games. Crafts, music fun, the Story Lady, karaoke, and our own special carnival are exciting add-ons. Visit chilibeans.com. "When we're not hosting parties, we offer child-friendly playrooms and crafts available for children to play and socialize in a private, stimulating environment."

CHRISTY'S GYMNASTICS
150-50 14th Road, Whitestone
718-767-0123

Christy's Gymnastics birthday bash is a full hour and a half of fun. Kids will have a blast swinging on rings, sliding down slides, walking on balance beams, and rolling and jumping through our obstacle courses. Jumping on our tumble track and trampoline just tops the cake. Kids can challenge themselves on our fantastic rock-climbing wall. Celebrate your child's birthday in your very own private party room. You are provided with everything necessary, so leave the planning to us, and we'll leave the partying to you.

CITY ICE PAVILION
47-32 32nd Place, Long Island City
718-706-6667

Have your next birthday party on the ice at City Ice Pavilion! Our basic party package starts at $20 per child, which includes party room, pizza, and beverage, skate rental and admission, plus invitations. Add a half-hour skating lesson for an additional $5 per child. And the birthday child is free! For more information, please contact Cathelyn Cheow at City Ice Pavilion, 718-706-6667, or email ccheow@cityicepavilion.com.

CLOWNS.COM
Proudly Serving Westchester, Long Island, Queens, Brooklyn, Manhattan, and the Bronx,
718-971-5862
Email abstone77@gmail.com

At Clowns.com, our goal is to create an unforgettable and memorable party experience for you and your family. We provide the highest quality children's entertainment and rental services in the industry. If you're looking for a professional, dependable, and enthusiastic team, you've come to the right place! We are a family owned and operated entertainment company, offering a wide range of party and entertainment services including clowns, inflatable bounce houses, characters, magicians, princesses, magic shows, face painting, and party concession rentals.

GYM-AZING/KIDZ YOGA
27-14 23rd Ave., Astoria
347-455-3661

Gym-Azing is proud to provide children and adults with a healthy way of living. We offer a variety of active, fun classes including baby, toddler classes, ballet, jazz, and capoeira for kids. Our dedicated fitness instructors focus on making their clients' lives better. We also host birthday parties for children. Our parties include invitations, theme decorations, bounce house, face painting, twisty animal balloons, a bubble machine, dancing, activities, pizza, juice, and two-level private parties. Come visit us at 24-17 23rd Ave. in Astoria. Call 347-455-3661 or visit gym-azing.com. Come in for a free class.

LONG ISLAND CHILDREN'S MUSEUM
11 Davis Ave., Garden City
516-224-5800
Email info@licm.org

Have your party at one of the top party sites on Long Island. Choose from eight party themes that utilize the museum's popular exhibits and programs to provide your child and guests with an unforgettable celebration. Parties offered on weekdays and weekends. Customized goodie bags are available through the museum store. Best gift of all—we handle it all, from setup to cleanup, so you can enjoy the special day! Call 516-224-5871 for details.

MOMMY, MUSIC, & ME, INC.®
Offering Music Together® classes in Astoria, Bayside, Forest Hills, Glendale, Howard Beach, Little Neck, and Whitestone, Queens
718-229-0033
Email mommymusicandme@aol.com

We provide unique birthday party musical experiences for first through sixth birthdays. Families and friends participate and celebrate a very special birthday child's day in a way in which everyone gets to share in the fun. Grown-ups marvel at the ways children express their musicality through movement, song, and instrument play. Call us to customize your child's musical birthday. We can come to your space. We offer Music Together® sessions for all seasons. Call or email to schedule your free trial class, or visit us online for easy registration.

NEW YORK HALL OF SCIENCE
47-01 111th St. (7 Train to 111th St.), Flushing Meadows-Corona Park
718-699-0005

Celebrate your child's birthday with an exciting, educational experience at NYSCI, voted "Best Place to Host a Birthday Party" by Time Out New York Kids. NYSCI is a place for children of all ages to explore, question, and learn. In addition to being able to interact with the more than 450 permanent exhibits at NYSCI, parties include guided tours, interactive activities, party food, and goodies. NYSCI offers plenty of ways to customize birthday parties, including age appropriate themes. Visit nysci.org for more information.

OLILOLI ARTS & CRAFTS STUDIO
103-23 Metropolitan Ave., Forest Hills
718-261-1238

Oliloli Arts & Crafts Studio is passionate about beautiful art projects that inspire and fuel the imagination. A community-centered space for both children and adults, Oliloli is a place to spend time with friends and family, all while learning about artistic possibilities and expressing your creativity. Explore paint-your-own- pottery, glass fusing, paint-on-canvas, paper crafts, wood crafts and more. Oliloli offers open studio hours, parties, and all kinds of fun workshops—it is an awesome hub of art.

POWER BRAIN TRAINING CENTER
43-01 Bell Blvd., 2nd Floor, Bayside
718-224-1500
567 Jericho Turnpike, Syosset
516-364-3413

Power Brain Training Center helps your child create health, happiness, and optimal achievement by tapping into their full brain potential. Focus, confidence, creativity, and memory are enhanced through physical, emotional, and cognitive exercises, breathing techniques, visualization, guided imagery, and games. As PBTC's motto says, "Healthy Body, Happy Heart, Power Brain, I Can Do It!" Call PBTC to schedule a free trial class or body and brain check-up. PBTC also offers classes and workshops for adults, parents, and the whole family. Please contact us anytime for more information and to inquire about our birthday parties.

PROGRESSIVE MARTIAL ARTS
175-25 Horace Harding Expressway, Fresh Meadows
718-461-0700
Email ks@progressivemartialarts.com

Progressive Martial Arts hosts birthday parties for ages 4 and older. Our parties include games designed for all ages that introduce kids to cooperative games they no longer play in the school setting. Parents are also welcome to join in the fun. Our 4,500-square-foot facility provides the space for up to 40 children and is padded for safety. We set up, provide pizza and juices, and clean up. Our staff will also send out invites and thank you cards upon your request. Call now to schedule your child's birthday party.

RITZY GLITZY GIRLZ CLUB
245 Jericho Turnpike, New Hyde Park
516-327-GLAM (4526)
Email ritzyglitzygirlzclub@yahoo.com

Glam Spa parties for little girls, tweens, and teens. Have your birthday party in our Fabulous Pink Boutique, or we can bring the glam to you at home. Be a glam princess, star-studded diva, have a Glamy Jamy Pajama Party, or indulge in our Ice Cream Dreamz Spa Party. Our parties include manicures, pedicures, facials, hair, makeup, a Pink Carpet Runway Fashion Show, photo shoot, dancing, games, and prizes. Call us now to book your Ritzy Glitzy Extravaganza. See you on the Pink Carpet!

ROBOMINDTECH STEM LEARNING CENTER
185-10A Union Turnpike, Fresh Meadows
718-264-7626 (ROBO)
Email robomindtech@gmail.com

Robomindtech is a science and technology learning center that integrates the motivational effects of robotics and LEGO® play into a unique, hands-on curriculum for children ages 4-14, designed to inspire young minds. Channel your child's creative energy into creative science and robotics activities that teach important concepts in an active immersion environment. We offer an after-school program, school field trips, vacation workshops, school field trips, and birthday parties. Join RoboMindTech's Robotics team, home of 2013 First Lego League Champion.

SOCCER FRIENDS USA, INC.
108-14 72nd Ave., Forest HIlls
347-756-2988
347-756-2568 (para Español)
Email soccerfriendsusa@hotmail.com

Soccer Friends USA, Inc. offers soccer birthday parties forchildren ages 2 and older. Our parties are fun, dynamic, and energetic. Our aim is to keep all the children moving and engaged. We can offer both an excellent indoor and outdoor location in the Forest Hills/Rego Park area. Soccer Friends USA can manage large groups of children and we provide all soccer equipment. For more information, please visit soccerfriendsusa.com, call 347-756-2988 or 347-756-2568, or email soccerfriendsusa@hotmail.com

THE RISE OF THE JACK O'LANTERNS
Old Westbury Gardens, 71 Old Westbury Road, Old Westbury
516-333-0048

Those lucky enough to have a birthday or special occasion in October are in for a real treat! Experience the overall effect of viewing thousands of illuminated pieces of art on a long and winding trail on the majestic grounds of Old Westbury Gardens with friends and family. Some of this year's all-new themes include: At the Movies: A Tribute to Tim Burton; Optical Illusions; Pop Stars; Video Games; The Walking Dead; Outer Space, and many more. Tickets are for specific dates and times, and must be purchased in advance. Visit therise.org.

THE WRESTLING UNIVERSE
34-29 Francis Lewis Blvd., Flushing
718-460-2777

The Wrestling Universe is your one stop shopping center for all your WWE wrestling needs. We carry the largest selection of WWE and wrestling action figures, DVDs, wrestling t-shirts, championship belts, WWE birthday party supplies, and more. We also carry sports cards, Yugioh cards, Pokemon cards, and Magic The Gathering cards. We are open seven days a week. Visit ICWzone.com to find out about our monthly Pro Wrestling Shows. Call us for information on our merchandise and to organize your child's wrestling themed birthday party. Visit us online at TheWrestlingUniverse.com.

THINKERTOTS
222-14 Union Turnpike, Bayside
718-740-1616
1818 Jericho Turnpike, New Hyde Park
516-488-3414
Email thinkertotsnhp@gmail.com

Your birthday activities will be customized by our party specialist to find just the right fit your little guests. Packages include tunnel play, bubbles, open play time, arts and crafts, music, face painting, balloon sculptures, and more. You will receive an additional discount for your birthday package if your child is a Thinkertots student. We have Mommy and Me classes for children up to three years, two-hour nursery classes for ages 2-3 1/2 years, and pre-K for ages 3-5 years.

TRIUMPH GYMNASTICS CENTER
79-41 Cooper Ave., Glendale
718-417-1216

Whether you're looking for recreational or competitive gymnastics or just a spectacular birthday party, both you and your child will be thrilled with our program—great rates, fully qualified staff, and 5,000-square feet of fun! With various levels in our team program, including a mini-team, and a JO program, levels 3 and up. Our recreational program offers mommy and me classes and independent classes beginning at age 3 for both boys and girls. For more information, visit our website.

VIBEZ STUDIO
32-43 Francis Lewis Blvd., Flushing
347-889-6987

Kids Zumba parties at Vibez are super exciting and fun! Kids learn the hottest new dance moves to the songs they love. It's more than exercise, Zumba uses dance, music, and games to help kids develop a healthy lifestyle. Led by a licensed, energetic instructor, your child's birthday party will be the one everyone remembers. Enjoy dancing, games, pizza, and more! Includes a private studio, disco lighting, booming stereo system, and more. We customize the playlist for the birthday child.