Safe Space received a grant totaling more than $150,000 from the New York Life Foundation, which will be used to enhance the organization's after-school and job-readiness programs.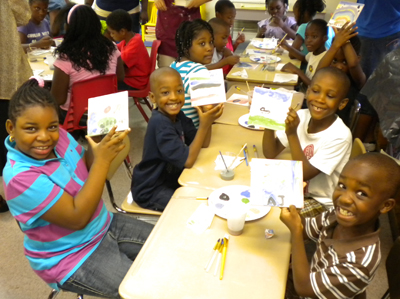 Students in the Out-of-School Time (OST) program at P.S. 30 in Rochdale design tiles that are then displayed at Safe Space's main office in Jamaica.
Safe Space is a Southeast Queens-based nonprofit agency committed to helping at-risk families and children secure a better future. The New York Life Foundation's funds will be used specifically for Safe Space's after-school programs, which annually provide more than 750 students in grades K-8 with the resources and support needed to excel in school, and its "Steps to Success" initiative, a vocational program designed to provide young adults (ages 16-20) with the basic employment skills required to seek, secure, and maintain a job.
"We are extremely grateful to the New York Life Foundation for the investment they are making in our children and the future of our community," says Christine Molnar, Safe Space CEO and president. Molnar says the grant is especially timely considering the poor economic climate, which has affected many families throughout our borough. "Both of these programs are essential to leveling the playing field for our kids by helping the younger ones succeed in school and providing the older ones the basic skills they need to get a job."
For more information on Safe Space, visit www.safespacenyc.org.