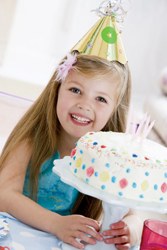 Food at parties seems to be an increasingly challenging issue. Some parents have gone organic, while more kids are diagnosed with allergies and lactose intolerances, and then there is the old-fashioned picky eater. See what advice the experts in your area had for parents about serving the right food at your child's birthday party:
"Parents with children who have special dietary requirements like allergies, lactose intolerances, and special food preferences may consider bringing their own foods from home. They know what is best for their children."
-Jennifer Brunjes, VP of Special Events for NY Hall of Science, Flushing Meadows-Corona Park
"You can't always please everyone, but you can make the effort to try. Decide what the majority of your guests enjoy eating and make that your main dish. Then buy a few snacks or side dishes that are organic, dairy free, kosher, vegetarian, gluten free for the others."
-Brianne Dryer, Manager of Birthdayland, Flushing
"The simplest option is pizza and if a child is allergic, we can offer baked chicken tenders, French fries or hot dogs. If those choices are not appropriate, we ask parents to bring food for the children who are allergic."
-Aga Dojliko, Owner of Kids Fun House, Ridgewood
"Include a question on the invitations that asks if the invited child is allergic to any food. Then leave it up to that child's parents to inform the host parents when they RSVP."
-Shing Lee, Owner of Party Solver, Forest Hills
"As much as we want to please everybody, it's impossible, so go with the only person who needs to be pleased: the birthday child."
-Allyson Bae, Owner of Dreamland Party, Douglaston