Head to Socrates Sculpture Park in Long Island City this June for some great family events, including the Long Island City Bike Parade, Summer Solstice Celebration and Silent Disco, a Makers Market, and a GrowNYC Greenmarket.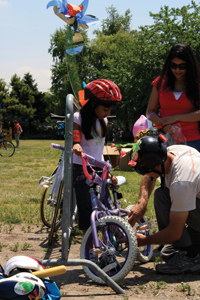 When spending a sunny day inside seems sinful, but thinking about the trek to Central Park or yet another afternoon in Flushing-Meadows Corona Park makes you feel lazy, gather the family and take a ride out to Socrates Sculpture Park in Long Island City. Amidst the large-scale sculptures and art forms, there are plenty of opportunities for fun, including family crafts and workshops, fitness classes, and other events.
For instance, on June 11, bike over to the park for the fourth annual Long Island City Bike Parade. Donate or swap your child's outgrown or barely-used bicycle, learn bike safety tips, or add some flair to your current wheels at the "Customize My Ride" workshop.
You can commemorate the official beginning of summer with the park's Summer Solstice Celebration and Silent Disco. This year it's on June 21, 5pm till dusk. At this decade-old tradition, participants can get their faces painted, take part in artmaking workshops, go on a kayak ride, gobble up delicious local fare, and, for the first time, boogey down to music while wearing wireless headphones to create a sound-free dance party.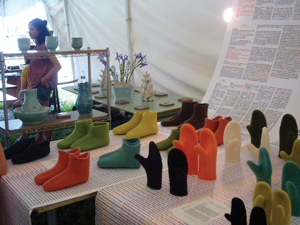 If your house could use a stylish upgrade or your Father's Day gift remains a belated work-in-progress, head to the three-day Makers Market on June 23-25. This American crafters' market showcases one-of-a-kind and limited-production pieces inside large tents on the park grounds. From turned wood bowls, glassware, and ceramics, to jewelry and lighting fixtures, the options seem endless.
Families can keep that summertime feeling well into autumn by attending the GrowNYC Greenmarket, which opens June 25 and runs weekly through November. Enjoy farm-fresh locally grown produce and participate in various activities.
With so many fun events at the Sculpture Park, it may just become your family's go-to summer spot.
Socrates Sculpture Park is located at 32-01 Vernon Boulevard in Long Island City. All events are FREE. For more information: 718-956-1819 or www.socratessculpturepark.org.
Also see: Queens Family Activities: Top Picks for June
Our Online Calendar, for even more upcoming family events in Queens and the New York City area