You can keep the family cool this summer while you warm up at P.S. 1 Contemporary Art Center in Long Island City.  Warm Up 2007 is a summer series of live music and DJ acts that is a widely anticipated summer happening.  The eclectic group of performers promises to deliver unexpected and challenging new work from innovators in audio technology, new instruments, new media and experimental sounds. Each Saturday's music and performances will revolve around a theme or guest host.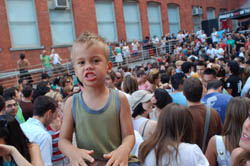 This series represents the vision of the new curatorial team led by David Weinstein and Jason Drummond. "Warm Up was born 11 years ago as a P.S. 1 project fueled by a hunger for the new and adventurous music bubbling up around town," says Weinstein. "This year we deliberately returned to that model by exploring the many new clubs, concert halls, and media centers during one of the most active and exciting New York seasons in a decade."
   Weinstein hopes to entertain visitors with a diverse program. "In order to bring a challenging, compelling, and entertaining program to P.S. 1, we have consulted with the most original producers covering the whole musical spectrum in New York, from noise and ambient, to hip hop and punk, to classical and non-western genres."  In a bonus for families, much of the music is house/dance music, and most of it is instrumental (so no offensive lyrics will be heard).
   This year's line-up includes: Kudu and Services, Poni Hoax and Frustration, and Objektivity hosts with Dennis Ferrer, in July. In August, visitors can hear Mike Simonetti with a special guest DJ, Ben Cook (aka Stranger), and Escort.
   The program also offers two other unique angles to the art scene. The backdrop of this year's Warm Up is Liquid Sky, featuring a canopy of tinted, Mylar petals that will immerse the viewer in kaleidoscopic patterns of colored light. This canopy was produced by the L.A.-based firm Ball-Nogues, the winner of the MoMA/P.S.1 Young Architects Program competition. Since 1998, emerging architects have the opportunity to produce an outdoor environment to host the music series.   In the early afternoon, the courtyard becomes a de facto playground, with kids dancing to the music and enjoying food from the excellent café.
  If you can't make it to P.S. 1, Warm Up will be streamed live on Art Radio WPS1.org.
Info:
Where: 22-25 Jackson Avenue at 46th Avenue, Long Island City
When: Every Saturday through September 1, from 3pm-9pm. Regular museum hours, Thursday -Monday, noon to 6pm.
How much:  On Warm-Up Saturdays, from noon-2 pm, admission is free. After 2 pm till 9pm, admission $10.
For more Info:  (718) 784-2084 or www.PS1.org.
NOTE: Parents with young kids are encouraged to visit earlier in the day as crowds tend to grow quite large later on.  For more information on individual acts, call the Visitors Services Department.