The Queens Botanical Garden offers a host of family-friendly activities in October, including Halloween-themed exhibits and pick- and paint-your-own pumpkin activities. Get all the information here!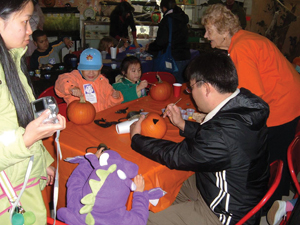 Every Halloween, the Queens Botanical Garden turns spooky. This year, kids ages 2-9 are invited to come dressed in costume and play in the sprawling pumpkin patch and haunted garden. In the pumpkin patch, they can pick their own pumpkins and then decorate them, make "grass-head monsters," check out the Halloween-themed animated exhibits, and enjoy some refreshments. Watch out for staff dressed in Halloween garb, and count on a special visit from Count Dracula himself.
The Queens Botanical Garden is an environmentally-conscious green space in the heart of East Flushing. It provides families with a variety of workshops, demonstrations, and educational programs aimed at teaching community members about the value of green awareness.
What to Know If You Go
What: Queens Botanical Garden Pumpkin Patch
Where: Queens Botanical Garden, 43-50 Main Street, Flushing
When: October 31, 1pm
How much: $10
For more information: 718-539-5296 or www.queensbotanical.org
Also see our roundup of the best Family Halloween Events in Queens