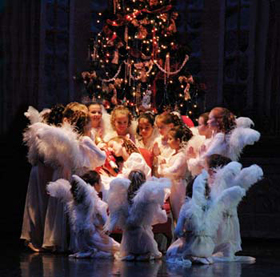 A Tradition of Sweet Dance
By Emily Stone
As the stockings are hung and lights are aglow, there's no doubt that images of sugarplums, the Snowflake Waltz, and the delicious Land of the Sweets will dance in your head. The Nutcracker, accompanied by Tchaikovsky's famous score, returns to the stages of Queens this holiday season. The timeless ballet story unfolds the tale of Clara and her doll in a magical dream world, where a battle between the Nutcracker army and the Mouse King's army takes place, a Christmas tree grows to gigantic proportions, and the Nutcracker whisks Clara away on a delightful journey to faraway lands where snowflakes dazzle and dew drops dance. Relive the excitement or introduce the holiday classic to someone new at four theaters throughout Queens.
At the LaGuardia Performing Arts Center, Flushing Town Hall, and Queens Theater in the Park, the company Ballet for Young Audiences takes to the stage to perform the Nutcracker for the 24th year. The performance is complete with narration so even the youngest members of the audience can follow along. The Russian American Ballet, which performs the traditional story at the Kupferberg Center, received an award from Mayor Michael Bloomberg for Best Ballet Show for the Young Audience in 2009. In this show, the ballet ends in The Land of Freedom - a beautiful portrayal in dance of the exquisite diversity that makes up New York City.
Info:
At LaGuardia Community College Performing Arts Center: December 12, 3pm. All ages. $12. 31-10 Thomson Avenue, Long Island City. 718-482-5152. www.laguardiaperformingarts.com.
At Flushing Town Hall: December 13 and 19, 2pm. All ages. $15, children $12. 137-35 Northern Boulevard, Flushing. 718-463-7700, ext. 222. www.flushingtownhall.org.
At Kupferberg Center at Queens College: December 20, 3pm. All ages. $20, children 12 and under $12. 65-30 Kissena Boulevard, Flushing. 718-793-8080. www.kupferbergcenterarts.org.
At Queens Theater in the Park: December 29 and 30, 1 and 4pm. All ages. $12. Claire Shulman Playhouse/Main Stage, Flushing Meadows Corona Park, Corona. 718-760-0064. www.queenstheater.org.
For more holiday activities and events for kids and families, check out December's Queens Calendar Highlights.