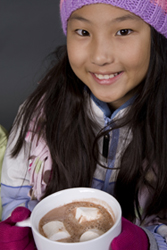 With festive lights and decorations adorning storefronts and downtown streets, snowflakes swirling against scarves and overcoats, and a feeling of goodwill in the air, there's no denying the magic of the holiday season. But this time of year also brings the gift giving season, and with it the stresses of holiday shopping. Take a break from the hustle and bustle to sit down with a cup of hot chocolate or tea. There's just something about wrapping your hands around a steaming mug of cocoa that helps you regain perspective, recharge your spirit, and reconnect with the people that matter to you.
Whether you're looking for a cozy spot for afternoon tea or a quick and creamy treat for your little one, our guide will point you in the right direction.
Check out our other area guides: Fairfield County, CT; Manhattan and Brooklyn; Nassau County, Long Island; Rockland County; Suffolk County, Long Island; and Westchester County
QUEENS
Aubergine Café serves a steamed hot chocolate that comes in traditional, mint, or caramel ($1.75-$3.25). They also serve a selection of blended, herbal, and spiced teas ($1-$1.75) along with a chai spiced latte ($3-$4). The café offers a full menu, including sandwiches, salads, and panninis, along with baked goods. 49-22 Skillman Avenue, Woodside. 718-899 1735. www.auberginecafe.com.
Cannelle Patisserie's hot chocolate is a homemade blend of milk and dark chocolate, milk, vanilla, and secret ingredients ($2.25-$2.50). They also serve a variety of Harney & Sons teas ($1-$1.50). 75-59 31st Avenue, Jackson Heights. 718-565-6200. www.cannellepatisserie.com.
Martha's Country Bakery carries a selection of herbal and chai teas ($1.15-$3.85) as well as hot chocolate ($1.50-$2.50). Try one with a freshly baked dessert. 70-30 Austin Street, Forest Hills, 718-544-0088; 36-21 Ditmars Boulevard, Astoria, 718-545-9737; 41-06 Bell Boulevard, Bayside, 718-225-5200. www.marthascountrybakery.com.
Sugar & Joe serves Valrhona hot chocolate, a premium French brand, in three flavors: regular, malted, or spicy Mexican ($2.50). They also carry a variety of loose-leaf teas served by the pot ($3.75) or by the cup ($2.25; bagged teas $1.75). 42-20 Greenpoint Avenue, Sunnyside. 718-472-1070. www.sugarandjoe.com.