Waldo is hiding out in 20 stores across Astoria and Long Island City this July. Join the scavenger hunt to win prizes and celebrate Waldo's 25th anniversary.
The Story Nook at babyNOIR is hosting a month-long, Waldo-themed scavenger hunt in Astoria and Long Island City this July.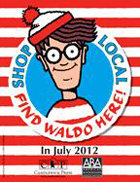 Waldo, the famous children's book character, is turning 25 this year. The Story Nook is celebrating the occasion with 20 local businesses in Astoria and Long Island City. From Inside Astoria at 28-07 Ditmars Blvd. to Little Ones Pre School at 474 48th Ave., participants are to hunt for a small figure of Waldo at each business and try to win prizes. There is no charge to participate, and the game lasts for the entire month of July. There will be a Found Waldo Party held at babyNOIR on July 31, to conclude the Waldo Hunt and to give out all the special prizes to the participants.
Anyone who wishes to participate can pick up a "Find Waldo in Astoria & Long Island City!" search list with the names of all the businesses, and collect an "I Found Waldo" card for each Waldo they spot. Those who collect 16 or more "I Found Waldo" cards and turn them in at babyNOIR will win a Waldo button, a bag full of goodies from the local businesses, and an entry for larger prizes, including a six-volume set of Waldo books. The winners of the larger prizes will be drawn at the Found Waldo Party on July 31. Participants who collect cards from all 20 businesses will, in addition, win a cotton tote bag with a custom drawing of their child. Those who prefer a shorter version of the hunt can collect cards from eight businesses and pick up a Waldo button at babyNOIR.


Participating businesses:
1. babyNOIR/The Story Nook, 26-16 23rd Ave.
2. Waltz-Astoria, 23-14 Ditmars Blvd.
3. The Little Soap Shop, 22-07 36th St.
4. Raising Astoria, 26-11 23rd Ave.
5. Art House Astoria, 23-35 Broadway
6. Astoria Fine Arts, 38-01 23rd Ave.
7. Inside Astoria, 28-07 Ditmars Blvd.
8. Mama's New York Ices and Ice Cream, 27-17 24th Ave.
9. Little Ones Pre-School, 474 48th Ave., #A
10. Matted, 46-36 Vernon Blvd.
11. KrisTEES, 24-01 23rd Ave.
12. Gym-Azing, 27-14 23rd Ave.
13. The Jumping Bulldog, 28-10 23rd Ave.
14. Astor Bake Shop, 23-23 Astoria Blvd.
15. Communitea, 47-02 Vernon Blvd.
16. Malu, 12-09 Jackson Ave.
17. Queens Kickshaw, 40-17 Broadway
18. Site, 35-11 34th Ave.
19. Foodoni Grill, 36-19 Broadway
20. Earth, Wind & Fire Café, 31-12 23rd Ave.
For more information on the hunt for Waldo in Queens, visit thestorynook.com/WaldoInAstoria or follow the hunt on Facebook (facebook.com/WaldoInAstoria) and Twitter (@WaldoInAstoria)