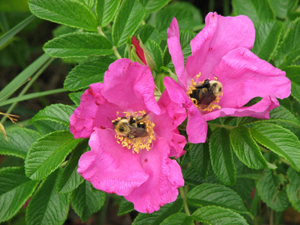 Embrace the new season by paying a visit to a zoo or nature center in Queens, many of which offer outdoor, nature-based activities for kids and adults alike. There's already plenty in bloom at area botanical gardens, with sights and smells for all to enjoy. If you're looking for something less structured, leave your plans behind for the day, pack up the family, and head to the park where you can lay out a picnic, play a game of catch, or just soak in some rays (don't forget the SPF!) on the newly sprouted grass.
Our guide has all the information you need for a fun family outing to celebrate the great outdoors in Queens. So, if you've thawed out enough, put a spring in your step and hop to some seasonal fun at any one of the locations below.
Alley Pond Environmental Center
228-06 Northern Boulevard, Flushing
718-229-4000
Hours (September-June): Monday-Sunday 9am-4:30pm; (July-August): Monday-Saturday 9am-4:30pm. Price: Free.
The center is an aquatic and terrestrial habitat and nature preserve that features a learning center and environmental laboratory. Its mission is to educate children and adults in the New York metro area about preservation of open spaces and water, while advocating for sustainability and crucial environment policies and practices. The center offers animal, science, and nature programs at the Center at Alley Pond Park for students in prekindergarten through high school and adults.
- The site also hosts monthly events, including nature walks, teach workshops, and Evenings with the Stars (an astronomy program).
Grand Central Parkway, Van Wyck Expressway
At 1,255 acres, it's the largest park in Queens, which means there's plenty of recreational space. The park also encompasses the Queens Zoo, Queens Museum of Art, Queens Botanical Garden, The New York Hall of Science, Arthur Ashe Stadium (home of the U.S. Open in tennis), an aquatic center, a carousel, six playgrounds, and two lakes. Spring trees and flowers are in bloom, such as Cornelian cherry tree, forsythia, redbud tree, tulips, and horse chestnut tree, as well as roses and other planted beds in the summer.
Between Jackie Robinson Parkway and Park Lane South
Hours: Open daily 6am-1pm, unless otherwise posted. Price: Free.
In this large, multineighborhood park, there is a golf course, multiple playgrounds, and a walking and bike trail that weaves through the entire park. Visitors can also choose to ride a horse from one of two stables to explore on horseback.
Between North Channel Bridge and Cross Bay Bridge on Cross Bay Boulevard
718-318-4340
Hours: Visitor Center open 8:30am-5pm daily; park open sunrise to sunset, daily year-round. Price: Free.
A 1.75-mile-long loop trail features views of the west pond, Jamaica Bay, and an osprey nest.
43-50 Main Street, Flushing
718-886-3800
Hours (April-October): Tuesday- Sunday 8am-6pm. Price: $4; $3 seniors; $2 students and children; free children under 3; free November through March.
The Queens Botanical Garden includes the Queens Rose Garden, Green Roof Plant Collection, Fragrance Walk (shrubs, perennials, and bulbs that are especially fragrant during the growing season), Children's Garden, Bee Garden, and other thematic gardens and historic plantings. Visitors can see a variety of different plants in bloom each month.
- The garden regularly hosts programs that demonstrate environmental stewardship, promote sustainability, and celebrate the rich cultural connections between people and plants. Children can get involved by planting vegetables, herbs, and annual flowers in the Children's Garden during QBG's spring, summer, and fall Children's Garden sessions.
53-51 111th Street, Flushing
718-271-1500
Hours (April-October): Monday-Friday 10am-5pm, weekends and holidays 10am-5:30pm. Price: $8; $6 seniors; $5 children ages 3-12; free children 2 and under. Parking is free.
Besides being home to a wide variety of wildlife-from penguins, to mountain lions to Andean bears-that visitors can view at their leisure, the zoo also offers hands-on learning experiences for kids with an emphasis on wildlife conservation, as well as a walk-through aviary. Young children can also relax and explore in the Discovery Center, which offers projects and special activities along with a library full of animal themed storybooks and games, a microscope and fossils, and a crafts station.
- Watch California sea lions Butch, Phoenix, and Howie flip for fish during their 11:15am, 2pm, and 4pm feeding times at the sea lion pool in the center of the zoo.
Broadway at Vernon Boulevard
718-956-1819
Hours: 10am to sunset, daily. Price: Free.
Socrates Sculpture Park is an outdoor park that features large-scale sculptures and hosts weekly workshops for children.
See our complete guide: Zoos, Nature Centers, and Botanical Gardens in the New York Metro Area