A Little Personalized, a personalization boutique in Forest Hills, recently opened. The store personalizes every product it sells from blankets and iPhone cases to backpacks and towels, making perfect baby shower, graduation, and holiday gifts. The store also offers knitting and sewing classes for kids in Queens.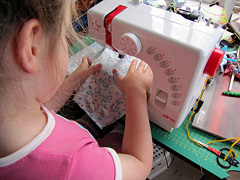 Kids ages 7 and older can learn skills such as sewing and knitting at A Little Personalized.
Looking for the perfect personalized gift for a housewarming party or a baby shower? A Little Personalized, a personalized boutique that originally opened in Cedarhurst eight years ago, recently opened a second location in Forest Hills. The store offers everything from towels, robes, and iPhone cases to backpacks, baby blankets, and bridal gifts.
The store offers free personalization on-site—usually done in the same day—for every product sold, from embroidered monograms to printed and painted room décor. "Personalizing is our niche," owner Sharona Hoffman says. "We paint, print, and embroider on everything—nothing leaves our sore without getting personalized."
A Little Personalized also has a seamstress on staff so customers can create their own one-of-a-kind items. "We have a huge fabric stock, and [customers] design an item," Hoffman says. "So on top of personalizing an item, it can also be created from scratch."
The store also offers sewing and knitting classes for kids ages 7 and older. In addition to learning a new skill, each student receives a 20-percent discount on supplies and any of the gifts in the store. Registration is required for the classes.