Astoria Sports Complex now offers families and businesses in Queens a new location to host high-end parties at an affordable price point. Astoria Complex Catering offers an upscale environment that can accommodate up to 200 guests. Menu options can feature any cuisine, such as Korean, Italian, Indian, and Mexican.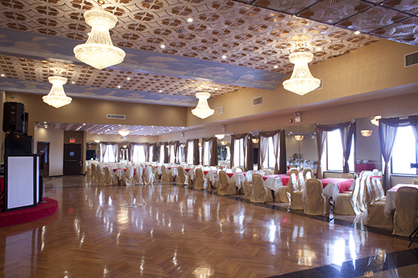 The high-end dining facility at Astoria Complex Catering
Astoria Sports Complex has been offering sports and fitness classes and birthday parties to families in Astoria for more than 37 years. On Nov. 1, the complex began offering larger, upscale parties with Astoria Complex Catering in the Pent House. "The room has a view of the city, so especially at night, you can see the lights and the 59th Street and Triborough bridges," owner Steve Poliseno says. "It's breathtaking at night."
Astoria Complex Catering can accommodate up to 200 guests and features a high-end dining facility with marble floors, chandeliers, mirrored walls, a parquet dance floor, and a painted ceiling. Poliseno says Astoria Complex Catering brings the quality normally found in Manhattan or Long Island facilities to Queens, with top quality at an affordable price. The facility can host events such as baby showers, weddings, bar and bat mitzvahs, Quinceañeras, Sweet 16s, anniversaries, and business breakfast meetings or luncheons.
Poliseno says that although the menu mainly features Italian dishes, the catering hall can accommodate any cuisine including Korean, Mexican, and Indian dishes. "We'll cater to anyone that wants to use the facility." Packages can include buffets, plated dinners, and open bar options.