Caliper Orthodontics, an orthodontist office in Little Neck, recently implemented a new technology for better results. The Invisalign provider in Queens uses the iTero scanner to create better fitting aligners for patients.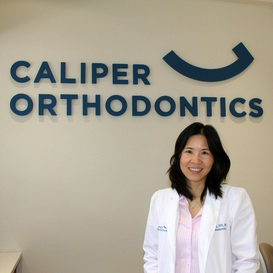 Cynthia Leung, D.D.S., M.S.D.
Caliper Orthodontics in Little Neck recently began using new technology that eliminates the hassle of messy impressions for patients who plan to use Invisalign®. The iTero, a machine that scans a patient's mouth, replaces the discomfort and mess of taking measurements of the mouth with putty material and produces better fitting aligners for the desired outcome. The scanner ensures all patients will be taken care of in the most efficient and comfortable way possible.
Caliper Orthodontics opened its doors to children, teens, and adults in the area last year and has since worked to ensure that they use only the most efficient and comfortable methods available. "I love this neighborhood, it's very diverse and family oriented," says Cynthia Leung, D.D.S., M.S.D. "Our office also sits on the border of Queens and Long Island, allowing us to cater to both regions."
Dr. Leung likes to see all of her patients herself, and enjoys doing the work to ensure that all of her patients get their ideal smile. The office offers Invisalign, Damon Clear braces, and more for patients of all ages. State-of-the-art techniques are used for early treatment to standard or lingual braces as well. Dr. Leung's office also uses a low-dose, scanning digital X-ray to take accurate measurements before, during, and after treatment.