People shopping small businesses in Astoria and Long Island City in Queens will be in for a discount if they find Waldo hiding in its stores during this month-long scavenger hunt.
The Story Nook at babyNOIR is hosting a month-long scavenger hunt in Astoria and Long Island City, Queens this July as a creative way to bring business traffic to the local small businesses in the area.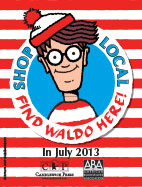 The famous children's book character in the striped shirt and black-rimmed specs is visiting 25 different local businesses throughout Astoria and Long Island City, Queens. Those who spot him can win prizes, including stickers, book coupons, and more.
From Raising Astoria, a baby and maternity boutique at 26-11 23rd Ave. in Astoria, to Malu, a homemade ice cream shop at 1209 Jackson Ave. in Long Island City, Waldo figures will be well hidden in local business establishments. Find Waldo is a great summer vacation activity and a wonderful way for residents to support local business and the Shop Local movement. There is no charge to participate, and the game concludes on July 31 with a Found Waldo Party at babyNOIR.
Anyone who wishes to participate can pick up a "Find Waldo in Astoria & Long
Island City!" passport with the names and a map of all the businesses in any of the participating sites, and get their passport stamped or signed for each Waldo they spot.
Find Waldo in Astoria and Long Island City Prizes
The first 100 Waldo seekers to get their passports stamped or signed at 16 or more businesses can bring their passports back to The Story Nook in babyNOIR Boutique to collect a bag full of goodies from the local businesses.
Collecting store stamps or signatures at 20 or more businesses will entitle diligent seekers an entry in a grand prize drawing on July 31, with the top prize being a 6-volume deluxe set of Waldo books and other wonderful prizes provided by the local businesses as well.
Each participant who collects stamps or signatures from all 25 businesses will, in addition, win a cotton tote bag with custom drawing of their child.
About Waldo
Waldo is the creation of Martin Handford, whose entertaining drawings of crowd scenes swept the world in 1987. There are more than 55 million Waldo books in print worldwide and they've been translated into 18 languages. In celebration of Waldo's longevity and popularity, its American publisher, Candlewick Press is, once again, teaming up with the American Booksellers Association and 265 independent bookstores all across the country, including The Story Nook in Astoria, to encourage people to shop local.
The Story Nook Children's Bookstore is an indie bookseller based in Astoria in Queens, NY, that specializes in children's books and educational toys. It has maintained its business online since its inception, and opened up a pop-up store inside the local children's boutique babyNOIR in February 2012. Along with babyNOIR, The Story Nook has been well-received as a much-needed addition to the local businesses by the parents in the neighborhood.