Flushing Town Hall reopened March 14 after a five-month renovation. With a fresh look, the theater kicked off its spring 2014 season, which will include many family-friendly performances and festivals.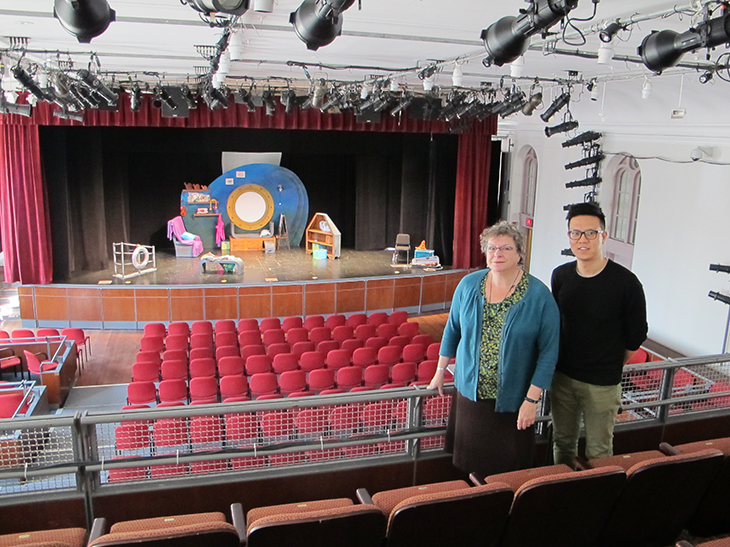 Ellen Kodadek, executive and artistic director, and Shawn Choi, associate director of external affairs, stand in the newly renovated Flushing Town Hall.
Last month, Flushing Town Hall reopened after a five-month renovation and kicked off its new family programming series with a performance of The Snail and the Whale.
The renovation was the first for the theater since it was originally built as part of the adaptive re-use of historic Flushing Town Hall in the 1990s. The 308-seat theater has new seats and risers, new wood floors, an expanded stage, and newly painted walls. The renovation project also included an upgraded HVAC system, which will be more energy efficient.
The project was funded by New York City, which owns the historic landmark building, built in 1862 as the town hall of the City of Flushing. Major support was provided by former Queens Borough president Helen Marshall, the New York City Council, and the New York City Department of Cultural Affairs. The project was managed by the New York City Department of Design and Construction (DDC).
Flushing Town Hall presents local, national, and international performing artists in jazz and world music, dance, puppetry theater, and education programs, and it's also used by the community for weddings, parties, and meetings.
Highlights of its spring 2014 family programming include One Night in Frogtown on April 5, Black Violin in concert on April 12, an Earth Day festival on April 22, and the QJOG Spring Jazz Festival on April 26.