Students of Hillcrest High School competed in LeAp's August Wilson Monologue Competition and three students will advance to compete in LeAp's NYC-wide competition at Manhattan's MMAC Theater on March 6.
On Feb. 7, a dozen students at Hillcrest High School competed in a preliminary round of LeAp's August Wilson Monologue Competition, one of the six school competitions that are included in the contest.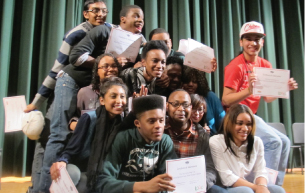 All participating students received a Certificate of Achievement from LeAp. Courtesy LeAp
Three winners from each of those six schools will advance to LeAp's NYC-wide competition at Manhattan's MMAC Theater on March 6 to compete for cash prizes and the chance to advance to the national round of the competition.
Students at Hillcrest performed two- to three-minute monologues of their choosing from the Century Cycle series of plays by the internationally renowned African-American playwright August Wilson. Judges ranked them based on energy and physical presentation, lines and memorization, characterization and emotional connectedness, vocal presentation and projection, and understanding of the text. Three students came out on top: Nile Granger, Adonis Martinez, and Amanda Morris. Marie Morrero was chosen as the alternate.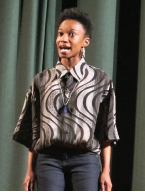 Amanda Morris is one of the finalists who will advance to the citywide competition. Courtesy LeAp
The competition "is a learning experience," said Morris, who recently moved to Queens from Jamaica. "Learning about a playwright—it makes you get more into theater, you want to get more in depth. You want to learn more, you want to do more."
The competition, created five years ago by the nonprofit LeAp (Learning through an Expanded Arts Program), is the result of a year-long program led by LeAp's theater professionals in which students explore Wilson's 10-play Century Cycle and examine important social issues and historical events related to the 20th century African-American experience. As part of the program, students attend a theater performance and meet with professional actors, directors, and designers.
Finalists from the NYC-wide competition advance to the National August Wilson Competition on May 6 at the August Wilson Theatre in Manhattan to compete against students from other cities. Other schools competing in the citywide competition include Repertory Company High School for the Theater Arts, Edward R. Murrow High School, Marta Valle Secondary School, Fordham High School for the Arts, and Brooklyn Theatre Arts High School.