Young New York City public school students were honored at LeAp's 11th annual Citigroup Student Art Exhibition hosted by Citigroup in Long Island City on Dec. 5 at the Citigroup Building.
Learning through an Expanded Arts Program celebrated the young artists whose works are currently on display in LeAp's 11th annual Citigroup Student Art Exhibition at a Dec. 5 reception at the Citigroup Building in Long Island City. LeAp and Citigroup honored the students' artistic achievements with a "milk and cookies" reception, where the students had the chance to see their artwork on display.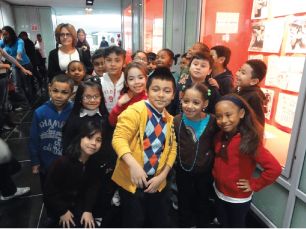 PS 315 students with their artwork. Courtesy LeAp
The exhibition features works by New York City public school students in LeAp's arts integration programs, which utilize the arts to teach the academic curriculum. Citigroup hosts the exhibit each year as an expression of their commitment to furthering arts education.

The artwork featured in the exhibition was contributed by students from the following schools:
• PS 315 The Lab School for Children (Bronx)
• PS 28 Mount Hope (Bronx)
• PS 14 Senator John Calandra (Bronx)
• PS 5 The Port Morris School (Bronx)
• PS 132 Garrett A. Morgan (Bronx)
• PS 165 Robert E. Simon (Manhattan)
One class of second-grade students—about 25 children—from PS 315 attended, along with a few parents. These students contributed artwork to the exhibit titled "Alphabet Exploration." The exhibit featured artwork from a portfolio the class created of all the letters in the alphabet through photography, visual arts, and creative writing. The students explored a new way to experience the alphabet by photographing each other as they shaped their bodies into the letters. Students incorporated their photographs into their own illustrated work and developed their vocabulary by writing "silly sentences" composed of words that begin with their letter.
"I learned that sometimes when you are writing silly stories, you don't have to write what just comes into your head," said Diego Rivera, one of the second-grade students at the event. "Sometimes you can inspire yourself."