NY Kids Club, an early childhood educational and recreational program provider, recently opened its Long Island City location. The club offers preschool classes and early childhood enrichment classes.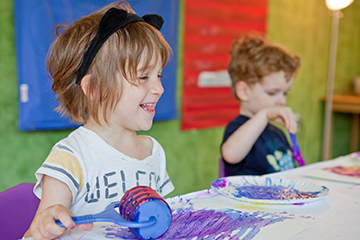 Children can paint with textured rollers during craft time at NY Kids Club.
NY Kids Club, a citywide provider of educational and recreational early childhood programs, opened its Long Island City branch on July 7. The child enrichment center boasts a unique, original curriculum that strives to help its students get the most out of their time at the NY Kids Club.
"All of our classes have an academic structure to them while at the same time giving children the opportunity to do things they love the most, which is run, jump, sing, laugh, and dance," says company founder Pam Wolf. Classes are offered for children of all ages beginning with Gym Babies, an introductory movement class for 9- to 13-month-olds held in a nurturing and encouraging environment. Two-, three-, or five-day-a-week preschool classes that run on an academic planned curriculum with a play based structure are available for children ages 2-4.
NY Kids Club offers enrichment classes that range in topics from cooking and gymnastics to karate and music, all taught by enthusiastic and dedicated instructors who are experts in their field. The center's facilities offer children a great amount of resources including a resident pop band that performs original music during music classes. Also available to students is an interactive summer day camp that combines "the best of everything we do but with a time travel and academic theme," Wolf says, and teach kids through activities that are sure to spark their interest.
Register for classes either online or in person. All class sessions are prorated with rates based on the number of classes attended.