A student from St. Demetrios Jamaica Day School in Queens represented the United States in the 2012 Mathitiada in Greece, the annual athletic games that celebrate Greek culture.
Vasiliki Mavrakis, a 7th-grade student at St. Demetrios Jamaica Day School, was the only student from the United States to participate in the 10th annual Mathitiada, a cultural and athletic celebration for students of Greek origin ages 12-16 from all over the world.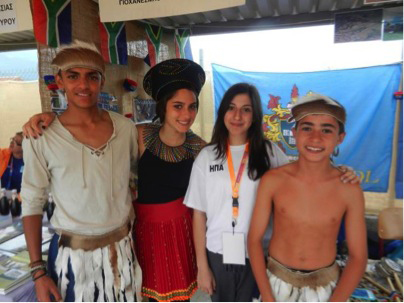 Vasiliki Mavrakis (center left) mingled with other
students of Greek origin from schools across
the globe at Mathitiada.
The event, held in Proti Serron, Greece, brings together Greek students from different parts of the world to compete in Olympic sports and also develop friendships while discovering different cultures and traditions. This year's festival, held in May, included 450 students from 48 schools. Participating students chose from 30 Olympic and 14 Paralympic sports. Vasiliki competed in shooting, table tennis, horseback riding, and basketball. Her basketball team, which included students from several other countries, won the gold medal. "It was really something special to see kids from different parts of the world play together as a team," says Angela Mavrakis, Vasiliki's mom.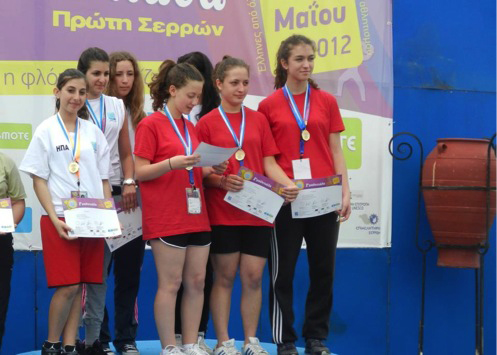 Vasiliki Mavrakis (left) accepts the gold medal
with her basketball team.
Alongside the sporting events, students participated in daily activities such as workshops in painting, pottery, and arts and crafts. Each participating school decorated its own booth with artifacts and pictures representing their area. The St. Demetrios Jamaica Day School booth was decorated with paintings, drawings, and essays written and drawn by its students as well as photos of and memorabilia from Queens. The Organizing Committee of Mathitiada awarded the four best booths, and St. Demetrios won first place.
"Mathitiada's message is not just about winning but about participating," Mavrakis says. "For these few days, no matter where we came from, we all coexist together as one. We celebrated what unites us, namely our common origin, our children, our future."
For more information on Mathitiada, visit mathitiada.gr.