UPDATED DECEMBER 2013: A guide to sledding in Queens, including official sledding locations in parks across the borough. Find sledding hills in Astoria, Cypress Hills, Flushing, Forest Hills, Fresh Meadows, Kew Gardens, Little Neck, Middle Village, and Woodhaven.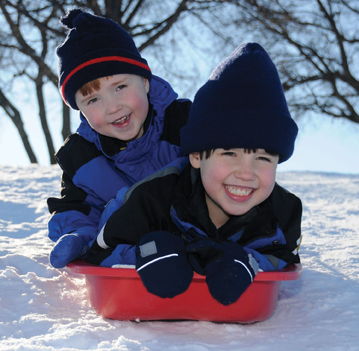 Looking for something to do on a winter weekend or a school snow day? Grab your toboggan or tube and head to one of these sledding hills in Queens.
Astoria
Astoria Park, 19th Street between Shore Boulevard (off Ditmars Boulevard)
Although widely known for its beautiful pool, the oldest and largest in the city offers more than aquatic pleasures. With a panoramic view of the skyscrapers of midtown Manhattan in the south to the Hell Gate channel in the north, the scenery presents the diverse landscape of New York City. Enter at Ditmars Boulvard between 19th Street and Shore Boulevard. If your little ones need a bathroom break during an afternoon of speeding down the slopes, head for the year-round restroom near the playground at Shore Boulevard (opposite 23rd Road).
Bayside / Little Neck
Crocheron Park, 35th Avenue (opposite Golden Pond)
There's a sweet sledding hill on 35th Avenue near 216th Street. Bring the family dog along and enjoy the park's dog run by the gazebos (west of 35th Avenue and Cross Island Parkway).
Cypress Hills
Lower Highland Park, Jamaica Avenue and Elton Street
If the snow decides to come down—really come down—the NYC Department of Parks & Recreation will host a Snow Day sleigh-riding fest here (Jamaica Avenue and Elton Street) featuring sleds, music, and free hot chocolate. When it snows, check nycgovparks.org for a Snow Day announcement.
Since this park is located on a high plateau that straddles Queens and Brooklyn, sledders are rewarded with stunning views of surrounding neighborhoods, the ocean, and nearby cemeteries. (Note that Highland is more easily accessible on the Brooklyn side.)
East Flushing / Fresh Meadows
Kissena Park, enter at Metcalf Avenue and 164th Street
The hill is just east of Kissena Lake. There is a year-round bathroom located on the northeast edge of the park, near Oak Avenue. There's also a playground nearby, at Rose and Oak avenues.
Flushing
Bowne Park, small hillside on the 155th Street side of the park
Best for the little ones in your brood. A year-round bathroom is located in the park at 155th Street and 32nd Avenue
Kew Gardens / Forest Hills
Forest Park, Mary Whelan Playground at 79th Street and Park Lane South
Tots can tackle this hill easily. This park is also easily accesible from the Glendale, Richmond Hill, and Woodhaven neighborhoods. The Mary Whelan Playground is one of 7 playgrounds in the park, which is also home to the Forest Park Carousel. There are also 7 year-round bathrooms scattered throughout the park.
Middle Village
Juniper Valley Park, Juniper Boulevard North and South, near the Tennis Building at 75th Street
As one of Queens' most popular parks, you might find a crowd here on a snowy weekend. A positive perk is the park's two year-round bathrooms: one by the playground at 62nd Avenue and 80th Street and another in the park at Lutheran Avenue.
Also See:
Indoor and Outdoor Ice-Skating Rinks in NYC
Where to Ski and Snowboard in the Northeast
Our full calendar of events, for fun family activities in Queens and the NYC area