The DanceSource in Rego Park, Queens, has added two new classes to their spring semester schedule. As of February, yoga and advanced ballroom dancing are now available to adults and to children ages 10 and older.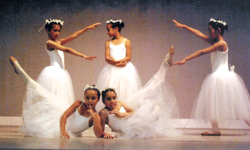 Along with the new classes, The DanceSource also introduces two new instructors. Elisabeth Rainer, a certified yoga instructor, teaches students stress free, relaxing techniques on Mondays at 7:30pm. The ballroom instructor, Maria, instructs dancers with at least two years of ballroom dance experience. Class size is ten students or less, to allow instructors to deliver individual attention to all their dancers.
"We provide an excellent level of dancer instruction at an affordable price that is open to all," says Dianna Petty, a dance instructor at The DanceSource.
The DanceSource not only offers a variety of classes open to children and adults, they are also a resource for dance classes that they do not carry. "If we don't have a class you want," Petty says, "we will find it for you."