Find out where to see the Easter Bunny and go on Easter egg hunts in Queens this March. Our list includes low-cost and kid-friendly events in Jamaica, Flushing, Long Island City, and nearby in Garden City on Long Island.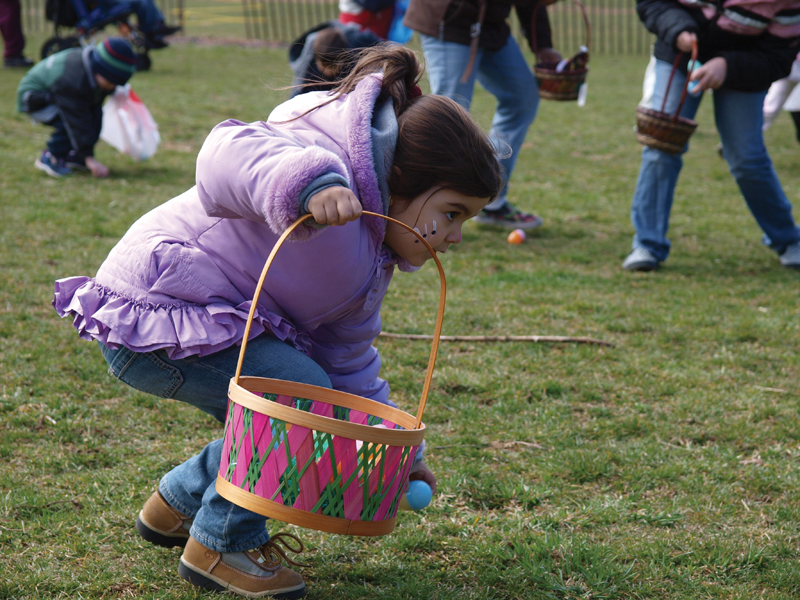 Sure signs of spring: sunshine, birds singing, and daffodils in bloom. Peter Cottontail can't be far behind! Celebrate the season at these Easter egg hunts across Queens and nearby on Long Island.
Gantry State Park, Long Island City
March 23
Enjoy live music, games, and age-specific Easter egg hunts at the Community Easter Celebration. Of course, no celebration would be complete without a picture with the Easter Bunny. FREE!
Long Island Children's Museum, Garden City
March 23
Hop over to Long Island for a Spring Eggstravaganza where you can meet Peter Rabbit and explore traditional Ukrainian egg decorating. Kids can also decorate sweet treats, participate in egg relays, enjoy face painting, and start their own carrot gardens.
Queens Botanical Garden, Flushing
March 30
Bring your own basket and join Flora the Flower during the Spring Egg Hunt to collect eggs hidden in the arboretum.
Spring Eggstravaganza at Queens Zoo
Queens Zoo, Flushing
March 30-31
Meet the Easter Bunny and his giant Flemish rabbit friends at the Spring Eggstravaganza. Enjoy a variety of spring-themed activities as well, including an egg hunt.
Saint Albans Park, Jamaica
March 30
Be a part of the largest Easter egg hunt in New York City. Join friends and neighbors from across the borough for loads of fun at the 12th annual Easter Egg Hunt sponsored by Affinity Health Plan. Enjoy live entertainment, ponies, rides, and more. FREE!
Queens County Farm Museum, Floral Park
March 30
Hop over to the Queens County Farm Museum to meet Whiskers the bunny, dance the "bunny hop," enjoy a hayride, play egg-citing games on the lawn, and take part in the annual Easter egg hunt.
More Fun
For more fun and low-cost family events in NYC and beyond, search our full calendar of events