From Carnegie Hall to Forest Hills, the place to be for music!
Looking for the best music curriculum catered to your child's individual needs?
Want to give your child access to a wide variety of classes offered?
At Belle Arti, your child will flourish in the environment of a prestigious school of the arts.

What are some of the benefits of studying music?
♪ Develop motor skills, memory, coordination
♪ Gain knowledge of fine arts and culture
♪ Nurture talent, creativity, imagination, self-expression
♪ Accelerate children into gifted and talented programs
♪ Prepare students for auditions and college applications
♪ Learn good presentation and poise
♪ Conquer anxiety, stage fright, diffidence
♪ Build confidence, maturity, emotional intelligence
What are the benefits of studying music in a school?
♪ A structured learning environment reinforces a disciplined and productive education
♪ Promotes a healthy competition between students to excel and succeed
♪ Foster work ethic, discipline, team work
Why you should choose Belle Arti!
♪ The finest music education in the area
♪ Distinguished music professionals who love kids and have extensive experience teaching them
♪ Five-star service and convenient scheduling
♪ Innovative curriculum designed to fit the needs of your individual child
♪ Exceptional, comprehensive music instruction
♪ Recitals and performance opportunities in beautiful venues
♪ Association with the Queens Symphony Orchestra
PROGRAMS
Students of all ages, levels and backgrounds welcome!
Private lessons
Piano, violin, cello, guitar, voice, woodwinds, composition and music theory
Semi-private classes (2 children per class)
Piano, violin, cello and guitar
Group classes (5 children per class)
Piano, violin, cello, and guitar
Music theory class (5 children per class)
Children learn harmony, sight-singing and dictation with solfege
Receive ear training and rhythm training
Musical Aurora® (5 children per class)
Unique music program for children (Ages 2-5)
For more information visit www.belleartiny.com
Baby Musical Aurora® (5 children per class)
Unique music program for children (Ages 1-2)
For more information visit www.belleartiny.com
Rock/ Pop Band
Fun ensemble for kids to explore pop music
Chorus
Children learn to sing and perform together as an ensemble

Chamber music
For advanced students interested in group collaboration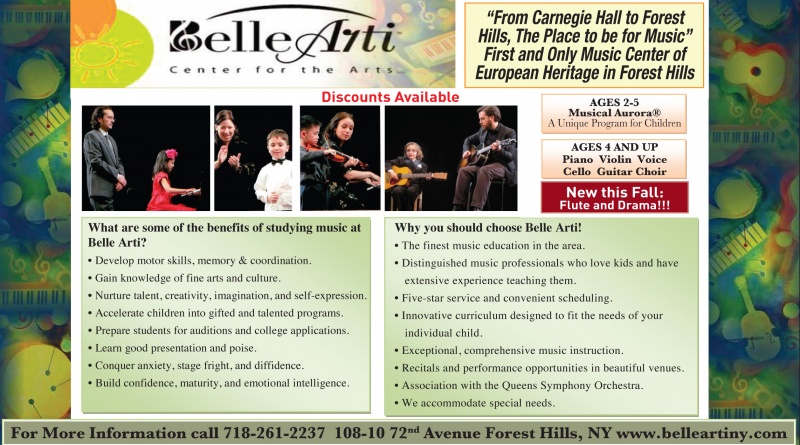 Want to learn more about this business? Send them a direct inquiry.
HEALTH
Belle Arti Center for the Arts offers high quality music instruction to students of all ages. Music is an integral element to the mental development of infants because it enhances cognitive and deductive skills, and helps to enrich the mind. Music also improves motor skills, helps to retain memory, develop coordination and enhance performance in all subject areas such as math, science and reading.
UPDATE YOUR MICROSITE