Our Birthday Parties....


Wouldn't it be great to see your child engaging in fun activities, celebrating with friends and family? There is no better way to experience one of the most memorable Long Island children's parties than by giving your child an event-filled, professionally planned party. If this sounds like a great birthday idea, Chilibeans Party Place can create any type of birthday celebration for children. We specialize in hosting private First Birthday Parties, as well as birthday parties for preschool and school-aged children through age 9. Our new Disco and Dance parties are perfect for tweens.
Put children and fun first....
The Chilibeans Party Place incorporates a combination of hands-on experiences, and customized party itineraries to create age-appropriate birthday parties parents know their children will love. Chilibeans Party Place will consult with parents to create a customized birthday gathering that will cater to the child's interests, while allowing all members of the birthday celebration to feel special. We have any excellent party place for kids near Queens.
Having personal knowledge of their children's passions and interests, even at a very young age, parents can help foster their children's talents by selecting birthday experiences that encourage physical, intellectual and social growth such as:
- Carnival Games
- Crafts
- Musical Fun
- Playroom Time
- Story Lady
Specialized party add-ons provide great opportunities for a photo-filled event. Some of our additional party services include:
- Face Painting
- Group Photos
- Treat Bags
Fun for Little Ones, Older Ones, & Tweens!
Our specially-designed playrooms and optional customized add on(s) help make a First Birthday Party or Preschool Party or party for children through age 9 a developmentally-appropriate, fun-filled event. Understanding children have different needs, Chilibeans Party Place has two playroom areas: the Tumble Tots and the Rock and Roll playrooms. Little ones and older ones love both rooms. Party leaders monitor each playroom and parents can rest assured knowing their child and his or her guests are playing in a safe and sanitized environment. Equipment is well-maintained, safety checked and always in operational order; allowing parents to relax and enjoy their child's birthday celebration. After all, birthday memories are only made once a year.


Spacious, bright and beautifully decorated Party Rooms!


When the playtime is done, sing Happy Birthday and enjoy your party refreshments in a comfortable, sociable party room. Your party leaders will serve your cake, bag your gifts, and take care of all the clean up.
Book Your Party Today
To book your child's birthday party, parents can contact Chilibeans Party Place by calling (516) 680 - 3024 or by emailing us at chilibeans4fun@aol.com . Party appointments fill-up quickly! Call today to ensure your chosen date is available. We have fun playrooms for children here in NY.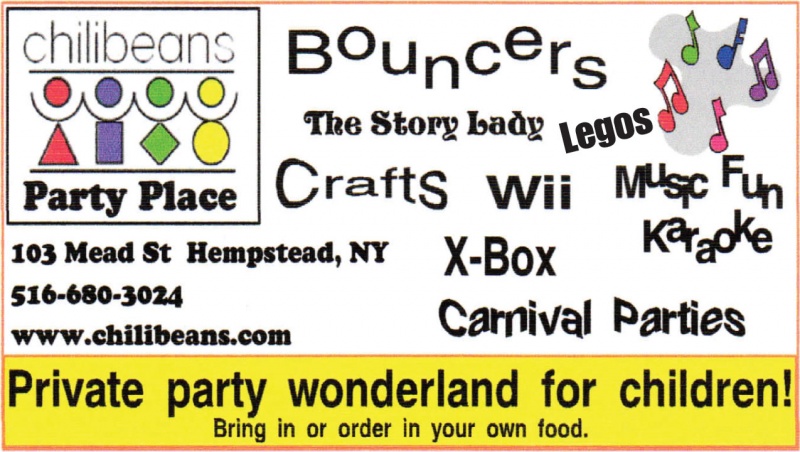 Want to learn more about this business? Send them a direct inquiry.
BIRTHDAY PARTIES
A private party wonderland for infants, toddlers, and children under 10 years old. There are fabulous playrooms, affordable party packages, and the exciting add-ons include crafts, karaoke, carnival parties, the Story Lady, and music fun. Invitations, balloons, party leaders, juice boxes, water bottles, and all paper goods are included. No charge for the birthday child or adults. Bring in your own refreshments if you wish. Visit our website for more information and pictures.
Read More About Chilibeans Party Place (The)
Chilibeans Party Place Now Offers Two Summer Camps
Chilibeans Party Place will host two different summer camps in Queens this year: Lego Engineering and Artful Adventures. The Lego camp applies real-world physics, engineering, and architecture concepts for children in kindergarten through sixth grades. The art camp is split into two sessions: 3-D Insanity and Crazy Craftin' for children in first through sixth grades.
Featured Birthday Parties Listings for 6/26/2012
Discover children's birthday party planners, birthday party places and entertainers in the New York area. They also arrange parties in Westchester, Rockland, Fairfield Counties, and Long Island, both Nassau and Suffolk Counties. Many of these party resources will come to your home or serve as the host. If you are looking for a venue for your child's birthday party that will be exciting, safe, different and easy, check out the providers listed below or visit nymetroparents.com
Coupons and Discounts for Kids Activities in Long Island, New York
Special offers, savings, and discounts for parents, kids, and families in Long Island and the greater NYC area.
Coupons and Discounts for Kids Activities in Nassau County, Long Island, New York
Special offers, savings, and discounts for parents, kids, and families in Nassau County, Long Island and the greater NYC area.