Preschoolers need a head start-Christy's establishes the BUILDING BLOCKS for their future!!!

The WEE TUMBLE PROGRAM- (18 mos – 3 years plus)
A fun filled learning experience in which childen and parents are true partners on the road to fitness and skill development The WEE TUMBLE PROGRAM prepares students for the next level the Junior Gym Program.

The JUNIOR GYM PROGRAM-(3 ½ yrs to 5 yrs plus)
Your preschooler is now ready to separate from you. Children take class independently although parents may be close at hand in viewing area. While your children are preschoolers, they progress through 4 levels of development preparing them for the GYM TIME PROGRAM.

GYMTIME PROGRAM(Ages 6 and over)
With fun as its primary objective, GYM TIME will enhance participant's coordination, strength, flexibility and body awareness, always under the watchful eyes of our expert staff.
THE COMPETETIVE PROGRAM Since 1984 Christy's Gymnastics has trained many state, regional and national champions. Team practices 3 or 4 days per week
BIRTHDAY PARTIES
Christy's Gymnastics continues to celebrate each child's birthday in its very own private party room, allocated for you and your party guests. The party package includes a private party that is hosted and supervised by a highly credential staff. Clients are provided with everything necessary, so leave the planning to the staff and the partying to you.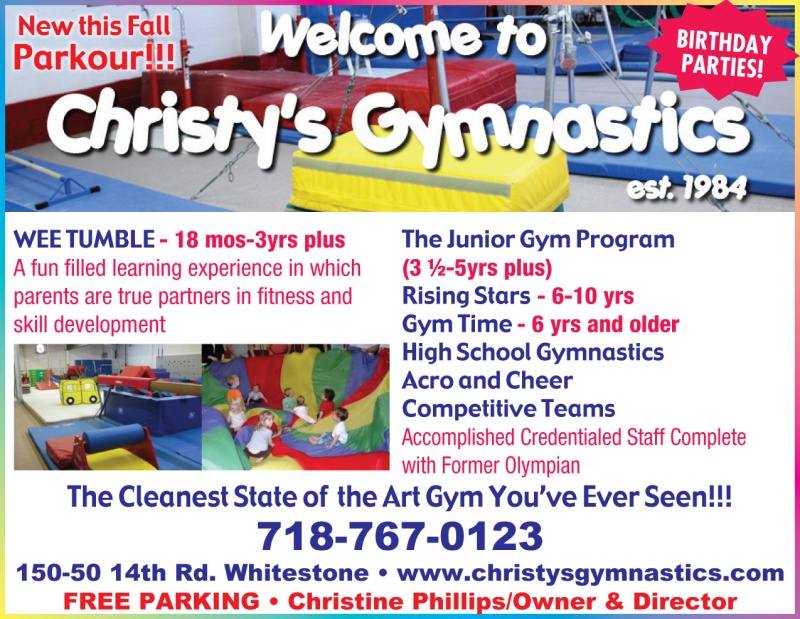 Want to learn more about this business? Send them a direct inquiry.
2015 NEW YEAR PREVIEWS
New for 2015: Rising Stars, a program for pre-teen boys.
Christy?s Gymnastics was founded in 1984 as a full service gymnastics facility. Our philosophy is to provide a safe, but exciting environment for children to improve their skills and build self esteem. The greatest asset of our school is its staff, which includes certified physical education teachers, internationally renowned coaches, and former gymnasts. Join our summer Mini Camp for children of all ages. Our creative program leads your child through a summer of fun, friends, and fitness. Our state-of-the-art facility is also available for birthday parties.
Read More About Christy's Gymnastics
Christy's Gymnastics Offers Acrobatics for Cheerleaders, Competitive Dancers
Christy's Gymnastics, a Whitestone-based full-service gymnastics facility, now offers an Elite Acrobatics class for cheerleaders and competitive dancers who want to learn and build on their acrobatic skills. The gym also offers early childhood fitness programs and non-competitive and competitive gymnastics programs.
Gymnastics Classes and Programs in Queens, NY
Find gymnastics classes for kids in Queens, NY. Learn tumbling, balance beam, and elite gymnastic techniques from great kids gymnastics programs in Queens, including Astoria, Flushing, and Fresh Meadows.
Summer Activities in Queens
Search for the best summer activities for kids in Queens, NY. Our guide helps you choose from Queens kids classes, Queens summer camps, summer programs, activities near Queens, NY, and family excursions in the Queens and New York City area. NYMetroParents has your summer activities in Astoria, Flushing, Jamaica, Fresh Meadows, Kew Gardens, and the rest of Queens, NY.