KON GEN INTERNATIONAL PRESCHOOL
196-25 42ND AVENUE
BAYSIDE, NEW YORK 11358
718 281-2338/ 718 353-4388
Kon Gen International Preschool is a new state of the art 20,000 square feet facility servicing children aged 2 through 5 years old, includes a professional dance studio, a hands on science discovery lab, an outdoor play area, an outdoor botanical garden, individual piano rooms as well as classrooms with hospital grade air conditioning system.
We are a unique learning environment providing dual language Mandarin/English program and an enriched curriculum which promotes children's natural sense of wonder and curiosity about the world around them.
Our teaching staff are NYS certified and our facility is licensed by NYC Dept of Health and Mental Hygiene.
| | |
| --- | --- |
| | |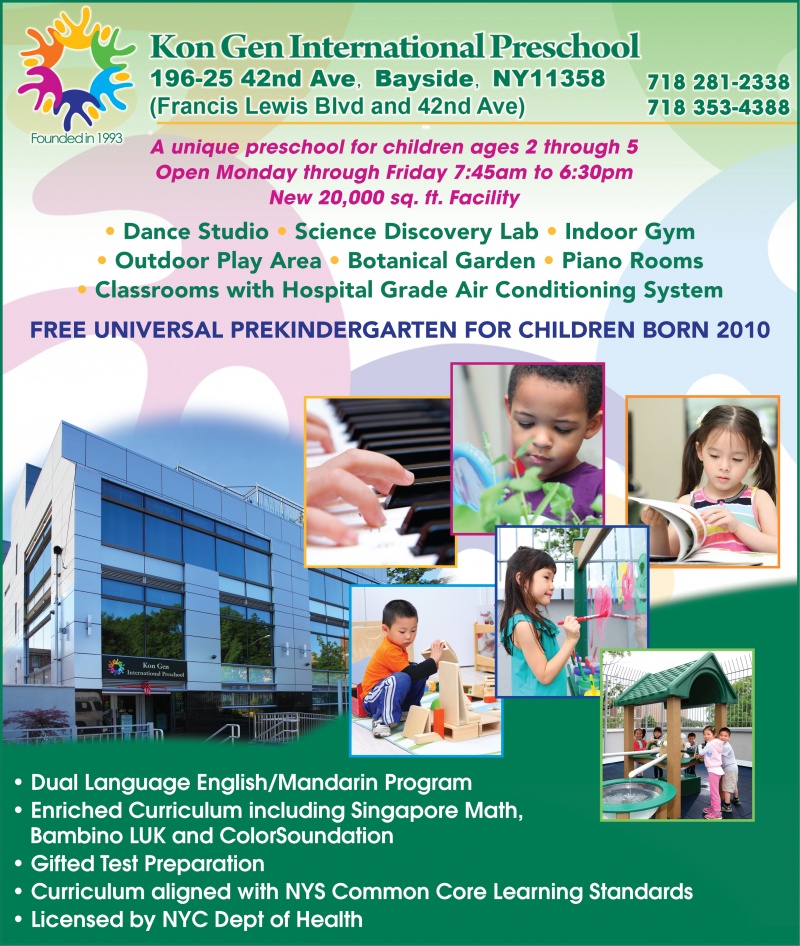 Want to learn more about this business? Send them a direct inquiry.
CAMPS-TRADITIONAL
Kon Gen opens its door at a new 20,000-square-foot childcare facility. We serve children ages 2-5 and are fully equipped with a professional dance studio, science discovery lab, outdoor play area, outdoor botanical garden, and individual piano rooms. Our project-based curriculum engages children to explore, solve problems, and construct knowledge through hands-on investigations including research, reflection, and response. Offering free full-day UPK, G&T enriched curriculum, and summer camp for grades K-2.
Read More About Kon Gen International Preschool
Feb. 20-22 Weekend Highlights by NYMetroParents

International Preschool Teaches Music Through Colors
Kon Gen International Preschool in Queens is now offering ColorSoundation to teach children music through colors. The international preschool is now accepting applications for the fall.