PERFORMING ARTS CONSERVATORY OF NEW YORK
35-57 89th Street, Jackson Heights, NY 11372
Tel. (718) 639-1425 - (917) 774-3411
www.paconyarts.com - [email protected]
Dear Parents and Students,
PERFORMING ARTS CONSERVATORY OF NEW YORK invites all students to participate in the HALLOWEEN CONCERT 2014. Our teachers and students had worked very hard and the Halloween Concert offers an opportunity to show off their progress in Music learning.
DATE: SUNDAY, OCTOBER 26th 2014
PLACE: PACONY I 35-57 89th Street, Jackson Heights, NY 11372
TIME: PROGRAM 1 at 9:00 am PROGRAM 2 at 10:00 am
PROGRAM 3 at 11:00 am PROGRAM 4 at 12:00 am
PROGRAM 5 at 1:00 pm PROGRAM 6 at 2:00 pm
PROGRAM 7 at 3:00 pm PROGRAM 8 at 4:00 pm
PROGRAM 9 at 5:00 pm PROGRAM 10 at 6:00 pm
Students will be informed about the time of their performances. We encourage our kids, parents and friends to wear the traditional Halloween costumes. Tickets at price of $8 will be available at the office of PACONY I. These performances are open to the public and there is a limited space. Please purchase the tickets in advance (before October 20th).
The Staff, the Teachers and the Director of the Music School thank you for your cooperation and for shearing such wonderful musical event.
If you need more information, please call to the office tel. (718) 639-1425 or (917) 774-3411.
Sincerely yours,
TERESA MARIN RISHIK
Executive Director
Make Sure you bring your creepiest spirit!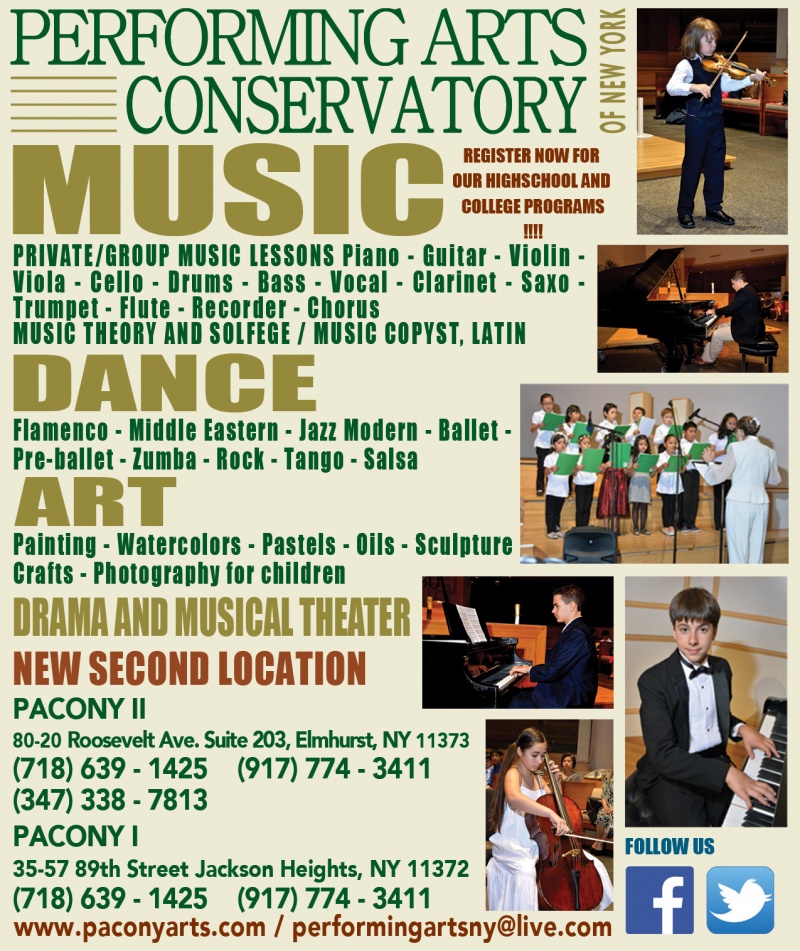 Want to learn more about this business? Send them a direct inquiry.
BACK TO SCHOOL
We offer music instruction in piano, violin, guitar, voice, and winds; dance instruction in ballet, folk dance, modern, and flamenco; and art instruction. We also offer Dalcroze, music, and movement for preschoolers. New drama program and Spanish for kids available. Adults are also welcome. We prepare music, art, and dance students for special high schools (LaGuardia, Frank Sinatra, etc.), and pre-college and college auditions. We are offering the Summer International Music, Art, and Dance Program.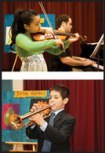 Performing Arts Conservatory of New York was founded in 2000. Mrs. Theresa Rishik became executive director in 2001, and with the help of Mr. Daniel Rishik, the school expanded its programs. Music, art, dance, drama, photography, and Spanish for children are all offered. The Conservatory provides after-school music programs in different private and public school settings including the Renaissance Charter School. PACONY offers students the opportunity to perform in serious concerts or recitals (Steinway Hall, Bechstein Hall, WMP Concert Hall). Call 718-639-1425 to make an appointment to visit.
Read More About Performing Arts Conservatory of New York
Music Conservatory Opens Second Location
The Performing Arts Conservatory of New York, which was originally located in Jackson Heights, recently opened its second location in Elmhurst. The Performing Arts Conservatory of New York offers after-school classes to children in Queens, including drama, music, and dance. The conservatory also offers introduction to music classes for preschoolers, as well as Spanish classes.
Theater Classes and Programs for Kids in Queens, NY
Enroll your child in theater classes in Queens, NY. There are tons of performing arts venues in Queens that provide creative opportunities for kids. Give your kids acting classes and find the best local theater programs in Queens, NY including Forest Hills, Bayside, Jamaica, and Jackson Heights.
Summer Activities in Queens
Search for the best summer activities for kids in Queens, NY. Our guide helps you choose from Queens kids classes, Queens summer camps, summer programs, activities near Queens, NY, and family excursions in the Queens and New York City area. NYMetroParents has your summer activities in Astoria, Flushing, Jamaica, Fresh Meadows, Kew Gardens, and the rest of Queens, NY.