Performing Arts Conservatory of New York, located in Jackson Heights, has been helping students achieve excellence in music and performance since 2001
We invite all lovers of music and the arts - children, teens and adults - to join us in developing their artistic talents. We offer a varied program in a friendly learning environment that allows everyone to achieve their artistic goals. Our After-School and Weekend Music Programs offer private or group instruction for children ages 6 to 18 in piano, violin, cello, guitar, bass guitar, voice, woodwinds, brass, percussion and chorus.

Students may also choose classes in music reading, arrangement, transcriptions, musicianship skills, music theory, ear training, and listening skills.

The centerpiece of the music program is the opportunity for students to perform in informal and formal recitals throughout the year, in community venues as well as formal halls.

The Pre-School Music Program is designed for toddlers ages 2-4. Our specially trained teachers engage children in various music activities through Suzuki-based classes, Dalcroze Eurhythmics, Music & Movement.

The Adult Music Program is designed to help students choose from a wide range of courses to suit their schedules.

The Art Department offers classes in drawing, painting, and arts and crafts for students of all ages. There are special classes for pre-school children Student work is exhibited several times a year.

Students are invited to join our dance program which includes instruction in classical ballet, modern dance ballroom dancing, Middle Eastern Dance, Flamenco and Latin. Ages 4 to 18. Our experienced instructors prepare students for performance.

Our dedicated teacher-artists are highly accomplished musicians in their own right, and graduates of some of the best conservatories in the world. Many of them are active concert performers, and winners of major international competitions.

We hope to see you soon at our school.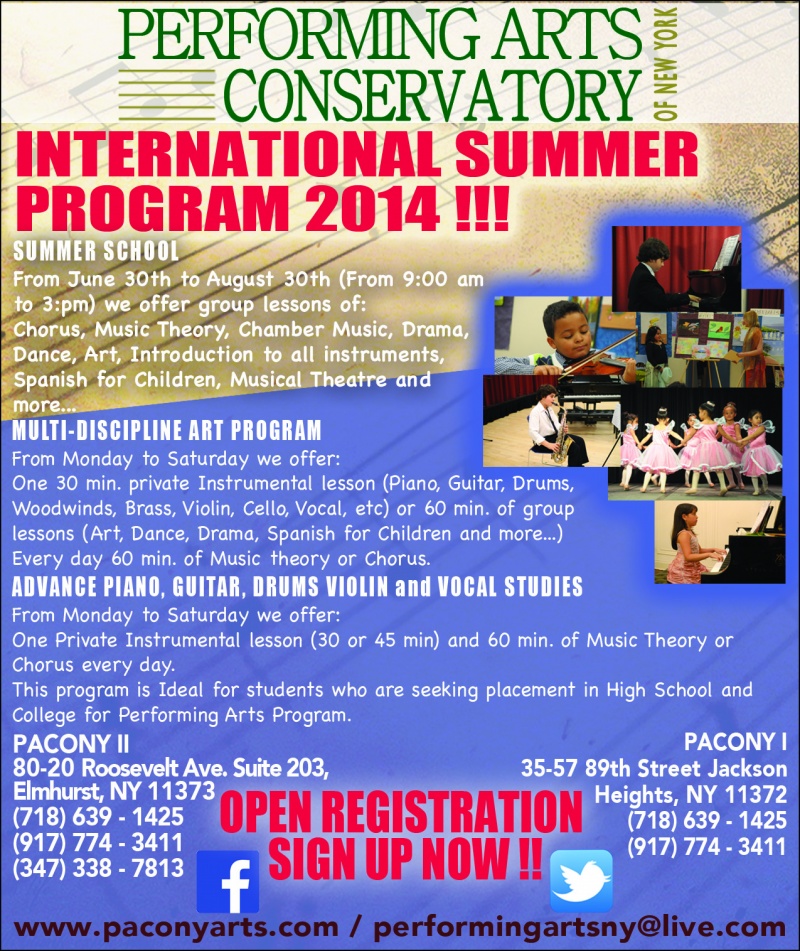 Want to learn more about this business? Send them a direct inquiry.
BACK TO SCHOOL
We offer music instruction in piano, violin, guitar, voice, and winds; dance instruction in ballet, folk dance, modern, and flamenco; and art instruction. We also offer Dalcroze, music, and movement for preschoolers. New drama program and Spanish for kids available. Adults are also welcome. We prepare music, art, and dance students for special high schools (LaGuardia, Frank Sinatra, etc.), and pre-college and college auditions. We are offering the Summer International Music, Art, and Dance Program.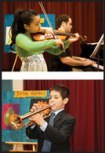 Performing Arts Conservatory of New York was founded in 2000. Mrs. Theresa Rishik became executive director in 2001, and with the help of Mr. Daniel Rishik, the school expanded its programs. Music, art, dance, drama, photography, and Spanish for children are all offered. The Conservatory provides after-school music programs in different private and public school settings including the Renaissance Charter School. PACONY offers students the opportunity to perform in serious concerts or recitals (Steinway Hall, Bechstein Hall, WMP Concert Hall). Call 718-639-1425 to make an appointment to visit.
Read More About Performing Arts Conservatory of New York
Music Conservatory Opens Second Location
The Performing Arts Conservatory of New York, which was originally located in Jackson Heights, recently opened its second location in Elmhurst. The Performing Arts Conservatory of New York offers after-school classes to children in Queens, including drama, music, and dance. The conservatory also offers introduction to music classes for preschoolers, as well as Spanish classes.
Theater Classes and Programs for Kids in Queens, NY
Enroll your child in theater classes in Queens, NY. There are tons of performing arts venues in Queens that provide creative opportunities for kids. Give your kids acting classes and find the best local theater programs in Queens, NY including Forest Hills, Bayside, Jamaica, and Jackson Heights.
Summer Activities in Queens
Search for the best summer activities for kids in Queens, NY. Our guide helps you choose from Queens kids classes, Queens summer camps, summer programs, activities near Queens, NY, and family excursions in the Queens and New York City area. NYMetroParents has your summer activities in Astoria, Flushing, Jamaica, Fresh Meadows, Kew Gardens, and the rest of Queens, NY.