The Quantum Leap Kids Learning Center, Inc.
108-10 72nd Avenue Suite 3FL
Forest Hills, N.Y. 11375
QUANTUM LEAP KIDS LEARNING CENTER, INC. is offering campers a fun packed educational SUMMER PROGRAM that has been designed for the experimentalist in intermediate grade students (entering 4th-7th grade). Here at QLK LEARNING CENTER the goal year round is for kids to learn by questioning, experimenting, reasoning, and investigating to develop the best minds in the world.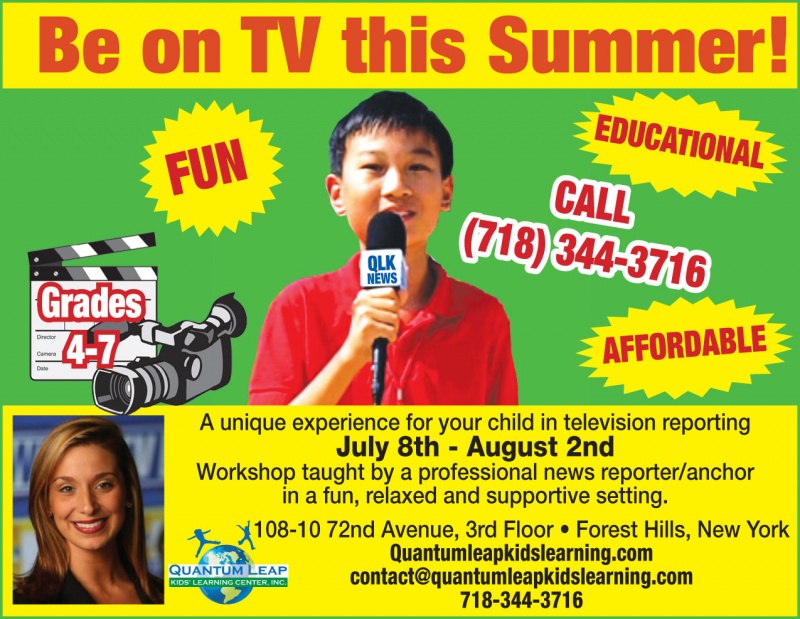 Want to learn more about this business? Send them a direct inquiry.
Read More About Quantum Leap Kids Learning Center, Inc.
Summer Activities in Queens
Search for the best summer activities for kids in Queens, NY. Our guide helps you choose from Queens kids classes, Queens summer camps, summer programs, activities near Queens, NY, and family excursions in the Queens and New York City area. NYMetroParents has your summer activities in Astoria, Flushing, Jamaica, Fresh Meadows, Kew Gardens, and the rest of Queens, NY.
Forest Hills Learning Center Focuses on English Language Arts
Marie Marrone, former English Language Arts teacher, recently opened Quantum Leap Kids Learning Center to give kids the writing skills they aren't getting in today's school curriculum. Marrone also offers two morning programs for 2 1/2-year-olds to provide the foundation needed for learning to read.
UPDATE YOUR MICROSITE