Our Urban Jungle Kids Bootcamps work with kids 8-16 years with a customized curriculum for the different age groups. They'll be learning functional fitness moves to help with their overall strength and development which will be wrapped into a series of dynamic games and group activities. We are passionate about fitness and believe in teaching kids to lead a healthy lifestyle! We "unplug" kids from the daily routine of TV, computers and video games. It's time for kids to be kids, so we bring back the "old school" fun of playground games, sports, obstacle courses and active games and merge them with new methods developed to enhance your child's tactile awareness!

Time to unplug your kids from the TV; Video Games; Computers and Handheld devices and bring them back to the old school!!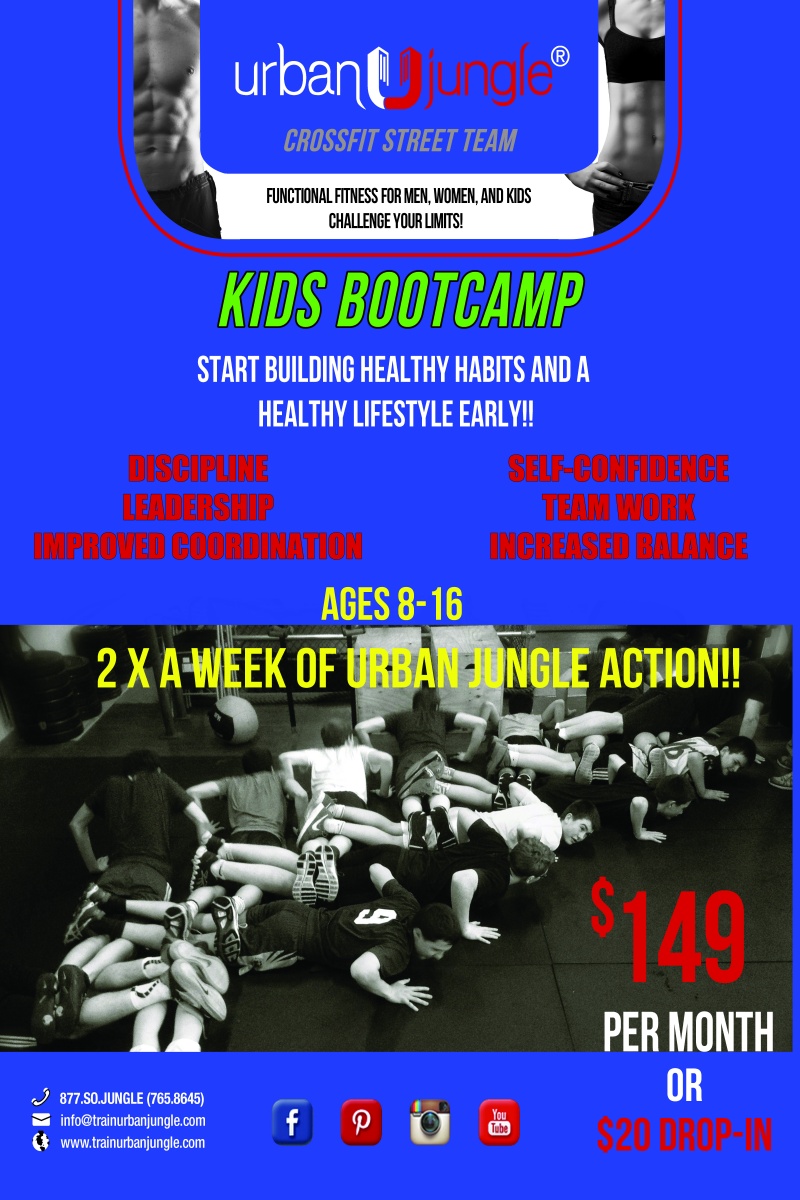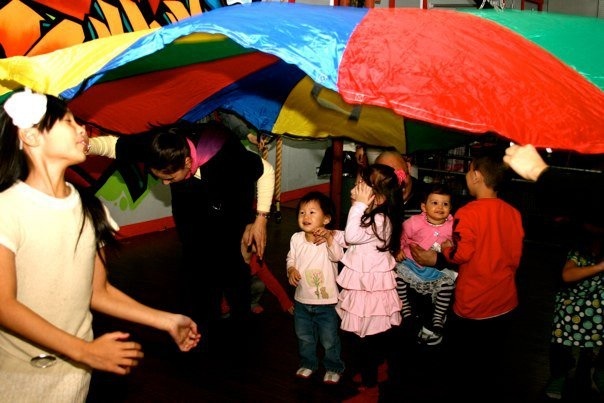 Kid's parties at Urban Jungle are action packed, and focus on your child! Our party professionals take care of everything from set-up to clean-up.
2 Hour Party Package: $340 (additional hours – $100 per hour)
Included:

Private use of Urban Jungle Facility!

Up to 15 children included

Use of Urban Jungle toys & games

Urban Jungle Host/Instructor for party activities including: Parachute time, Bubble time, Dance time, Active game time

Pizza for up to 15 kids

Choice of Juice or Purified water for kids

Kids music

Plates, cups, utensils & napkins

Balloons
Urban Jungle Kids Zone offers parents an opportunity to get their own workout in while their kids are having a blast in our custom playroom. We have trained Urban Jungle babysitters on staff who ensure your child's safety and are constantly engaging them with dynamic games; learning tools or drawing fun our chalkboard wall.

We have a viewing window into the Kids Zone playroom area right from our main workout floor where parents can check in to see what their child is up to. We know how difficult it is to plan your workout schedule when you have little ones to think about. Let us help be part of the solution for making sure you stay on the right track for your fitness goals!
Fitness for Men, Women & Kids!
At Urban Jungle, we are inspired by the streets of NYC & passionate about bringing our love of fitness to all! Located in the heart of Queens, we specialize in small Group Fitness and have led the way in Fitness Bootcamp development! Since 2009, our personal client-to-instructor interaction has proven results time & again! BURN up to 1250 calories/hour in our fun & challenging mix of Fitness Programs. Our quality and workout delivery is second to none!! Whether you are looking for change, tired of training without results, have a special event coming up or are new to fitness - we have a program for you!
Challenges are specifically designed to give you a solid fitness base utilizing more than 1000 different dynamic exercises, so your body will NEVER plateau! Sessions may include: working with Jungle Straps (TRX); Body Weight; SandBells; Kettlebells; Fitness Gliders; Medicine Balls; Buddy System Straps; Equilizers and so much more! Our program has been been 15 years in the making and another 4 years of refinement. NO ONE else out there delivers the 3 week program that we have developed…PERIOD! Check out our testimonials or better yet take advantage of our 3 class special and try some classes out, you won't be disappointed and will probably be sore in the next day or two!
CrossFit

Constantly Varied – Workouts are always changing as are the exercises which means you don't do anything long enough for your body to get accustomed to it.

Functional Movement – All movement developed and trained in CrossFit strives for functionality. Meaning, it has application in day to day life and activates more than one muscle group simultaneously, non-isolating like a bicep or hamstring curl. Very ANTI-Machine!

High Intensity – A portion of every CrossFit class (RED and BLACK Programs) will be High Intensity! That's right, something that gets that heart rate up and really "Challenge's Your Limits."

Here at CrossFit STREET TEAM, we ensure Safety first, followed by kickass workouts! Mechanics need to be sound before adding intensity or loads to movements, which is why you first need to take our Benchmark test and build up mid-line stability with correct form through our Top Rated Bootcamp classes. These classes will be a challenge but are necessary to ensure proper safety. Once correct mechanics can be demonstrated, an Urban Jungle Instructor will clear you for the Urban Jungle – CrossFit STREET TEAM GREEN Program.
| | |
| --- | --- |
| | |
Challenge classes are the best of both worlds! We mix our popular BURN Bootcamp Challenges and heart-pumping Cardio Kickboxing action! Experience several new exercises that are specific to this class alone. It will leave your legs; shoulders; arms and CORE burning but wanting more for this FULL BODY workout!!

Kickboxing Fusion classes run on Tuesdays & Thursdays and are on the opposite workout regiment of our Boot Camp classes. This compliments nicely with our Boot Camp Classes which run on Mondays; Wednesdays; and Fridays. So you can enjoy Urban Jungle workouts 5 days a week without the worry of overuse injuries common to working out the same or similar muscle groups everyday. This is one of the benefits of training at Urban Jungle and why our clients see great results!
Ashtanga Yoga is one of the more vigorous forms of Yoga found out there today. The demanding strength moves and continuous flow deepens breathing, increases endurance and will challenge your balance and flexibility! Our Vinyasa flow is a great way to get in that flexibility training which is so vital to any good fitness regiment and really compliments any running or multi-sport regiment where the rate of injuries to the joints are so high.
At Urban Jungle is a unique experience. Our instructors pride themselves on delivering top quality personal training in a relaxing and fun atmosphere! There are no weight machine circuits to "set you and forget you." The absence of weight machines really allows the personal trainer to hone in and create workouts that are completely custom tailored to each individuals personal goals. Whether that involves losing weight/inches; building lean muscle mass; increasing your cardiovascular capacity; or toning up…our trainers can help get you there!
Visit Us
50-12 72nd Street, 2nd Flr
Woodside, NY 11377




Connect With Us


Email: [email protected]

Phone: (877)765-8645

Parking: Street Parking Available

Transit: Q18 & Q45 - 6 minute walk
Q58 & Q59 - 11 minute
walk
E; M; R Train - 17 minute
walk


Like us on Facebook, Visit Us Online and watch us on Youtube
Want to learn more about this business? Send them a direct inquiry.
Read More About Urban Jungle
Suburban Jungle Realty Group Presents Summer in the Suburbs
Suburban Jungle Realty Group, a real estate agency in Manhattan that helps families in the city move to the suburbs, recently began offering Summer in the Suburb tours in the New York metro area. The tours show families what a particular town is like before they buy a house in the suburbs.